But there are 1.8 million health workers in the country. Senators call out Health Secretary Francisco Duque III for not being proactive about the workers' hazard pay.
The Department of Budget and Management (DBM) on Wednesday, August 25, released to the Department of Health (DOH) P311 million to cover the special risk allowance (SRA) of 20,156 healthcare workers.
"We were able to finance the SRA for the 20,000 healthcare workers whose claims have not been paid under Bayanihan 2 law, and we released it today, and DOH will be downloading it, I would assume, starting this afternoon," DBM Officer-in-charge Tina Canda said during a hearing of the Senate blue ribbon committee on Wednesday.
In the last Senate hearing, DOH said it had already obligated from December 2020 to June 30, 2021 SRAs worth P7 billion for 379,117 healthcare workers.
Filipino Nurses United president Maristela Abenojar told the Senate on Wednesday that even with the 20,000 additional healthcare workers set to receive their hazard pay, it still wouldn't be enough as there are 1.8 million Filipino healthcare workers.
"Nangangamba po kami doon sa 20,000 lamang na bilang given na sinasabi po natin ngayon na in principle, dapat ay lahat tumanggap, at sabi 'nyo po ay may 1.8 million na health workers ang ating bansa, pero 20,000 ang bibigyan ng karagdagan, na noong nakaraan ang binigyan niyo lamang po ay 360,000," said Abenojar.
(We are bothered that only 20,000 will receive given that we're saying now that in principle, all health workers must be eligible, and you said there are 1.8 million health workers in the country, but you're releasing to only 20,000 and in the past, to only 360,000.)
The conflict stems from the strict definition of who is eligible for the SRA. Up until this point, only health care workers directly treating COVID-19 patients were eligible for the SRA.
During the last hearing, Health Secretary Francisco Duque III and Commission on Audit Chairperson Michael Aguinaldo had agreed, upon the senators' prodding, to coordinate and liberalize the eligibility so all healthcare workers will be able to receive.
But on Wednesday, Duque was called out for not being proactive enough to pursue this. (READ: What you should know about COVID-19 hazard pay, special risk allowance)
"The position of the DOH executive committee is that it will be best that there will be a law created to allow for the grant of SRA to not just those directly taking care of the patients, or in direct contact, but everyone in the facility owing to the high transmissibility of the Delta variant," said Duque.
While Duque said he supports the liberalization of the SRA, he said it would be difficult to do so without a law as it would expose them to more audit flags.
Senator Richard Gordon, chair of the blue ribbon committee, called out Duque and said, "Secretary, do not pass it on to us, we said we can do a law, but you said you are going to look for savings so you can cover both."
Gordon pointed out that Aguinaldo had already agreed during the hearing to liberalize the interpretation. Gordon said he'd be willing to craft a bill and expedite it, "but you said you were willing to do that, and if you're not gonna do it, we still have a problem."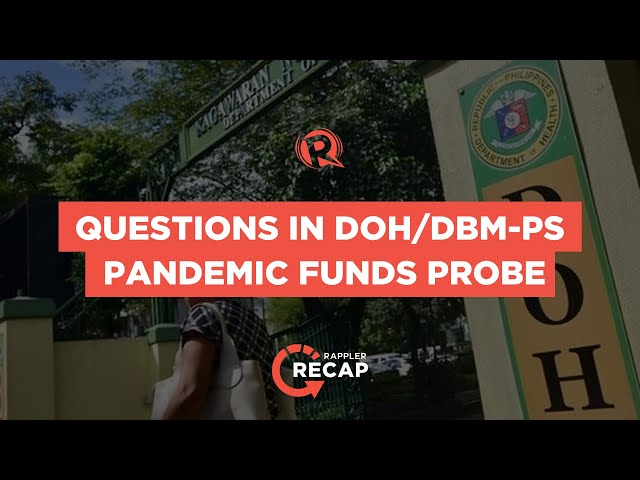 The Alliance of Health Workers has threatened mass actions if the withheld hazard pay is not released by August 31.
Senator Sonny Angara pointed out that the Magna Carta of Public Health Workers also provides for a hazard pay.
"Can we not give some sort of hazard allowance to our healthcare workers, to our nurses, under the legal basis of the Magna Carta?" asked Angara.
Angara said that virtually everyone who had attended the hearings thus far, including the audit chairperson, had agreed to liberalize the SRA.
"Malungkot nga na kung sino nga ang naatasan na magbantay at mag-alaga sa ating mga healthcare workers, sila pa 'yung kumbaga hindi pabor sa pagbigay. I don't fault them, perhaps they are just being careful," said Angara.
(It's sad that the person tasked to take care of our healthcare workers is the one who is not in favor of granting the SRA. I don't fault them, perhaps they are just being careful.)
– Rappler.com