'Sa buhay ninyo huwag 'nyo hayaan na kayo ay bastusin dahil sa edad, kasarian, o paniniwala. 'Wag 'nyo payagan na kayo ay Tulfohin,' says the Davao City mayor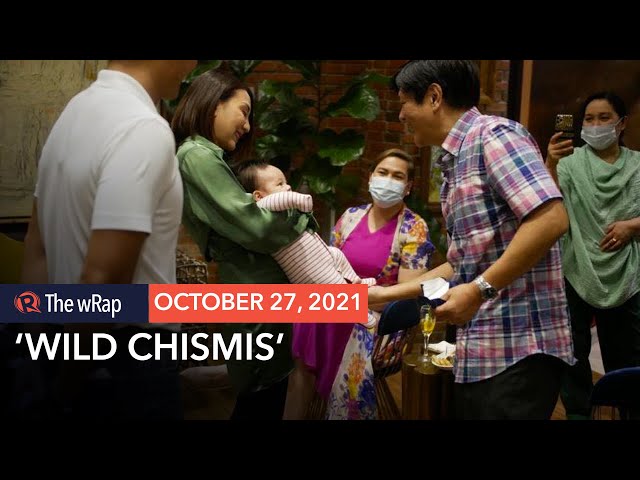 Davao City Mayor Sara Duterte blasted as "wild conjectures, lies, intrigues, and chismis (rumors)" a column written by Ramon Tulfo that speculated that she may run as Bongbong Marcos' running mate to upset vice presidential aspirant Senator Bong Go.
In a statement released on her official Facebook page, Sara said that in Tulfo's "Plan C" column published on the Philippine Star on Tuesday, October 26, "seven [paragraphs] were devoted to pure chismis about me, President Rodrigo Duterte, and Senator Bong Go."
The column speculated, among other things, that she would not run for president and instead run as Marcos' vice president to unsettle vice presidential aspirant Go and her father President Rodrigo Duterte, who has endorsed Go's candidacy.
"Nandoon na tayo na karamihan sa atin ay Marites pero 'yung isusulat ang CHISMIS at ipapalabas na ito ay totoong nangyari ay nakaka lalaki na," Sara said in the Facebook post. "Marites" is a colloquial term for rumor-mongers.
(We all know a lot of us like spreading rumors but to write something based on rumors and to pass this off as the truth is too much.)
"Sa aking karera sa pulitika marami na ako nakasalamuha na lalaki na tulad ni Tulfo, 'yung paningin sa mga babae ay hindi nag-iisip at ibinabase ang galaw at pananalita sa nararamdaman lamang. Mga lalaking bastos at mapanghusga," she added.
(In my years as a politician, I've encountered so many men like Tulfo, who think women don't think and base their actions and words solely on how they feel. These men are rude and judgmental.)
"Sa buhay ninyo, huwag 'nyo hayaan na kayo ay bastusin dahil sa edad, kasarian, o paniniwala. 'Wag 'nyo payagan na kayo ay Tulfohin," she said.
(In your life, don't allow yourself to be treated badly because of your age, gender, or beliefs. Do not allow yourself to be be Tulfoed.)
Tulfo, citing unnamed sources, claimed Sara was upset at Go and that "as we all know, there's bad blood between daughter and father." Tulfo also claimed that Sara was still upset over the separation of her parents over two decades ago.
Sara dismissed all this as rumors. "'Plan C' was stitched by someone that no self-respecting individual – much more a member of the media – should find inspiration from," she said. The mayor also said she "deserves" an apology but that she isn't expecting one.
Tulfo's column first discussed Sara and Marcos' meeting in vote-rich Cebu before diving into the Sara's supposed motivation to run for vice president. The two politicians had met during social events – the birthday of Tingog Sinirangan Representative Yedda Romualdez, the wife of Marcos' cousin House Majority Leader Martin Romualdez; and a dinner hosted by Sara's spokesperson, Lilioan Mayor Christina Frasco.
Sara had led early presidential preference surveys but filed her candidacy for her third and last consecutive term as Davao City mayor, a post her father once held. Despite her insistence that she would not be the PDP-Laban standard-bearer, the party has still expressed openness to changing presidential candidate via substitution.
Senator Ronald dela Rosa, a former national police chief and staunch Duterte ally, is the party's presidential bet. He had said that he would be willing to give up his bid should Sara run for president.
Following her trip to Cebu and meeting with Marcos, Sara reiterated that she was not seeking the presidency. She said that she talked to Marcos about how her regional party, Hugpong ng Pagbabago, could help his 2022 campaign. – Rappler.com