It's the latest red flag in the Senate's investigation into Pharmally Pharmaceutical Corporation, the biggest winner of pandemic supply contracts
Senators again expressed disbelief as more details were revealed on Monday, September 13, about the manner Pharmally Pharmaceutical Corporation got the biggest amount of government contracts for pandemic supplies.
Specifically, senators found that on the same day that the Procurement Service of the Department of Budget and Management requested Pharmally for a quotation for 500,000 face masks, they delivered these to the PS-DBM warehouse. In fact, the delivery happened in three hours.
In between were other unusual details: Pharmally didn't have face masks in its inventory, and got them from another supplier. The delivery and payment were made even before a purchase order was placed by PS-DBM, with the agency paying P13 million, an amount higher than the P8 million initially approved for the purchase.
"It is not usual. Kalaki ng perang ito (There is huge money involved here)," Senator Franklin Drilon said.
"Parang Grab delivery lang, ano? Napakasimple," Gordon said with a tinge of sarcasm. (Just like a Grab delivery, huh? That simple.)
Senators said a timeline of Pharmally's first delivery of 500,000 face masks to PS-DBM in early 2020 bolstered the findings they previously had:
Then-PS-DBM chief Lloyd Christopher Lao didn't exercise due diligence and prudence before dealing with Pharmally.
Pharmally did not have the capability to supply the items and instead only acted as an agent or trader for Chinese suppliers and earned from a markup.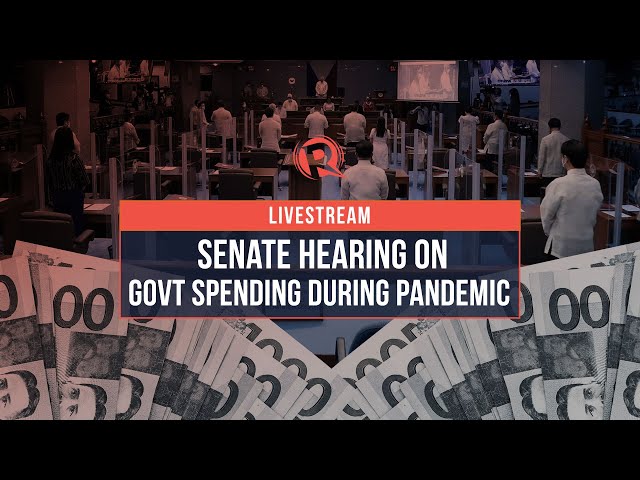 Below is the timeline based on the information provided by Pharmally official Krizle Grace Mago and company director Linconn Ong on Monday, and the senators' own research.
March 24, 2020
Ong goes to the PS-DBM office to submit a letter of intent to supply COVID-19 items and meets Lao for the first time. Ong says he also gave a sample of a face mask Pharmally could supply to the government.
According to Ong, Lao asked Pharmally if it could deliver masks "as soon as possible," but "still following [proper government] processes."
March 25, 2020
2:24 pm
Pharmally receives from the PS-DBM an email on a "request for price proposal for supply and delivery." The email contains a request for quotation for five lots of surgical masks.
Pharmally offers to supply masks for lot #5 for 500,000 masks. According to Mago, the unit per price in the PS-DBM's request is P28 per piece, while the contract has an approved budget of P8 million.
After receiving the PS-DBM's email, Mago shares details with other Pharmally officials in a group chat.
Ong contacts a firm called "TigerPhil Marketing," which says it can supply the 500,000 masks. Ong buys the masks at P23 per piece.
Ong and and Pharmally co-owner Mohit Dargani instruct Mago to proceed with the delivery to the PS-DBM after Ong is able to secure masks from a local supplier.
Asked by senators if this meant Pharmally itself did not have stocks on hand, Mago and Ong said this was true, but that it could secure items through Ong's connections to suppliers.
"We don't have the stock at our warehouse, but Mr. Ong negotiated with a supplier who [could] deliver [on the] same day," Mago said.
5:19 pm
500,000 masks are delivered to the PS-DBM's warehouse in Paco, Manila, according to Mago.
Senators Richard Gordon and Francis Pangilinan questioned the "same-day delivery" done just hours after Pharmally received a request for quotation.
This is when Gordon observed: "Parang Grab delivery lang, ano? Napakasimple." (Just like a Grab delivery, huh? That simple.)
March 26, 2020
Mago responds to the PS-DBM's that it can fulfill the request for 500,000 masks at a price of P27.72 per piece.
Senators noted that Pharmally's email reply via was sent the following day after those masks had been delivered to the PS-DBM warehouse.
April 6, 2020
Pharmally says it is awarded its first contact or purchase order for 500,000 masks – 12 days after the supplies were delivered.
April 15, 2020
Pharmally is paid P13.86 million for supplying 500,000 masks on March 25.
Senators pointed out the amount was above the approved budget of P8 million earlier stated by the PS-DBM.
April 16, 2020
Pharmally is awarded its first purchase order, according to the Commission on Audit (COA) report on the PS-DBM.
Senator Panfilo Lacson questioned why payment was made a day before the PS-DBM issued a purchase order on April 16, based on the COA's records. Mago only answered that, based on Pharmally's records, the PS-DBM's purchase order was dated April 6, 2020.
No due diligence, senators say
Rappler on Monday checked the Government Procurement Policy Board (GPPB) website for the purchase order for Pharmally's 500,000 masks, but there was no record available. The website is where agencies are required to upload all awarded contracts during the pandemic.
This means the PS-DBM didn't make public the contract with DBM, but COA had access to it and in fact flagged it as one of the expensive face masks supplies purchased by the PS-DBM.
In past hearings, senators questioned whether Pharmally may have been awarded more contracts than indicated in publicly available records. So far, records show the firm has won at least P10 billion in pandemic deals, as of July 2021.
Gordon asked Lao if he had been able to check if Pharmally had a warehouse for its items or it if it could indeed supply its own masks, but Lao took cover under the government's Bayanihan 1 law, which did not require for such measures.
For the Senate, issues raised involving Pharmally's first order to the government is the latest show of the PS-DBM and Lao's lack of due diligence. In earlier hearings, Lao conceded it was possible that negligence led to the purchase of overpriced face masks and face shields in 2020.
"The only challenge I had [to companies] was this: show proof you can deliver. What did Pharmally do? They delivered the items on March 25, 2020," Lao said.
Hontiveros asked Mago if Pharmally had the four basic documents required in transactions like this. Mago admitted that they didn't have a delivery order, the first requirement, before delivery was completed.
However, she said Pharmally had a delivery receipt, inspection and acceptance report, and statement of account.
According to Ong, Pharmally had bagged at least P11 billion worth of pandemic contracts as of 2021 – a figure that, lawmakers pointed out, amounted to about a fourth of the P41 billion the Department of Health transferred to the PS-DBM for the purchase of COVID-19 items. – Rappler.com
Read the other stories from the September 13, 2021, Senate blue ribbon committee hearing: