Of this, P17 billion is already in the pipeline pending documentation, and payments will be made by next week, according to PhilHealth chief Dante Gierran
The Philippine Health Insurance Corporation (PhilHealth) owes hospitals a total of P21.1 billion worth of unpaid claims, its chief said on Thursday, August 26.
"Our debt as of August 24, 2021 is P21.1 billion," PhilHealth chief Dante Gierran said during a House hearing on unpaid claims of hospitals.
Marikina 2nd District Representative Stella Quimbo asked Philippine Health Association (PHA) president Jaime Almora if he could confirm this, but Almora could not give a figure.
"There is a wide disparity between the claim being processed and the claims of hospitals. That's all I could say," Almora said.
Quimbo then asked PhilHealth the average days it takes for the state health insurer to process a hospital claim.
Dr. Benjamin Pague, acting senior manager of information management at PhilHealth, said that on average, it took them 44 days to process a hospital claim in 2020 and 2021.
Quimbo was baffled why it takes one and a half months for PhilHealth to process a claim.
DIWA Party-list Representative Michael Aglipay then asked about the commitment of PhilHeath to hospital debts. Aglipay chairs the House committee on good government and public accountability, which conducted Thursday's hearing.
"We're going to pay that because we know the challenges that our hospitals face. A total of P17 billion worth of funds are already in the pipeline awaiting documentation," Gierran said in a mix of English and Filipino.
Gierran said the payment will be made by next week through the Debit-Credit Payment method.
In the same hearing, the PhilHealth chief turned emotional over criticisms being thrown at him and his agency.
"When I came, I didn't know anything, Mr. Chair. Back at NBI, we were working peacefully. I was not beaten with criticism. Here, it's worse. My family and friends are also affected," he said in a mix of English and Filipino.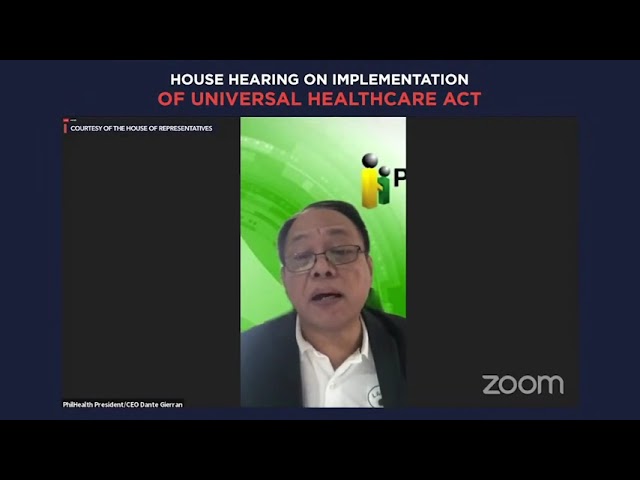 The state health insurer's debts to health facilities have resulted in the closure of some hospitals and affected hospitals' manpower at a time when the country is dealing with a fresh surge in COVID-19 infections driven by the Delta variant. – Rappler.com