The tension between Senator Pia Cayetano and Senate Majority Leader Migz Zubiri – which stemmed from a misunderstanding – is eventually defused
What should have been a standard procedure to close the debates for a bill on vaporized nicotine products in the Senate turned into a 38-minute slugfest between Senator Pia Cayetano and Senate Majority Leader Juan Miguel Zubiri.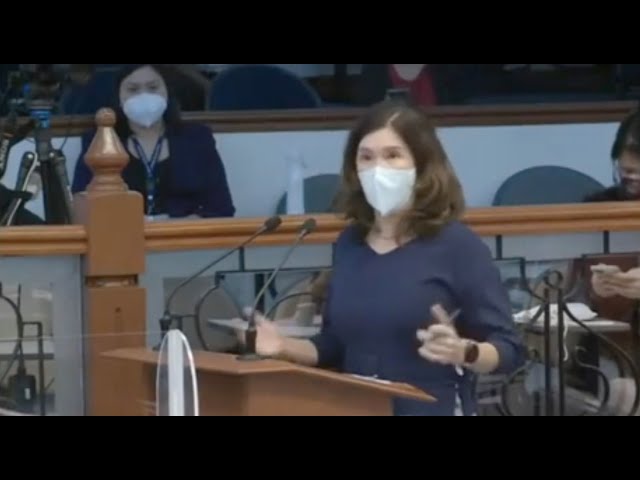 During the plenary session on Tuesday, November 9, Cayetano got upset after she presumed that the Senate would prioritize deliberations on Senate Bill (SB) No. 2239 over the sponsorship for plenary approval of the proposed P5.024-trillion budget in 2022.
Cayetano has a stake in both measures: She still wanted to raise questions on SB 2239 to bill sponsor Senate President Pro Tempore Ralph Recto. She was also set to co-sponsor the 2022 budget in the plenary.
In the plenary agenda, the continuation of interpellations for SB 2239 was indeed listed first before the sponsorship of the 2022 budget.
But the understanding between Zubiri and Recto was that the latter would just make a motion to end the period of debates, then the Senate would move on to other matters in the agenda.
The period of amendments for the vape products bill – a time when senators can continue raising questions over spefic provisions and change them – would be continued once the 2022 budget is passed sometime in late November.
Cayetano later admitted she was not able to see the agenda as she was busy preparing her speech for the 2022 budget.
She first got upset when Recto manifested on the floor that he wanted to make a motion to end the period of debates for SB 2239.
Cayetano argued that it should not be terminated as she wanted to ask more questions regarding the jurisdiction of the Food and Drug Administration, the age of those who would be allowed to use the products, and the number of vape flavors to be allowed by the government.
"So let's take due time and discuss this…. We are not preventing the industry from selling at this time, but don't rush this representation when there are valid issues to be settled," said Cayetano.
Zubiri then clarified that they only meant to close the period of interpellation on SB 2239. He then pointed out that Cayetano's pending questions for Recto involved specific provisions of the bill, which she can still raise during the period of amendments.
Zubiri then denied that he was fasttracking the passage of SB 2239. Cayetano was further ticked off when he said thad the bill has been "languishing" for four months in the plenary.
"Nag-delay ba ko ever (Did I ever delay)? I take offense that you make it appear that I'm hogging – languishing for four months. Come on! Many of you have defended your bills for a year, for 18 months, 24 months, and a tobacco bill is pending for four months," said a visibly irked Cayetano.
"If you accuse me of delaying and I have interpellated once and you are amending a major bill of this Congress, 'wag naman. Maayos naman ako kausap (Don't be like that. I'm reasonable to talk to)," she added.
Zubiri replied, "I apologize if the lady senator thinks of it that way."
He then reiterated that Recto had requested to allow him to make a motion to close the period of debates for SB 2239, so Cayetano's anger should be directed at Recto, not him.
"We did not make the motion yet on the floor. He just requested. I have not moved, I have not acted on the motion, so I do not know why the hail and brimstone is falling on to me today," said Zubiri.
In an apparent effort to defuse the tension, Senate Minority Leader Franklin Drilon jumped in and suggested that the period of debates for SB 2239 be suspended for now and resumed once the 2022 budget is passed by November 22.
Drilon even joked: "I want to see harmony among our colleagues. Otherwise, I would enjoy as a Minority Leader seeing my colleagues in the majority fighting each other."
This seemed to have worked, as Senate President Vicente Sotto III said the exchange between Cayetano and Zubiri was not a fight but a "healthy debate." Recto also said that it is in the tradition of the Senate to look for compromises.
After the tension eased during the session, Cayetano offered peace to Zubiri, but noted that she resented what to her seemed like his insinuation that she was delaying the passage of the vape products bill.
"Let me do the right thing. Mr. President, kindly relay to the Majority Floor Leader that I always trusted him and I simply was and again – I don't have the English word – nagtampo lang po ako na may mga nabitawan siyang salita na parang ako ho 'yung nagde-delay (I just resented that he said some words that seemed to imply that I was the one delaying)," said Cayetano.
The heated discussion ended with senators agreeing to just suspend the period of debates for SB 2239 for now. – Rappler.com