'The proof that they can deliver is that the items are there,' says ex-PS DBM head chief Lloyd Christopher Lao but an internal audit shows that Pharmally's delivery of test kits were consistently delayed
As implicated officials continue to take cover under the exemptions of the Bayanihan law, Senator Richard Gordon showed on Tuesday, September 21, an internal document of the Procurement Service-Department of Budget and Management (PS-DBM) that showed they required suppliers to present financial proof.
Gordon showed a March 25, 2020 request for quotation (RQF) by the PS-DBM for emergency procurement of face masks. RQF is a document by a procuring agency to survey with suppliers how much they would sell for.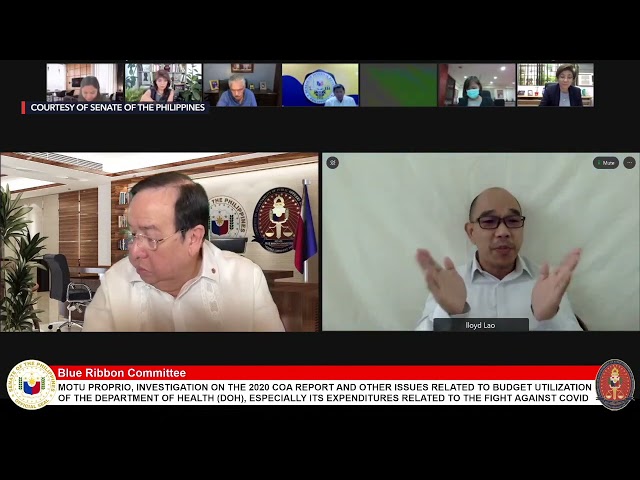 In the RQF, net financial contracting capacity (NFCC) was one of the four supporting documents that "may be submitted" by interested suppliers.
NFCC uses a formula that would show if a supplier has the financial ability to deliver on a contract.
If Pharmally Pharmaceutical Corporation, the pandemic procurements' biggest winner, was required to show its NFCC, it would have never qualified for the contracts because in 2020 at the start of the pandemic, it had only P625,000 in paid-up capital with no track record.
But in the last hearings, PS-DBM's former head Lloyd Christopher Lao and his former director Warren Liong, who is now the Overall Deputy Ombudsman, said Pharmally wasn't required to show this.
Their cover is President Rodrigo Duterte's Bayanihan 1 law which exempted pandemic procurements from the rules of Republic Act (RA) 9184 or the procurement law. It was the procurement law which required the NFCC.
However, a resolution on April 6, 2020 by the Government Procurement Policy Board (GPPB) said NFCC was required in pandemic procurements "in case of infrastructure projects."
As Gordon pounded on the need to check Pharmally's financial proof, Lao said: "Where is that in Bayanihan 1? That is not required."
"Assuming for the sake of argument that NFCC is required, the NFCC is a requirement for infrastructure contracts awarded by government, [but] these are common supplies," said Lao on Tuesday.
When Gordon showed the RQF from March 25, 2020 for face masks, Lao said: "That is true, that is a requirement before the issuance of a notice of award and payment, that is a standard document we issued when we are making a bid under RA 9184, that is a standard procedure."
Gordon said this means Lao didn't scrutinize Pharmally's financial capacity.
"I scrutinized Mr Chair, the proof that they can deliver is that the items are there, they were able to prove it because they actually showed proof by delivering it," said Lao.
But this was quickly disputed by Senator Imee Marcos who said she has obtained an internal audit document, which was conducted on the order of resigned budget secretary Wendel Avisado, where they found that Pharmally's delivery of test kits were consistently delayed.
"Ito ba ang sinasabing supplier na kayang-kaya magdeliver? Eh panay short ang delivery, panay delayed, puro extension. Meron nang liquidated damages charged. Eh hindi naman siguro mapapatunay na talagang may kapasidad silang magdeliver kapag ganiyan," said Marcos.
(Is this the kind of supplier that can deliver? Its deliveries were always short, always delayed, and always extended. Liquidated damages were already charged. With this, we cannot say for sure that they have the capacity to deliver.)
Pharmally chairman, Singaporean Huang Tzu Yen, and director Linconn Ong have admitted to the Senate that as they struggled financially, they coped because they were financed and guaranteed to their Chinese suppliers by Michael Yang, President Rodrigo Duterte's former economic adviser.
When did Bayanihan take effect?
The RQF was March 25, 2020, and Lao insists Bayanihan 1 became effective upon publication also on March 25, 2020. The Official Gazette says the law was uploaded online on March 25, 2020. Was the exemption valid at that point?
There were disputes from Senators when the law became effective, with Senator Francis Pangilinan saying it took effect April 6, and Senate President Vicente "Tito" Sotto III saying "there was no law on March 25."
Bayanihan 1, signed into law on March 24, said it would take into effect "immediately upon its publication in a newspaper of general circulation or in the Official Gazette." It's also a question of when it was published physically on newspapers and on the Official Gazette, as some would argue that online publication is not the start of counting.
"We have to look into this," said Pangilinan.
Philgeps – 'parang inayos niyo'
Gordon also called out why PhilGEPS would reduce the platinum application fee from P5,000 to P2,000.
The March 25, 2020 RQF said all the supporting documents could be waived if the supplier shows a PhilGEPS platinum certification.
"My fellow senators, you just pay P2,000 for a PhilGEPS certification, you are no longer subject to government scrutiny, parang inayos 'nyo eh (it seemed like you fixed it)," said Gordon.
The PhilGEPS database showed Pharmally was certified in June 2021, but Lao said on Tuesday "I think they upgraded their status in July 2020."
Whatever the date, Gordon said it meant that during its first contracts in 2020, PS-DBM should have scrutinized the Pharmally's financial proof.
It bears noting also that PhilGEPS platinum status waives supporting documents, because a platinum status does not require certify technical, legal and financial eligibility.
That was confirmed by PhilGEPS director Rosa Maria Clemente in a hearing on September 10.
"We don't check the document as to the – if they are financially capable, if they are technically capable, what we check in the system is if the documents are complete. A merchant's registration under PhilGEPS is not contract specific, nor understood to be tantamount to a finding of legibility."
"It is the BAC's responsibility. We're just a registry of suppliers," said Clemente, referring to the bids and awards committee.
Health Secretary Francisco Duque III justified their action of transfering their P41 billion budget to PS-DBM because the PS has 10 BACs, compared to the Department of Health (DOH) whose one BAC was already struggling.
"If I can't trust the PS-DBM, who can I trust?" said Duque.
Senator Risa Hontiveros told Duque: "That is a beautiful question. Because even with 10 BACs, the PS-DBM did a bad job." – Rappler.com
Read the other stories from the September 21, 2021, Senate blue ribbon committee hearing: