Social Welfare Secretary Rex Gatchalian says he will tap the private sector to help with the logistics of disaster response
MANILA, Philippines – "Be on top of your game."
This was Secretary Rex Gatchalian's message to regional directors during his first week at the Department of Social Welfare and Development (DSWD), he told reporters in his first meeting with the press on Friday afternoon, February 3.
"It's not enough to report something. Make sure what you report is relevant, and be on top of your game with what you do," Gatchalian said in a mix of Filipino and English.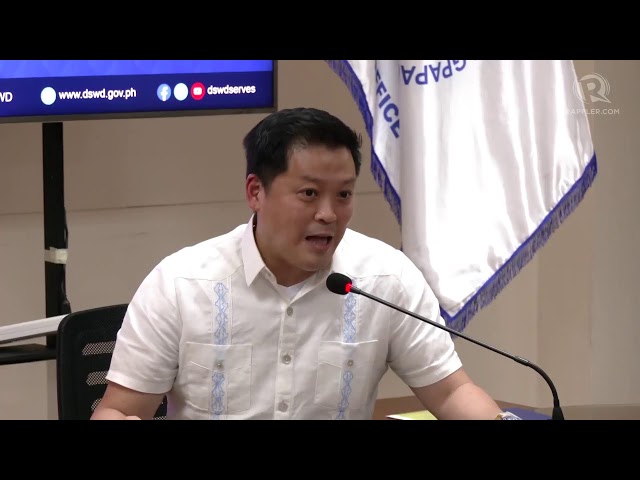 He shared a story about how one regional director, whom he declined to name, reported to him in a phone conference that a locality needed aid. It turned out the emergency situation where they needed help happened over a month ago.
"Obviously, this regional director was not on top of her game," Gatchalian said, without elaborating on which province and what kind of emergency it was.
While there would be no "purge" of the current staff, Gatchalian said he would be "strict" and a disciplinarian.
Gatchalian said he only verbally "mentored" the regional director who reported an incident late, but he would not allow the same thing to happen repeatedly.
"I'm the manager, but I'm also the administrator. It comes with mentoring. Di naman puwedeng puro pasensiya. Baka magpaulit-ulit," he added. (If I will give them leeway every time, [the poor performance] might keep happening.)

Regional DSWD offices would often be the first to respond and provide food aid and shelter to disaster victims. Gatchalian said he would have a video conference with all directors on Monday, February, 6.
Before being appointed DSWD secretary, Gatchalian served as mayor of Valenzuela for three straight terms – or nine years – before he was elected to Congress to represent the first district of the city in 2022.
During his time as Valenzuela's chief executive, he was known for his quick response to local emergencies and being a hands-on mayor during the pandemic.

Gatchalian is now in charge of a department with a P200-billion budget for 2023, and is one of the lead agencies in disaster preparedness and response in a country that is hit by dozens of typhoons and other disasters yearly.
The former mayor said that while his background is not in social work, his time as a local chief executive gives him the experience he needs to run the social welfare department.
"Una, ganitong kalaking burukrasya, kailangan ng manager. Kaya kong sabihin sa 'yo, 'yung template naman na'ndoon," he said. (First a bureaucracy this big needs a manager. I can tell you, there's already a template for this.)
The new DSWD secretary said he would also tap the expertise of the academe, and had spoken to outgoing University of the Philippines president Danilo Concepcion about working with the College of Social Work and Community Development.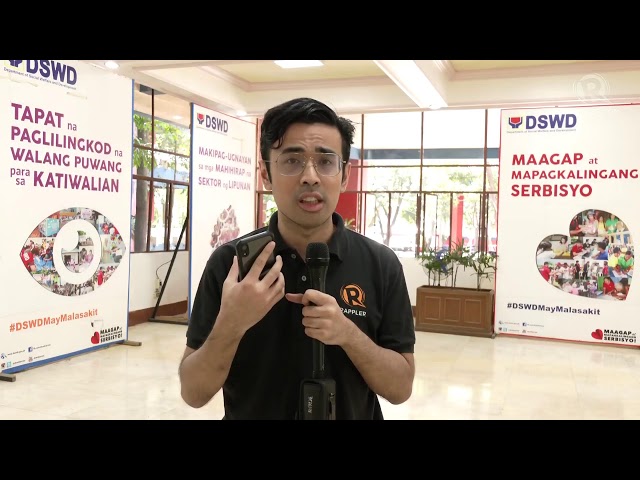 Disaster preparedness
Gatchalian said the first marching order of President Ferdinand Marcos Jr. was to prepare for disasters as early as possible.
"With disaster response, it's a battle of logistics. So you have to be sure that you're ahead of the disaster. And if you're hit by one unexpectedly, during the disaster, you have to be the last to leave, and prepositioned to be in areas that are already prone to disasters," he said.
One proposal Gatchalian is considering is to divide regional office logistics even further to smaller areas, and use disaster mapping to help prepare for distribution.
He also said he wanted to engage the private sector in helping with disaster response.
"In normal times, the private sector knows how to get food and supply to even far-flung areas. We have to engage with them," Gatchalian said in Filipino.
Ease of doing social welfare
Gatchalian said that easing social welfare is a "multi-pronged approach."
Aside from streamlining processes, he wants to clean up the databases and use the latest technology, such as chat bots, to automate information inquiries by beneficiaries. He acknowledged that his predecessor, former secretary Erwin Tulfo, already started the process of reducing unnecessary requirements for beneficiaries.
"Even if it's automated, if you don't catch the unqualified, then the effort would be a waste. That's what I was saying – that we have to work with data experts to fix it," Gatchalian said.
Cash aid to combat rising food costs
On the 72nd anniversary of the DSWD on Tuesday, January 31, Marcos urged the department to "calibrate" cash aid programs, and give financial aid to poor families who are not necessarily among the poorest of the poor, to help families cope with rising food costs.
While Gatchalian still has to discuss the specifics of the aid, he said they would likely come in the form of cash transfers.
"The President is concerned with rising food prices, and that's why he wants to keep on running the unconditional cash transfers, as well as the conditional cash transfers, so I leave it at that," he said.
Aside from cash transfers, Gatchalian mentioned he was discussing with undersecretaries the introduction of a food stamp program for poor families. They have yet to discuss how the program would work and a timeline for its roll out. – Rappler.com