Senator Panfilo Lacson echoes the same sentiment, saying this 'may have given the impression that the Philippines is a nation of extortionists'
Vice President Leni Robredo on Sunday, February 14, slammed President Rodrigo Duterte's demand that the United States pay for the Visiting Forces Agreement (VFA), calling it an "embarrassing" statement that could be taken as "extortion."
"Para sa akin, nakakahiya," Robredo said in her Sunday radio show Biserbisyong Leni. "Parang extortion lang. Parang kriminal eh: 'Kung gusto mo nito magbayad ka muna.'"
(For me, that's embarrassing… It's like extortion. It's being like a criminal: "If you want this, you have to pay up first.")
Robredo was referring to Duterte's remarks before the Philippine Air Force last February 12, where he said "I would like to put on notice, if there's an American agent here, that from now on, you want the Visiting Forces Agreement done? You have to pay."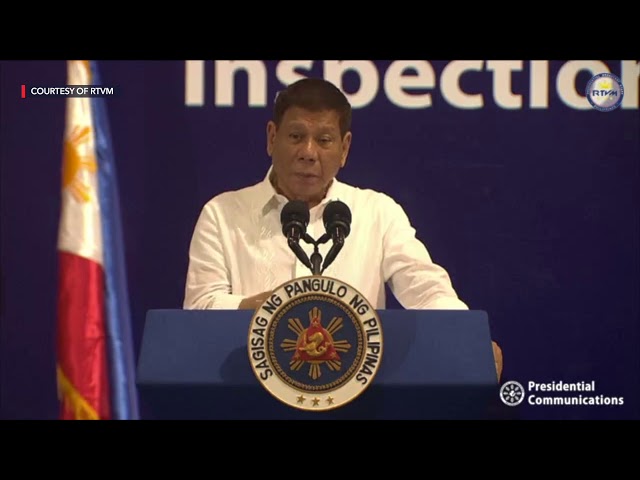 Duterte made the statement only a day after Defense Secretary Delfin Lorenzana said the Philippines' defense body was in favor of having the VFA continue. The Chief Executive had likewise issued the threat months after dangling the VFA in exchange for US-made vaccines. 
Just the day before, on Thursday, February 11, Philippine and US officials started negotiations to discuss the future of the VFA, exactly a year after the Duterte first announced he was unilaterally terminating the decades-long military pact between the two countries.
Robredo said if the Philippines did not want to renew the VFA, it should list the reasons for its position and show why the military deal would not be beneficial to Filipinos.
"Hindi 'yung pera ang consideration," she said. "Ang nakabase ito, mutual benefit ng parehong parties to contract. Hindi naman dahil kaibigan kita dahil binigyan mo ako ng pera."
(Money should not be the consideration… This is based on mutual benefits of parties to a contract. This is not "we're friends because you gave me money.")
Diplomatic means 'more effective'
On Sunday, Senator Panfilo Lacson echoed the same sentitment, saying Duterte's latest move to publicly demand payment in exchange for the VFA "may have given the impression that the Philippines is a nation of extortionists."
He urged the Chief Executive to instead take a more "diplomatic" approach to negotiations. 
"The President may have used strong words to send his message across to the US. But certainly, there is a more civil and statesmanlike manner to ask for compensation from a longtime ally using the usual diplomatic channels and still get the same desired results," said Lacson, who chairs the Senate Committee on National Defense.
In a now-deleted tweet, Lacson earlier said Duterte should "at least give the other party an elbow room to save face instead of looking bullied and stripped of dignity." But he said he chose to take the tweet down after thinking "the President's intention was to get a fair shake of the agreement."
"On crucial issues such as this, there should be no room for misinterpretation or misunderstanding moving forward," Lacson said. 
Experts have pointed out the VFA was crucial to deterring Chinese aggression in the South China Sea, including the West Philippine Sea. Diplomats and analysts have also pointed to VFA negotiations as one of the foremost opportunities for Joe Biden in the region.
Last December 2020, Lacson had called out Duterte for practically "blackmailing" the US when he threatened to end the VFA if Washington fails to ensure the supply of at least 20 million vaccine doses to the Philippines.
Until negotiations started on February 11, the VFA had been in limbo for a year after Duterte decided to terminate the deal over the US' decision to revoke the visa of his ally and first police chief, Senator Ronald "Bato" Dela Rosa. 
The decision last February 11, 2020, triggered a 180-day countdown until the deal would be officially terminated, but this was put on pause after Duterte decided to suspend the VFA abrogation first in June and second time in November, after Biden's electoral win. – Rappler.com