Ex-budget undersecretary Lloyd Christopher Lao will be detained at the Senate for skipping the marathon probe for four times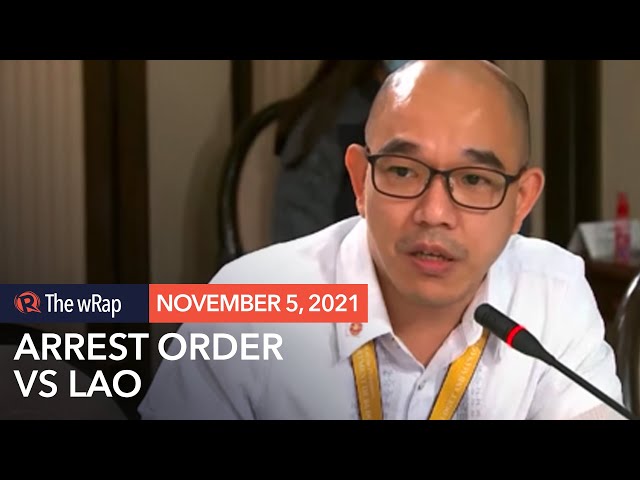 The Senate ordered the arrest of ex-budget undersecretary Lloyd Christopher Lao, who kept skipping the chamber's probe into the anomalies in pandemic contracts.
Senate President Vicente Sotto III said Friday, November 5, that he has already signed the arrest order against Lao, former chief of the Procurement Service of the Department of Budget and Management (PS-DBM).
On Thursday, November 4, Lao was cited in contempt for snubbing the Senate blue ribbon panel hearing for the fourth time.
According to the arrest order, Lao will be detained "until such time he submits the subpoenaed documents or purges himself of contempt."
The Senate has the power to hold in contempt its resource speakers who snub subpoenas and testify falsely or evasively. It also gives them the power to have them detained.
Aside from Lao, Pharmally Pharmaceutical Corporation official Linconn Ong has been detained in the Senate building since September for being evasive. Ong has petitioned his release at the Supreme Court, going as far as asking the High Court to declare Senate's power as unconstitutional.
Pending arrest orders have also been issued against Pharmally executives Mohit and Twinkle Dargani, who were said to be reportedly in hiding.
When Lao was attending the marathon Senate hearings, he had repeatedly evaded questions from senators, raised his voice while answering, and even smirked while a senator was asking questions.
Lao, a Davao lawyer who was part of President Rodrigo Duterte's campaign in 2016, was at the helm of the PS-DBM when it awarded Pharmally most of its contracts.
Pharmally bagged over P10 billion in contracts with the Philippine government, including purchases for personal protective equipment, test kits, and face masks.
He also admitted to senators that it was "possibly" due to his negligence that the PS-DBM ended up buying P95.45 million worth of overpriced face masks and face shields in 2020. – Rappler.com