(1st UPDATE)The Senate panel also recommends the filing of administrative and criminal charges against former and current officials of the Department of Education and the Procurement Service - Department of Budget and Management
MANILA, Philippines – The Senate blue ribbon committee has recommended the recovery of P979 million and the filing of administrative and criminal cases against those involved in the "overpriced" laptop deal of the Department of Education (DepEd) procured at the height of the coronavirus pandemic in 2021.
"On the basis of evidence presented to the Committee which included findings and recommendations of the Commission on Audit (COA), the overprice was established to have reached at least Php979 million pesos in relation to the procurement of more than 39,000 laptops in 2021," the Senate panel report read.
At a press briefing on Thursday, January 19, Senate blue ribbon chairman Francis Tolentino said that the Sandiganbayan will advise how the P979 million would be collected from the DepEd and the Procurement Service – Department of Budget and Management (PS-DBM) which procured the laptops on the behalf of the education department.
"Trabaho ng Sandiganbayan 'yan (That's the work of the Sandiganbayan.) How to do that, 'yung forfeiture, how to garnish, how to check the bank accounts. Ang nakalagay naman doon solidarily liable, so mag ambag ambag sila para maabot 'yun (What's indicated in the report is that they are solidarily liable, so they can pitch in contributions to meet that amount)," Tolentino said.
The Senate panel has also recommended the filing of administrative and criminal charges against them. They are the following:
Former DepEd Undersecretary Alain Pascua;
Former DepEd Assistant Secretary Salvador Malana III;
DepEd Undersecretary Annalyn Sevilla;
DepEd Director for Information and Communications Technology Service Abram Abanil;
Former PS-DBM chief Lloyd Christopher Lao;
Former PS-DBM OIC Executive Director Jasonmer Uayan;
Bids and Awards Committee chair Ulysses Mora;
Engr. Marwan Amil;
Other members of the Special Bids and Awards Committee (SBAC) I and SBAC technical working group and Secretariat, whether from DepEd or PS-DBM.
"The procurement process for the laptops, intended to support remote learning of students during the pandemic, was conducted by the PS DBM supposedly upon the request and authority of the DepEd. The Committee, however, found that the Memorandum of Agreement (MOA) executed by the DepEd authorizing and delegating the procurement task to PS DBM was antedated which rendered the procurement process questionable and highly irregular," the Senate panel report added.
The recovered amount will be placed in the Special National Teachers Trust Fund to support the health and medical needs of public school teachers and the educational needs of their children.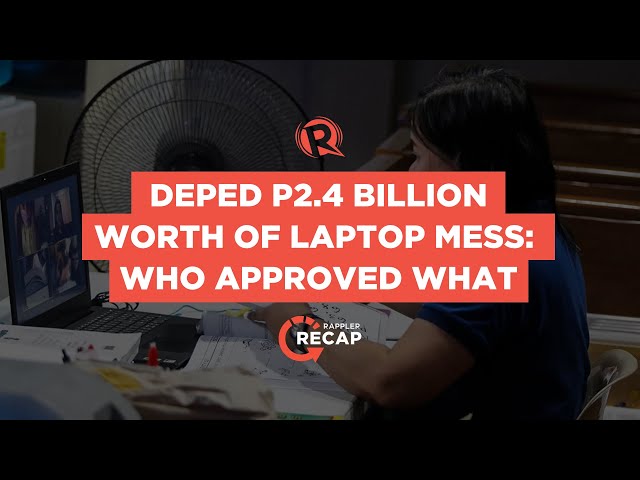 When asked about the liability of the laptop suppliers, Tolentino did not give a direct answer but said it was included in the report. Rappler will update this story once we receive a copy of the Senate blue ribbon committee report.
Meanwhile, Tolentino said that former education secretary Leonor Briones was just "used." – Rappler.com