The High Court will livestream audio of the oral arguments on February 2
After a long wait, and one postponement, the Supreme Court oral arguments on the contested and highly divisive anti-terror law will finally take place next Tuesday, February 2, beginning 2:30 pm.
Solicitor General Jose Calida will defend President Rodrigo Duterte's pet law against 13 lawyers – handpicked collectively by the 37 groups of petitioners – led by former solicitor general and former Integrated Bar of the Philippines (IBP) national president Jose Anselmo Cadiz.
Here's your cheat sheet for the all-important oral arguments.
Section 4
This expanded the definition of terrorism.
It removed the predicate crimes – or common crimes such as piracy or rebellion – that, if committed to sow extraordinary fear, become terrorism.
In Republic Act 11479, there are no more predicate crimes – instead there are 5 offenses listed with vague wordings such as "acts intended to cause extensive interference with critical infrastructure."
The petitioners will argue that this section is void for being vague. Petitions have argued that this definition makes it easy for the government to penalize any form of dissent, putting activists at most risk.
The government's defense for Section 4 is a caveat, but one called a killer caveat for the petitioners, because while it says that dissent is not terrorism, it also requires that such dissent be proven not to have a terroristic intent. It's a two-faced clause as it essentially shifts the burden of proof to the suspect.
In the preliminary discussion, the petitioners will also argue that if Section 4 is declared unconstitutional, then the law in its entirety should be automatically declared unconstitutional.
Speakers for petitioners on this topic: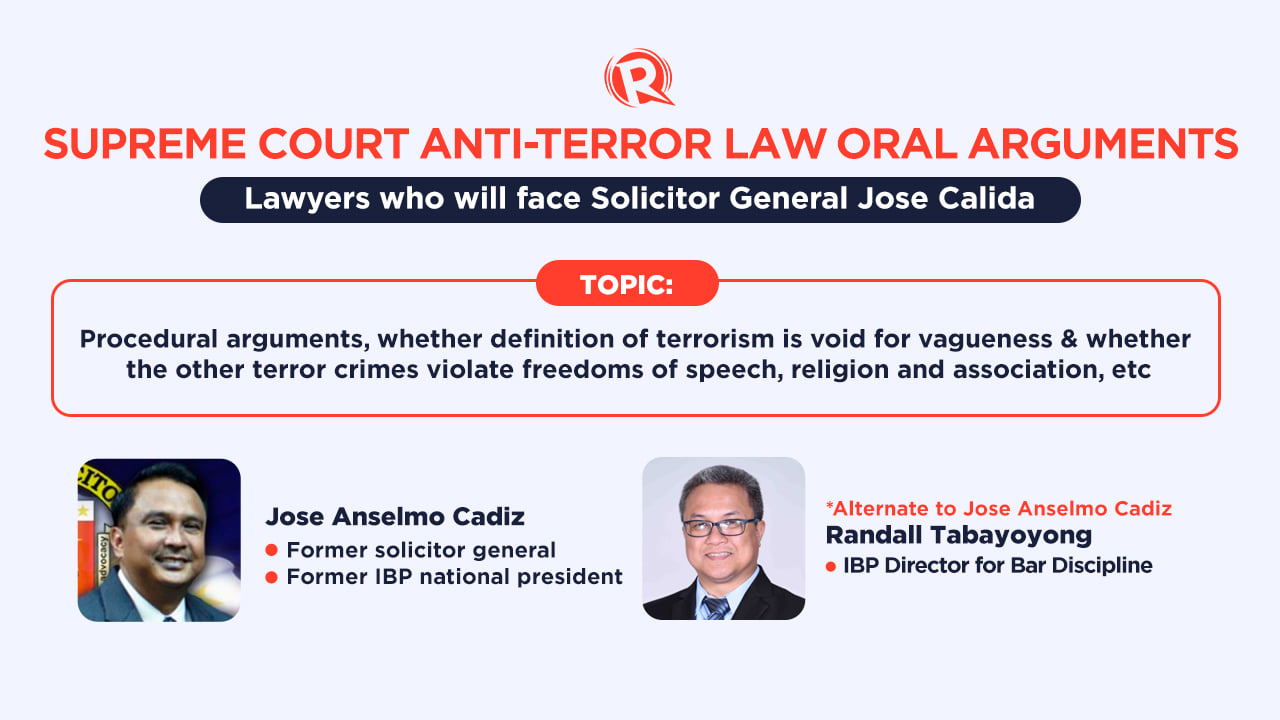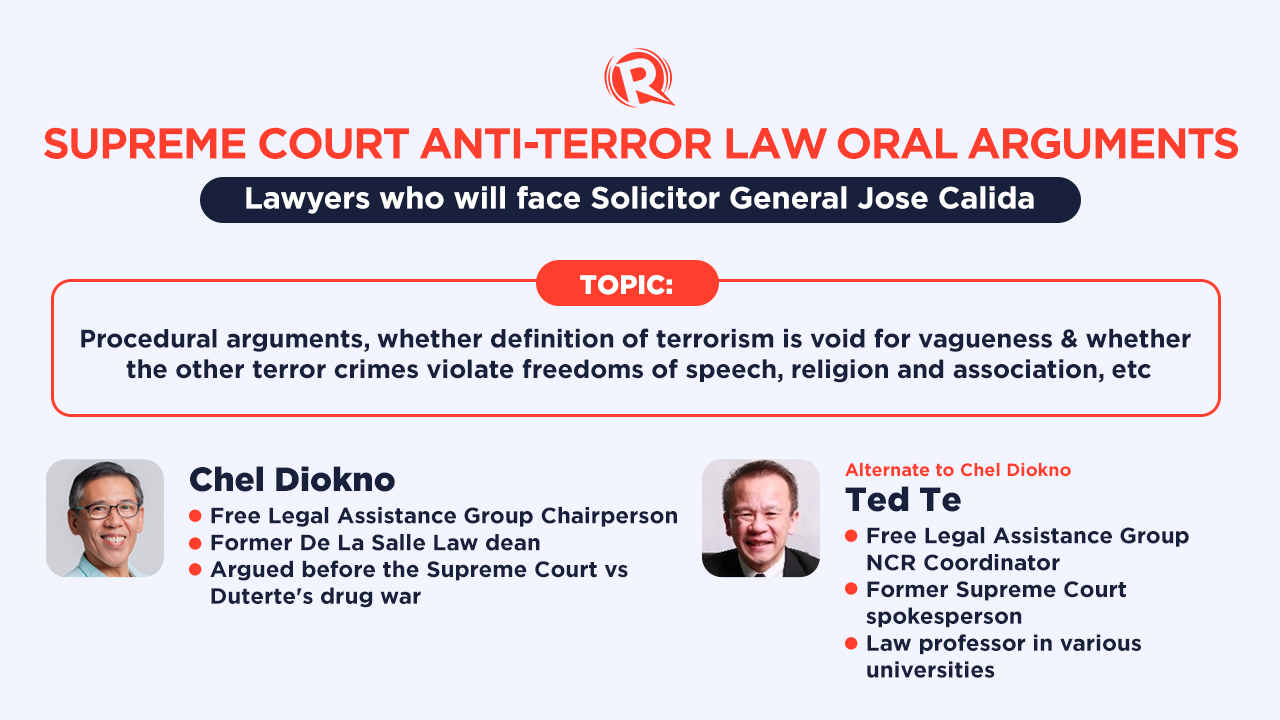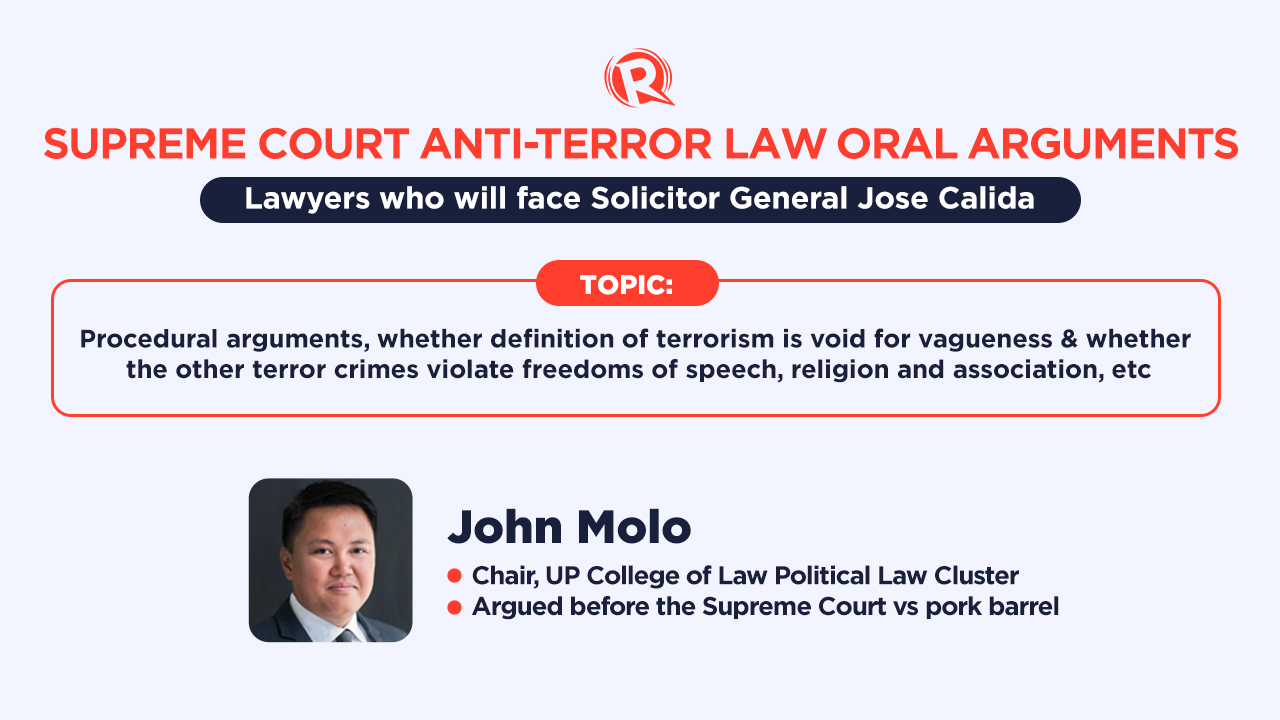 Sections 5-14
They criminalize threat to commit terrorism; planning, training, preparing and facilitating to commit terrorism; conspiracy to commit terrorism; proposal to commit terrorism; inciting to commit terrorism; recruitment to and membership in a terrorist group; providing material support to terrorists; and being an accessory to terrorism.
These crimes are new: threat; planning, training, facilitating; proposal; inciting; and recruitment.
Petitions argue that these new crimes, especially inciting to terrorism, violate freedom of speech. Any group that helps people suspected of being terrorists can be penalized under "providing material support" which runs counter to the freedom of association, and ultimately, freedom of religion. It will be "guilt by association," say the petitions.
For Moros, for example, petitions argue that if Muslims practice and therefore espouse Islam, they can be suspected of being terrorists especially since their religion has long been targeted.
Speakers for petitioners on this topic: Cadiz, Tabayoyong, Diokno, Te, and Molo.
Sections 16-19
In the new law, the Court of Appeals (CA) authorization to surveil suspected terrorists can last up to 60 days, compared to 30 days in the old law. Under Section 16, designated terrorists – meaning people and groups who have not yet been declared as terrorists by any court – can also be surveilled.
Petitioners will argue that these provisions violate the constitutional rights against unreasonable searches and seizures, and violate the constitutional right to privacy of communication.
Petitioners will argue that the court's authorization will take away from surveillance subjects the option to file for extraordinary remedies such as the writ of habeas data.
Speakers for petitioners on this topic: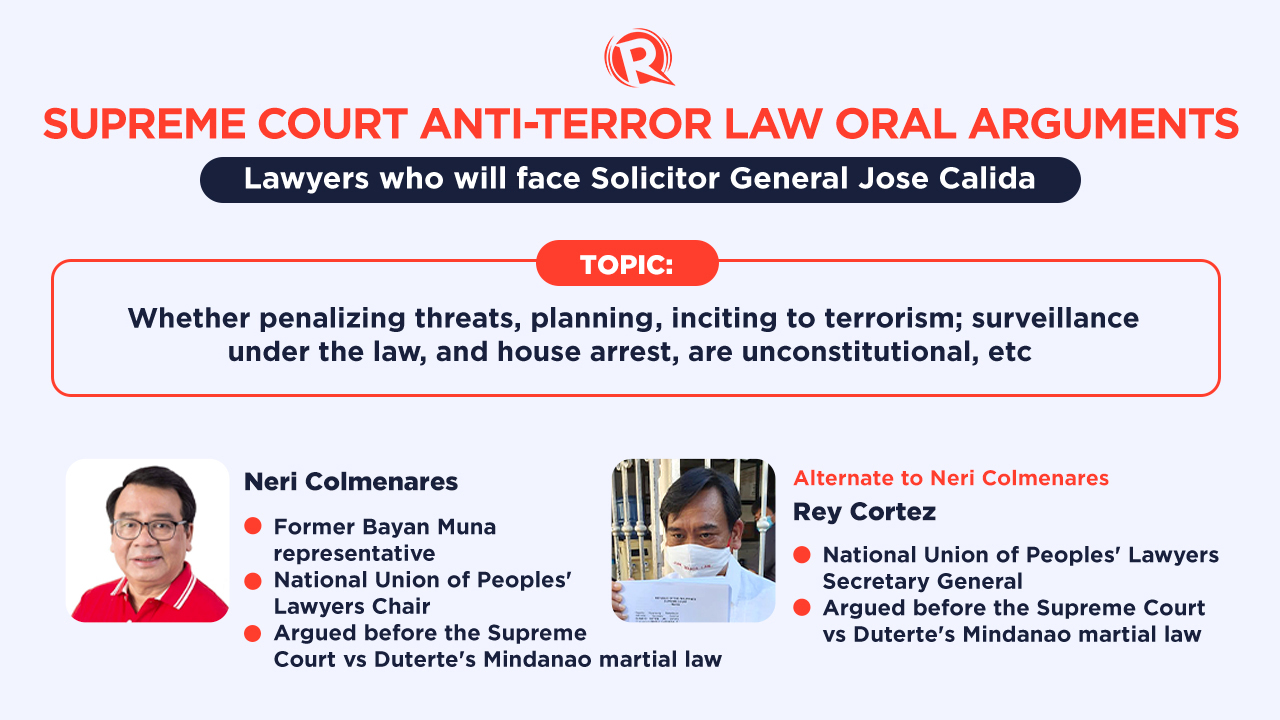 Section 25
In this new power, the anti-terror council (ATC) can designate people or groups as terrorists based only on its own secret hearings. This is a separate power from the court process of proscription.
Once the designation is done, the Anti-Money Laundering Council (AMLC) is automatically authorized to freeze the assets of the designated persons.
In the Implementing Rules and Regulations (IRR), the designated people's names are published on the website. The IRR added the option of applying for delisting, which is a process not found in the law.
Petitioners will argue that this unilateral power of the ATC is unconstitutional because it encroaches on the powers of the courts and violates due process.
Sections 35 and 36 of the law specifically give AMLC the power to freeze assets upon designation. Senators who voted for the bill belatedly realized the danger of this AMLC power, especially since AMLC has admitted to not having enough investigative manpower to carry out this task
Petitioners will argue that Sections 35 and 36 are also unconstitutional.
Speakers for the petitioners on this topic: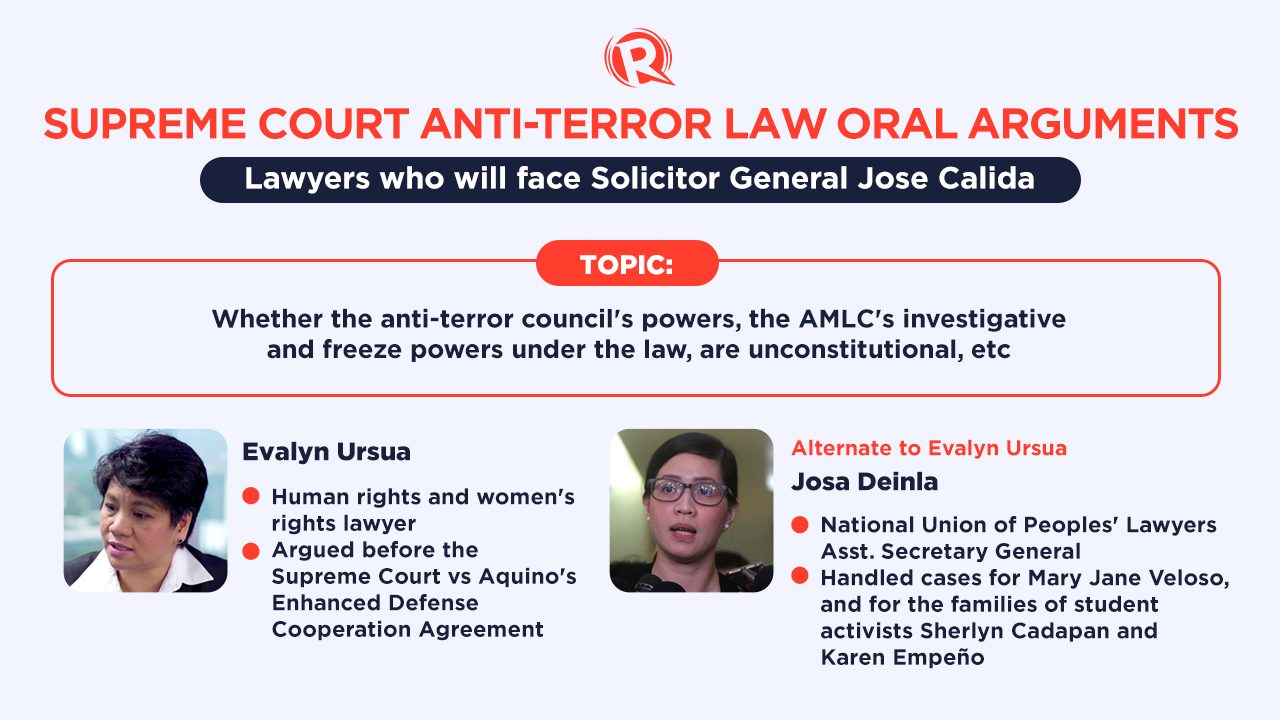 Section 27
In the old law, proscription as terrorists happen after a full trial. Under Section 27, there can be a preliminary proscription that can happen, even as quickly as 72 hours, without a single hearing.
The permanent proscription, or the lifting of the preliminary proscription, will follow after the trial.
Petitioners will argue that these amount to an ex post facto law, a law that punishes an act which was not a crime before the law was passed.
Simply put: Acts committed before the anti-terror law was passed, which didn't result in people and groups becoming declared as terrorists, will now get them punished because of new definitions.
Speakers for petitioners on this topic are Colmenares and Cortez.
Section 29
This provision allows the ATC to authorize the arrest and detention of suspects for as long as 24 days, even without a court warrant.
Rule 9.1 of the IRR added a requirement for law enforcers to first submit a sworn statement to the ATC before they can be authorized to make arrests.
Still, if law enforcers cannot submit a sworn statement at the time they want to make an arrest, they can still do so, provided they belatedly submit the statement within 36 hours.
Petitioners will argue that this not only violates the constitutional right to due process, it also violates the Revised Penal Code and the Rules of Court.
The Revised Penal Code allows law enforcers to keep someone they arrested without a warrant for only up to 36 hours, otherwise they should be released if not charged in court.
Section 18, Article VII of the Constitution says that if the nation is under martial law and the privilege of the writ of habeas corpus is suspended, a suspect can be kept for up to 3 days only.
Section 29 of the anti-terror law puts the country under a "permanent state worse than martial law," said retired supreme court senior associate justice Antonio Carpio, also a petitioner.
Speakers for the petitioners on this topic: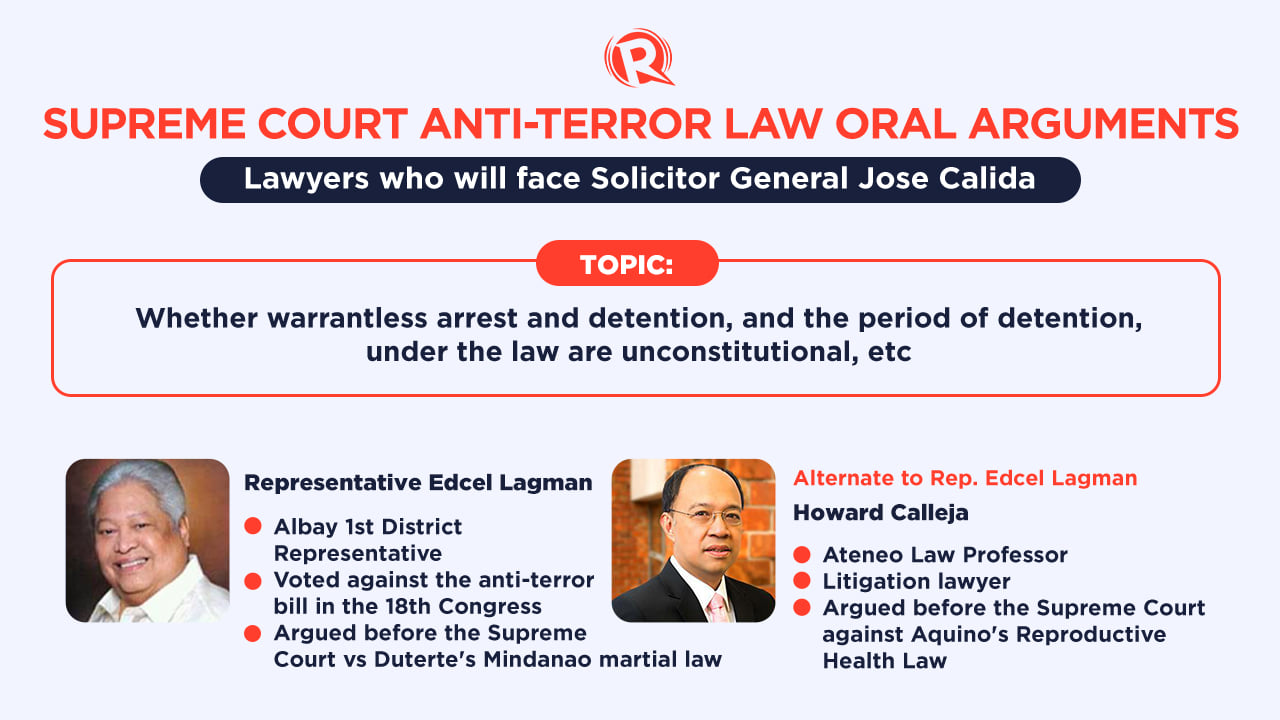 Section 34
Section 34 can impose house arrest. The heading of Section 34 lists down even bailable crimes such as threat to commit terrorism; proposal to commit terrorism; and inciting to commit terrorism.
The IRR – Rule 10.13 – clarifies that house arrest is only imposed for non-bailable crimes but where the court has granted bail. (Courts can grant bail upon application in non-bailable crimes.) (PODCAST: Law of Duterte Land: Deep dive into anti-terror law IRR)
Nevertheless, petitioners will still argue that Section 34 violates not only the right to bail, but also the right to travel. It also amounts to torture, petitioners will argue, as Republic Act 9745 punishes mental and psychological torture that can occur in detention.
Speakers for petitioners on this topic are Colmenares and Cortez.
Section 56
Section 56 repeals RA 9372 or the Human Security Act (HSA).
Petitioners will argue that the repeal violates the mandate to compensate victims of torture; and the right to due process.
In the HSA, if a suspect is acquitted, the government must pay P500,000 for each day that that the suspect was detained. This scared law enforcers and deterred them from arresting suspects so that so few were prosecuted under the HSA. This provision has been removed in the anti-terror law.
Also removed is the provision for a grievance committee that would evaluate complaints against implementors of the law.
The law also removed an HSA provision that gave the Commission on Human Rights (CHR) prosecutorial power over erring law enforcers and public officials. CHR currently does not have prosecutorial power.
It also removed the provision where the law is automatically suspended one month before and two months after any election.
In this discussion, petitioners will also argue that the law violates Indigenous Peoples' and Moros' rights to self-determination and self-governance.
Speakers for the petitioners on this topic: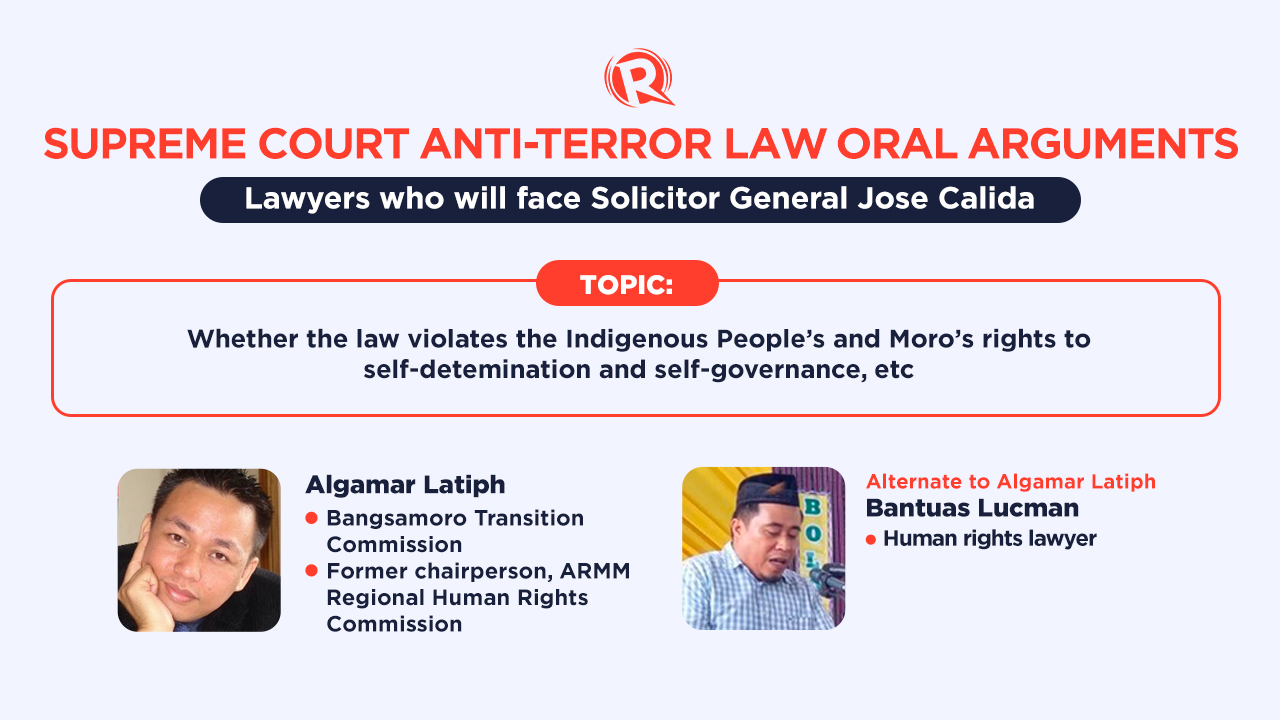 Tune in to Rappler for live coverage and streaming of the oral arguments on February 2, at 2:30 pm. – Rappler.com