This is AI generated summarization, which may have errors. For context, always refer to the full article.
Caguioa questions the validity of the law's arrest and detention provision, effectively saying this makes the case ripe for the Supreme Court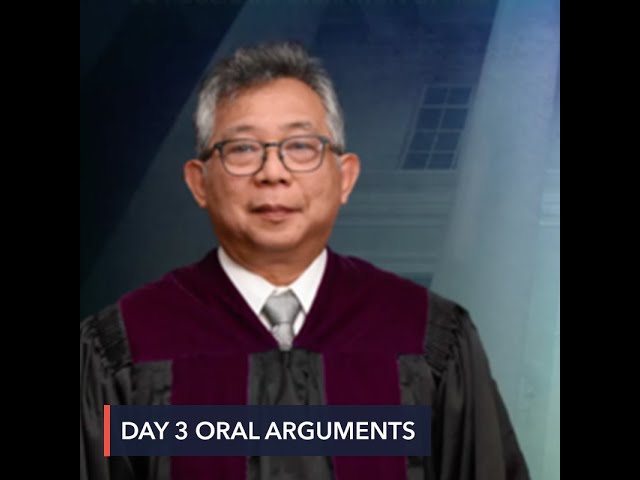 Supreme Court Associate Justice Benjamin Caguioa questioned the broad powers of the anti-terror law in his interpellation during Day 3 of oral arguments on Tuesday, February 16.
Interpellating 4 counsels during his turn, Caguioa pursued a line of thought that questioned the broad provisions of the anti-terror law, especially the anti-terror council's power to authorize arrest and detention of up to 24 days.
Caguioa pointed out that the anti-terror council could effectively issue warrants of arrest even though the Constitution and jurisprudence are clear that only judges – only courts – could issue warrants.
"In Salazar vs Achacoso, the Court categorically ruled there that under the 1987 Constitution, only judges and no other may issue warrants of arrest. But here we have Section 29, which grants the anti-terror council, which is not a court, the power to issue a piece of paper that will effect a deprivation of liberty," Caguioa said.
"If it walks like a duck and quacks like a duck, it must be a duck," Caguioa said, reiterating that the council's power is akin to that of a court.
"Simply by virtue of operation of Section 29, the Court, this Court is now confronted with an issue relating to a violation of the separation of powers" Caguioa added.
University of the Philippines (UP) law professor John Molo agreed to all of Caguioa's points, saying that "the real proposition of the anti-terror act is – can Congress, by simply citing a national security concern, get a core function of the judiciary and turn it over to the executive branch?"
Caguioa not only questioned the validity of Section 29, he also indicated that this can already fall under the Supreme Court's power of judicial review, effectively making the case for petitioners that the case is ripe for the Supreme Court.
"Can we conclude that the mere enactment of this provision, there is justiciable controversy that is actually ripe for judicial review?" Caguioa asked.
Detention and designation
The 24-day detention, Caguioa said, "would allow law enforcement to have that long period of time to look for something to prove his speculation at the time of arrest. "
"During this time he's allowed to look for evidence to show na… oops tama pala ang aking hinala, that's what it means. But in the meantime, the person is incarcerated for 24 days and later on if the court says Mister Policeman, walang basis 'yung hinala mo, how do we recompense this person for 24 days?"
Molo answered: "None, it has been obliterated, and there's no liability, Article 125 does not apply." Molo was referring to Article 125 of the Revised Penal Code that says a person arrested without warrant must be charged within a maximum of 36 hours or be released. If the period lapses, the arresting officers are liable for arbitrary detention.
Caguioa tackled the power of designation, the council's power to declare a person a terrorist without a court trial. Designation is a distinct power from proscription, which is a court function to declare someone a terrorist after a full trial.
To justify the designation power, the government had said it is only for the purpose of freezing an asset, but Caguioa asserted that "it seems to me designation already achieves the purpose of proscription."
Molo agreed, saying "you can reach all of your targets just by designation, so there's really no incentive to go through proscription."
Molo said law enforcement can already detain designated people. Caguioa seemed to agree, saying "they're the same."
The Department of Justice (DOJ) had earlier filed a proscription case before a Manila court to declare alleged members of the Communist Party of the Philippines-New Peoples' Army (CPP-NPA) as terrorists. The court had trimmed DOJ's original list of more than 600 to just two people.
"They can just designate these people, right?" Caguioa asked.
Burden of proof reversed
Like what the petitioners claimed, Caguioa said the burden of proof is reversed in the anti-terror law. Instead of the prosecution having to prove one's guilt, it is the suspect who's bound to prove his innocence.
Caguioa said that if someone is designated and then arrested, the person can file for a petition for habeas corpus, which is a remedy against illegal detention.
"What you have to do now is prove that you had no intent to cause these things, correct? Effectively, the rule is reversed, correct, you prove your innocence? That is the effect," said Caguioa.
Leftist lawyer Neri Colmenares agreed, and said designation amounts to an ex post facto power. Ex post facto is punishing an act which was not a crime when it was made.
Caguioa also discussed the threats by Lieutenant General Antonio Parlade. In a Facebook post, Parlade threatened petitioners by saying: "Very soon, blood debts will be settled. The long arm of the law will catch up on you, and your supporters."
"Would you agree that posting the statement is an act intended to cause harm?" said Caguioa, to which Colmenares replied with an impassioned statement about how red-tagged activists have been harassed, and worse, killed.
Caguioa cited a Manila Times article quoting Parlade as admitting that he erred when he made the threat against the petitioners.
"Would you agree that the fact that General Parlade has contradicted himself in calling petitioners as terrorists supports the claim that the law is vague? Because if it was easy to interpret and understand, no such mistake would be made, right?"
Day 3 ended a little bit past 5:30 pm, with the interpellation of petitioners still not finished. The oral arguments will resume on February 23. – Rappler.com