'Instead of instilling confidence in our police and military, your decision can only sow more confusion and mistrust,' says UP President Danilo Concepcion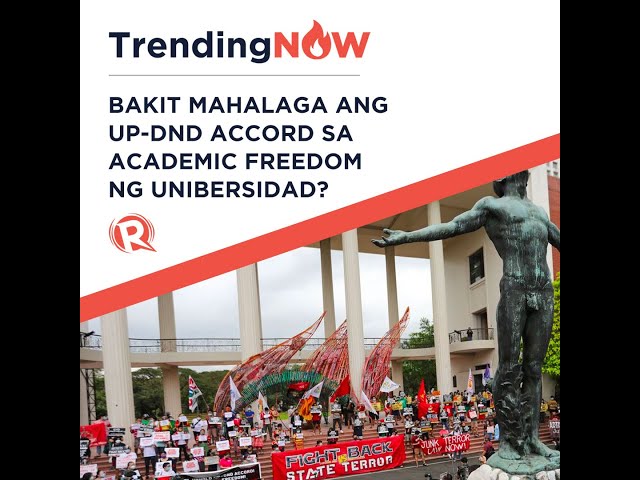 Responding to Defense Secretary Delfin Lorenzana's letter, University of the Philippines (UP) President Danilo Concepcion said on Tuesday, January 19, that the termination of the UP-Department of National Defense (DND) Accord is "totally unnecessary and unwarranted."
"I must express our grave concern over this abrogation, as it is totally unnecessary and unwarranted, and may result in worsening rather than improving relations between our institutions, and detract from our common desire for peace, justice, and freedom in our society," Concepcion said.
Concepcion said the agreement was terminated "without prior consultation" with the UP administration.
"Instead of instilling confidence in our police and military, your decision can only sow more confusion and mistrust, given that you have not specified what it is that you exactly aim to do or put in place in lieu of the protections and courtesies afforded by the agreement," he said.
The Duterte administration, through the DND, ended the government's decades-long accord with the University of the Philippines (UP) that prevented state forces from entering its campuses.
The accord, signed in 1989, provides that state forces have to notify the university administration first before they can enter UP campuses. If the termination is implemented, this means police and the military can enter UP campuses freely.
Concepcion said the university sought the agreement "not to evade or weaken the law, but to protect the climate of academic freedom—guaranteed by the Constitution—that makes intellectual inquiry and human and social advancement possible."
"We want to maintain UP as a safe haven for all beliefs and forms of democratic expression. In that, all the signatories to the agreement believed and bound themselves to uphold," he said.
The UP campuses have been a refuge for student activism since the 1980s – a result of a long history of student disappearances, killings, and police and military violence within the vicinity of the campuses.
"Our University community does not and cannot fear the fair and speedy enforcement of the law, and we value and appreciate the contributions of our uniformed services to our safety and security. We do not condone sedition, armed insurrection, or the use of violence for political ends," Concepcion said.
"At the same time, especially given our experience of martial law, we must reject any form or semblance of militarization on our campuses, which will have a chilling effect deleterious to academic freedom. This abrogation endangers the goodwill necessary for both of us to achieve our mission as responsible members of the same national family," he added.
No basis to terminate
But for legal expert Tony La Viña, the defense department has "no right to unilaterally terminate the agreement."
"The 1989 Accord did not provide for an exit clause. As such, both parties should agree to terminate this mutual pact," La Viña told Rappler Monday night.
He added that Lorenzana's letter just "red-tagged students who are fearlessly standing up for what they believe in. There is no legal basis to terminate the 1989 Accord."
– Rappler.com