WHAT YOU NEED TO KNOW
President Ferdinand Marcos Jr. flies out of the country again to participate in the commemorative ASEAN-EU Summit in Belgium from December 11 to 15. This is his first visit to the European continent as President and his sixth foreign visit since he assumed the presidency six months ago on June 30.
Marcos will be speaking at the ASEAN-EU Summit, where members of two major regional bloc – the Association of Southeast Asian Nations (ASEAN) and the European Union (EU) – will be speaking. He will also be the closing keynote at the 10th ASEAN-EU Business Summit.
The President is also set to hold 10 bilateral meetings with key European countries, as well as the European Union, on the sidelines of the events.
Follow this page for updates and analysis from Manila and Belgium.
LATEST UPDATES
Marcos Jr. didn't meet Belgian King to withdraw $987 billion
Claim: President Ferdinand Marcos Jr. met Belgian King Philippe to withdraw $987 billion from a Belgian bank account of former president Ferdinand E. Marcos.
YouTube channels Sa Iyong Araw and PweDelie TV claimed this in some of their videos of stitched clips gathered from Marcos' visit to Belgium during the ASEAN-EU Summit from December 11 to 15, 2022.
Rating: FALSE
Read the detailed fact check here.
Marcos at ASEAN-EU summit: Trade, climate change 
President Marcos made a case to finally set up a free trade agreement between the two blocs. He also rallied EU and ASEAN cooperation to enforce the application of UNCLOS. 
Marcos brought up the issue of climate change, too. "There is no problem like climate change that is so global in nature that it requires immediate and united effort. We need to act now. We need to act together. We need to get it right," he said. 
Rappler Recap: Marcos at the EU-ASEAN Summit
Live from Brussels, Belgium, Rappler reporter Bea Cupin recaps President Ferdinand Marcos Jr.'s participation in the commemorative ASEAN-EU Summit in Belgium from December 11 to 15.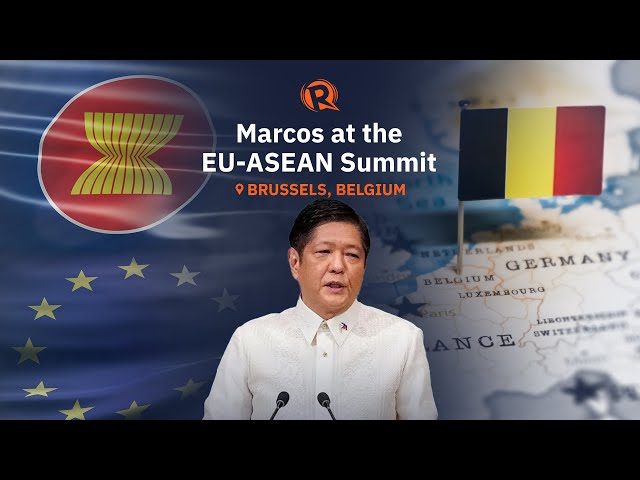 Brussels airport officials, PAL eye Brussels-Manila route
Following a meeting on the sidelines of the ASEAN-EU Business Summit, Brussels airport officials and Filipino flag carrier Philippine Airlines agreed to work on creating a direct route between Brussels in Belgium and Manila in the Philippines, Malacañang said in a press release.
Marcos makes pitch for climate 'loss and damage' fund
Speaking before officials of the ASEAN and EU on December 13, Marcos called on political and business leaders from the European bloc to come up with clear guidelines of the "loss and damage" fund for countries who bear the brunt of climate change, including the Philippines.
"Since that seems to be the case and that is what we are facing in the Philippines, we are very much in need of the assistance of Europe, of all the first world countries and to be able to adjust our economy, our communities to the onset of the effects of climate change," he said.
PH creates advisory board for seafarers 
After a meeting with international maritime employers and shipowners on the sidelines of the ASEAN-EU Summit in Brussels, Marcos ordered the creation of an "advisory board" that would handle the needs of Filipino seafarers.
The board will be composed of government agencies, international shipowners, and other stakeholders, according to a release from the Office of the Press Secretary. 
Marcos had earlier said the Philippines would "have to comply" with standards set by the European Union, lest it risk the loss of jobs.
Filipino seafarers brought in over $6.54 billion in remittances in 2021.