Former PS-DBM Inspection Division officer-in-charge George Mendoza says this took place on at least two separate occasions
A former official of the Procurement Service of the Department of Budget and Management (PS-DBM) told senators on Monday, September 13, that early on in the pandemic, he had been instructed to sign inspection documents for COVID-19 items coming from Chinese suppliers – before actual inspection and delivery of items were made to the Philippines.
On the questioning of opposition Senator Francis Pangilinan, former PS-DBM Inspection Division officer-in-charge George Mendoza admitted to lawmakers that he'd been ordered to sign inspection reports this way on at least two separate occasions.
"There was an instance where…there was no supplies of PPEs so we had to resort to China. There was no delivery yet, but but we were advised or instructed to prepare the inspection document considering it will be an attachment for the China supplier na sila po ay babayaran (which will be paid) once the shipment or PPEs arrive," Mendoza said.
He added, "Parang dalawa po (I think this happened twice) – two suppliers, two inspection reports."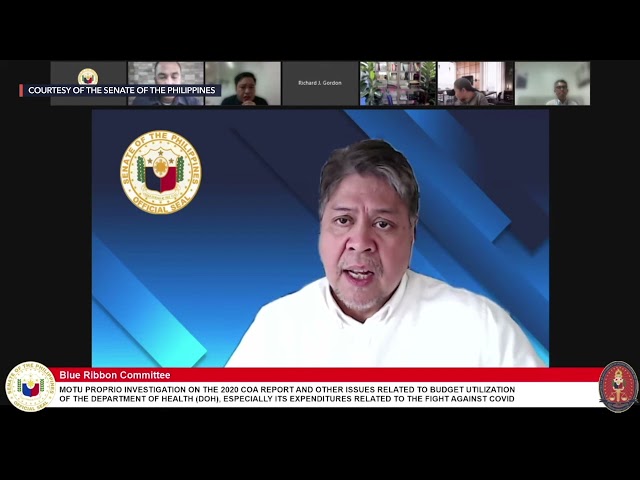 Mendoza, who worked on a contractual basis with the DBM for 31 years, is no longer with the PS-DBM after his contract was not renewed in January 2021.
Acting assistant at the PS-DBM Mervin Tanquintic later confirmed that the preparation and signing of inspection documents had indeed taken place before delivery of goods was completed.
Asked if this could mean that payments to Chinese suppler were made before actual delivery of goods, Mendoza conceded this could be possible and admitted that this was not in line with proper government processes.
"This is not the normal procedure, your honor," Mendoza said.
The argument that government only paid for COVID-19 items upon its delivery has so far been former PS-DBM chief Lloyd Christopher Lao's main defense against senators' accusations that he did not observe due diligence or safeguard public funds in the agency's procurement of pandemic items.
Mendoza told lawmakers he had received instructions to sign inspections documents from the PS-DBM's management, adding that directions were given to him by the agency's chief finance officer at the time, Raoul Catalan.
Catalan, who has left the PS-DBM, is among those to whom the Senate will serve a subpoena to appear in the Blue Ribbon Committee's next hearing on Friday, September 17. – Rappler.com
Read the other stories from the September 13, 2021, Senate blue ribbon committee hearing: