The intertropical convergence zone will again cause scattered rain and thunderstorms on Sunday, August 22. Severe Tropical Storm Isang (Omais) still has no impact on the country.
The intertropical convergence zone (ITCZ) will continue to bring rain to parts of the Philippines on Sunday, August 22.
Meanwhile, Isang (Omais) intensified from a tropical storm into a severe tropical storm at 2 am on Sunday, but it remains far from the country's landmass.
In its 4 am bulletin on Sunday, the Philippine Atmospheric, Geophysical, and Astronomical Services Administration (PAGASA) said the ITCZ will cause scattered rain showers and thunderstorms in the following areas on Sunday:
Western Visayas
Zamboanga Peninsula
Bangsamoro Autonomous Region in Muslim Mindanao
Soccsksargen
Bataan
Zambales
Palawan
Occidental Mindoro
Oriental Mindoro
The rest of the country may also have isolated rain or thunderstorms.
PAGASA warned that floods and landslides could occur during severe thunderstorms.
The ITCZ is a belt near the equator where the trade winds of the Northern Hemisphere and Southern Hemisphere meet, usually causing low pressure areas or thunderstorms. (READ: FAST FACTS: Tropical cyclones, rainfall advisories)
In a separate bulletin issued 5 am on Sunday, PAGASA said Isang was already 560 kilometers northeast of Itbayat, Batanes.
The severe tropical storm is moving northwest at 20 kilometers per hour (km/h), approaching the waters off Japan's Miyako Islands.
PAGASA said Isang is expected to keep heading northwest or north northwest on Sunday.
It could pass near or over the Miyako Islands and leave the Philippine Area of Responsibility (PAR) on Sunday, around noon or in the afternoon.
Outside PAR, added PAGASA, Isang could shift more to the north on Sunday evening while over the East China Sea, then north northeast on Monday, August 23, toward South Korea's Jeju Island and the Korean Peninsula.
Before dawn on Sunday, Isang's maximum sustained winds were at 95 km/h, with gustiness of up to 115 km/h.
PAGASA said the severe tropical storm is seen to maintain its strength on Sunday, but it could start to weaken on Monday and may eventually be downgraded back to a tropical storm.
Isang has not affected any part of the Philippines.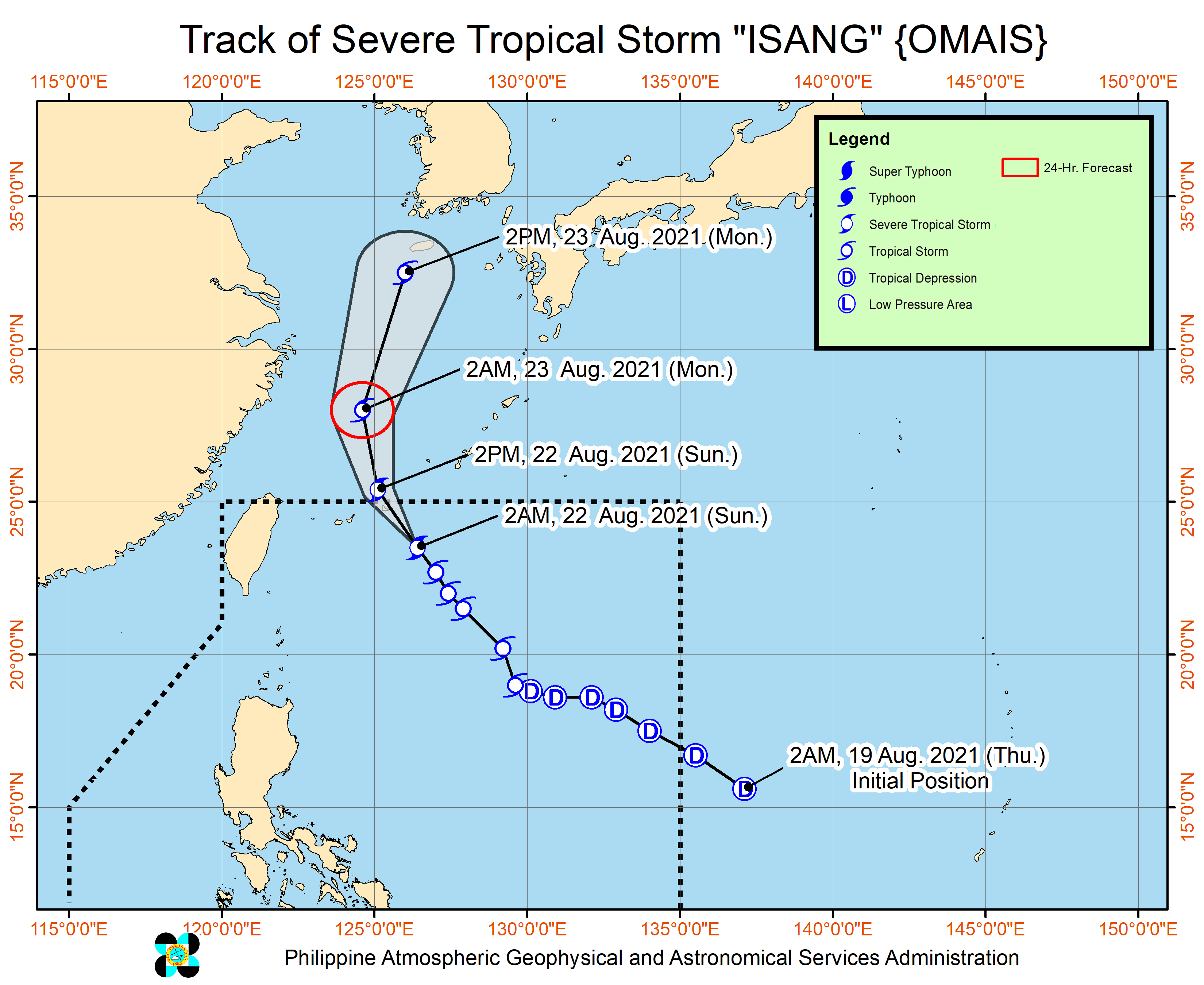 Isang is the Philippines' ninth tropical cyclone for 2021 and the third for August.
An average of 20 tropical cyclones form within or enter PAR each year. (READ: LIST: PAGASA's names for tropical cyclones in 2021)
These are PAGASA's latest available estimates per month:
2021
August – 2 or 3
September – 2 or 3
October – 2 or 3
November – 2 or 3
December – 1 or 2
2022
The rainy season has been underway since early June. – Rappler.com