Though Typhoon Quinta (Molave) is now outside the Philippine Area of Responsibility, there is still rain in parts of the country. The LPA outside PAR may also become a tropical depression.
Typhoon Quinta (Molave) left the Philippine Area of Responsibility (PAR) at 8 am on Tuesday, October 27, but its trough or extension is still affecting parts of the country.
A low pressure area (LPA) or potential tropical cyclone outside PAR is also being monitored.
In a bulletin issued 11 am on Tuesday, the Philippine Atmospheric, Geophysical, and Astronomical Services Administration (PAGASA) said Quinta is already 775 kilometers west of Calapan City, Oriental Mindoro, or 255 kilometers north of Pag-asa Island, Palawan.
The typhoon is heading west at 20 kilometers per hour (km/h), further moving away from PAR.
Quinta strengthened as it made its exit, and now has maximum sustained winds of 150 km/h from the previous 140 km/h, with gustiness of up to 185 km/h from the previous 170 km/h. PAGASA said the typhoon may reach its peak intensity within 24 hours. (READ: FAST FACTS: Tropical cyclones, rainfall advisories)
Though Quinta is already outside PAR, Signal No. 1 is still raised in the Kalayaan Islands since the typhoon remains relatively near that area. PAGASA said strong breeze to near gale conditions will be experienced in the island group.
PAGASA added that Quinta's outer circulation may cause occasional gusts in these areas:
Mimaropa
western part of Luzon
Western Visayas
The northeasterlies will also trigger strong breeze to gale conditions in the following provinces:
Batanes
northern part of Cagayan including Babuyan Islands
Apayao
Ilocos Norte
Rainfall from Quinta's trough will likewise continue on Tuesday, which may trigger more floods and landslides.
Moderate to heavy rain, with at times intense rain
Occidental Mindoro
Oriental Mindoro
Palawan including Calamian, Cuyo, and Kalayaan Islands
Western Visayas
Light to moderate rain, with at times heavy rain
Calabarzon
Cagayan
Isabela
Aurora
Davao Region
Surigao del Sur
Travel remains risky, especially for small vessels, in several seaboards.
Rough to very rough seas (waves 2.5 to 5.5 meters high)
northern and western seaboards of Luzon
Moderate to rough seas (waves 1.2 to 2.5 meters high)
eastern seaboards of Central Luzon, Southern Luzon, and Palawan including Cuyo Islands
southern seaboards of Occidental Mindoro and Oriental Mindoro
western seaboards of Western Visayas
Quinta had made landfall in Luzon 5 times, causing massive floods, damaging homes, destroying crops, and leaving at least 21 national road sections impassable. (IN PHOTOS: Typhoon Quinta destroys houses, floods parts of Bicol and Mindoro)
Its 5 landfalls were in these areas:
San Miguel Island, Tabaco City, Albay – 6:10 pm, Sunday, October 25
Malinao, Albay – 6:50 pm, Sunday
San Andres, Quezon – 10:30 pm, Sunday
Torrijos, Marinduque – 1:20 am, Monday, October 26
Pola, Oriental Mindoro – 3:30 am, Monday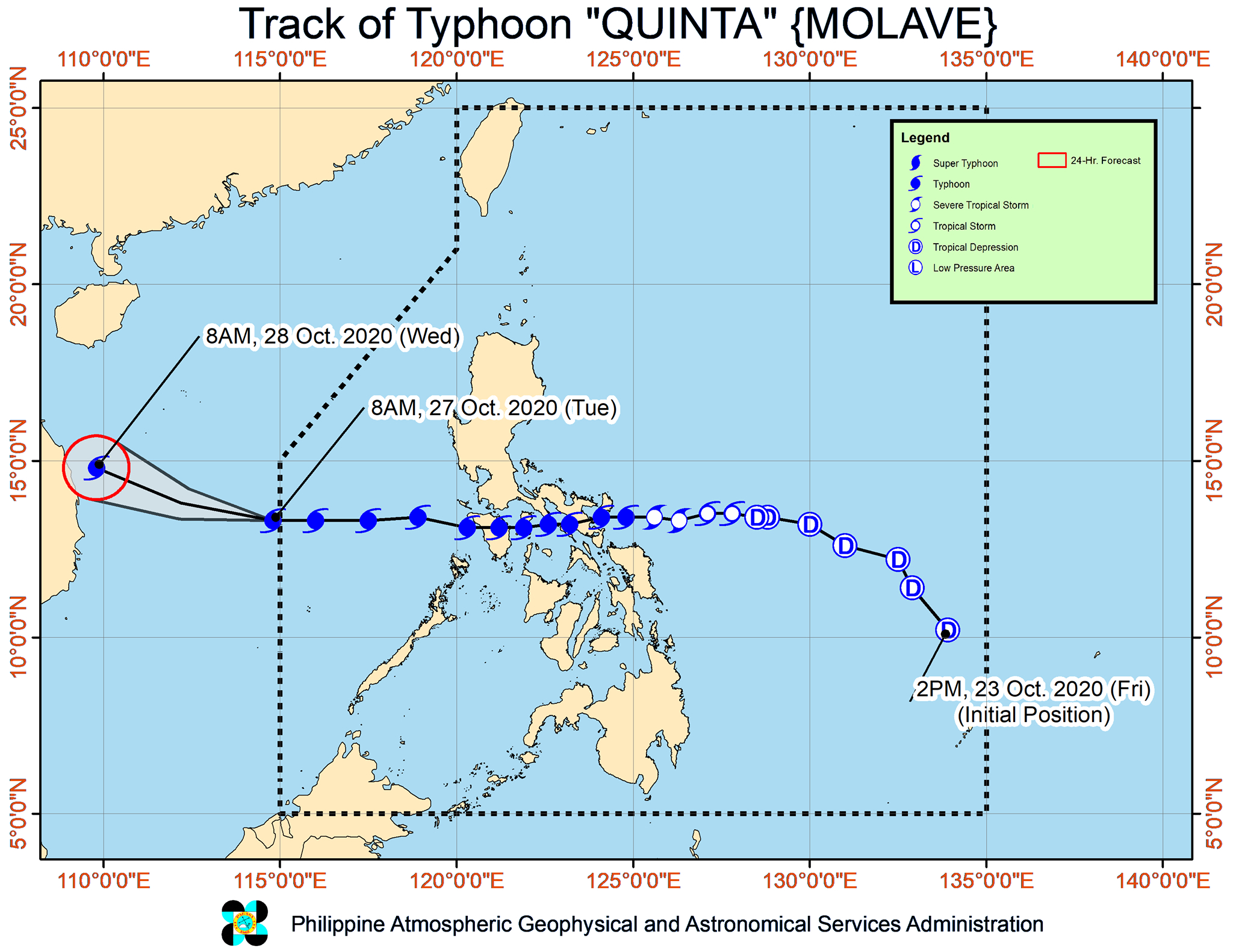 Quinta was the Philippines' 17th tropical cyclone for 2020, and the 4th for October.
After Quinta, the focus now shifts to the LPA outside PAR, located 2,115 kilometers east of Southern Luzon.
PAGASA said the LPA may enter PAR on Wednesday, October 28, or Thursday, October 29.
The state weather bureau is now forecasting that the LPA is likely to develop into a tropical depression in the next 48 hours. Previous models showed only a slim chance of this happening, but as with any weather system, developments or updates are expected.
If the LPA becomes a tropical depression within PAR, it would be given the local name Rolly, as the Philippines' 18th tropical cyclone for 2020. (READ: LIST: PAGASA's names for tropical cyclones in 2020)
Information on the possible track of the potential Rolly and other details will likely be given in the coming days.
An average of 20 tropical cyclones form within or enter PAR each year.
These are PAGASA's latest estimates for the number of tropical cyclones inside PAR in the next 6 months:
November 2020 – 1 to 3
December 2020 – 2 or 3
January 2021 – 0 or 1
February 2021 – 0 or 1
March 2021 – 0 or 1
April 2021 – 0 or 1
Last October 2, the state weather bureau warned Filipinos to expect more rain in the coming months due to the onset of La Niña. – Rappler.com