This is AI generated summarization, which may have errors. For context, always refer to the full article.
'We do not trade scrutiny for speed,' says Senate President Migz Zubiri
MANILA, Philippines – Ahead of the adjournment of the first regular session of the 19th Congress, Senate President Migz Zubiri touted the upper chamber's "accomplishments" for approving eight priority measures of the Marcos administration.
"We take a short break from a productive year, during which we responded to the needs of our people and the challenges of the times with hard work and high purpose," Zubiri said in a statement on Wednesday, May 31, as the Senate conducted its last session before the sine die adjournment.
The Senate President boasted the approval of eight bills under his leadership, including the controversial Maharlika bill, which is closer to becoming law. Three of these bills have been enacted into law – the SIM Card Registration Act, the Act Postponing the Barangay and Sangguniang Kabataan elections, and the Armed Forces of the Philippines fixed-term code.
Meanwhile, four bills that hurdled the Senate are up for the signature of President Ferdinand Marcos Jr. – the measure on the Condonation of Unpaid Amortization and Interests of Loans of Agrarian Reform Beneficiaries, the Regional Specialty Centers Act, the Extension of the Estate Tax Amnesty Act, and the Maharlika Investment Fund Act.
The Trabaho Para sa Bayan Act has also been approved on third reading.
'We do not trade scrutiny for speed'
Zubiri said that every bill that the Senate deliberated on was thoroughly debated.
"True to our tradition, we do not agree to proposals without discussion, nor embrace ideas without debate. We improve before we approve. We do not trade scrutiny for speed," he said.
"Lahat naman po ng batas na ating pinapanday dito ay dumadaan sa masusing pag-aaral. Hindi po natin ito pinapabagal. Ang ating ginagawa ay pinapabuti (Every bill that we craft undergoes careful study. We don't delay them. What we do is we improve them). And it is the people who have assigned us that role: to be the final checkpoint before bills become laws," Zubiri added.
He noted that "every bill that passes here bears the Senate's seal of great lawmaking."
"And I am proud that every member of this Senate has done their part in honoring our pledge to the people. We show up, we step up, we speak out every session day that the roll is called," Zubiri said.
But a week before the adjournment of session, the upper chamber fast tracked the approval of the Maharlika bill, a priority legislation of the Marcos administration.
Despite opposition from groups, the Senate passed the Maharlika bill in the first hours of Wednesday, after an 11-hour plenary session.
The MIF is a proposed sovereign wealth fund that will be used by the government to invest in key sectors like domestic and foreign corporate bonds, commercial real estate, and infrastructure projects – to help fund the country's priority programs.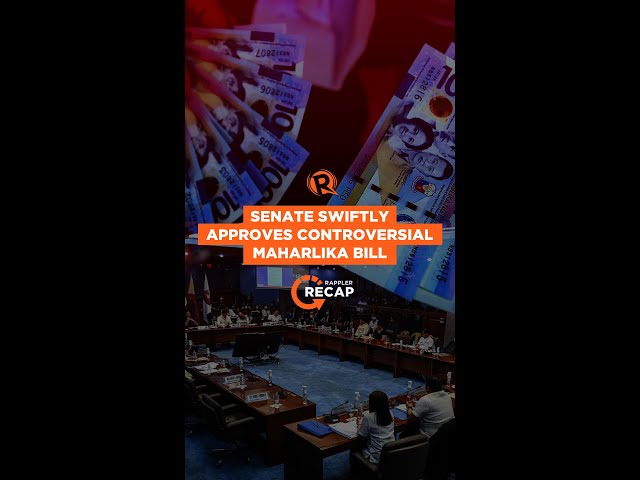 The proposed Maharlika fund has sparked public outcry from pensioners, and faced a legal challenge before the Supreme Court. Critics questioned the timing of the bill as there are more pressing issues the government needs to focus on like addressing high inflation. – Rappler.com