The Corona trial has resulted in another round of review of banking practices among local players, similar to what happened during the Estrada impeachment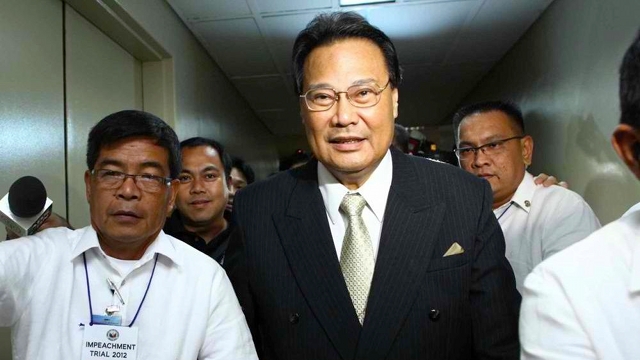 MANILA, Philippines – Finance wizards in the country's business districts are closely watching the impeachment trial of Chief Justice Renato Corona and taking notes on how to keep their own institutions safe.

So far, the trial has exposed real estate properties and bank accounts of Corona, making some asset and finance managers wonder how and why Corona's wealth is invested that way.

On Tuesday, May 22, Corona will take the witness stand and is expected to answer questions about his wealth.

Days leading to D-Day, coffee shop and boardroom discussions have revolved around the lack of diversification in Corona's assets, as well as the banks' practice of good governance in the handling of the deposit and investment accounts of a high-profile client.  

Rappler consulted with finance, investment and banking law experts to make sense of the multi-million wealth mentioned in the trial amid claims of politicking and other issues. Some of the sources asked not to be named due to the sensitive nature of the topic.
Asset portfolio

The testimony of Ombudsman Conchita Morales on the reported dollar accounts of Corona skewed the known asset portfolio of the Chief Justice toward more deposit accounts.

Earlier in the impeachment trial, the discussions on the supposed current real estate properties of Corona and his family set a tone that Corona was the type who prioritizes "safety" over "income" when investing his assets.

A private banker based in Singapore who used to plan and execute the investment strategies of some of the Philippines' richest, said there are some Filipino clients who prefer to put their eggs in a few baskets, with real estate as a key component, since it reflects their risk appetite.

Generally in a market not as volatile and sophisticated as other mature markets, real estate is an investment considered "safe" since having a physical asset is reassuring. "Real estate is a favorite asset among some Filipinos since they can pass these on to heirs," the private banker said.

Corona and his family accumulated condominium units in the blossoming real estate corners in Makati, Taguig and Quezon cities, as well as traditional house and lot in a posh village.

The estimated P30 million price tag of the real estate properties is "not earthshaking," according to the private banker, especially when considered against the total asset portfolio of Corona.

The total of Corona's assets, however, became greatly skewed when Morales testified about the chief justice's dollar accounts based on transactions within the Philippine banking system monitored by the Anti-Money Laundering Council.

The reported $10 million to $12 million net dollar transactions (the difference between total amounts that entered the banking system versus the withdrawals) translate to around P650 million, dwarfing the real estate assets.

"Deposits and investment accounts have a particular quality — they are liquid," said Tony Herbosa, a finance and investment expert. "It is easy to withdraw or convert into cash. With real estate, you have to find buyers and agree at a right price. It takes time."

Not a passive investor

This is echoed by other investment experts.
Lawyer Reynaldo Geronimo, who helped craft several investment and banking laws, explained further why some bank clients want to be cash-ready.

"If it gets too hot here in the Philippines, all I have to do is tell my bank to send that to another country, get my passport and fly to another country. That's the attractiveness of a dollar account for somebody who wants a quick out," he said.

An investor who wants a liquid asset in his portfolio, however, needs a "nest egg."
 
"If you open an account in another country, there are very strict requirements. So you open it here where you are known, where there is no question about legitimacy of what you put in there…Then because of the free transferability of funds from one country to another through the banking system, you have that liquidity and flexibility," he stressed.

Why then are the liquid assets seemingly accounting for a big chunk in Corona's asset portfolio?
Geronimo replied, "Assuming that that is his money, then he is putting a lot of value on transferability and liquidity. Why? Perhaps he has obligations to other people. Or maybe he has some health problems so it is possible he wants ready cash available."

However, putting premium on having liquid and flexible assets is one thing, growing and wisely investing them in products are another.

The 82 bank transactions mentioned by the Ombudsman during her testimony (based on the 17-page list of transactions monitored by the anti-money laundering council) did not bother the chairman of a large commercial bank.

"It's (the number of transactions) not alarming. That just tells you that the Chief Justice is not a passive investor. He, or whoever is managing his portfolio, shops around for the best rates, which is a basic practice among clients who want to make the most their funds. He wants to actively grow it, not just let it sleep," he said.

The list of transactions shows different modes of moving funds from different accounts, and into other banks, branches, or other departments.

For example, Corona withdrew $471,671.96 from Bank of the Philippine Islands (BPI) on Dec 15, 2009 and transferred it to PSBank on the same day. Metrobank, the parent firm of PSBank, acquires the funds the following day, Dec 16, 2009 but only keeps it for a week before the funds are transferred back to BPI. The funds are shuffled between the two banks one more time, before it is invested into a trust product at BPI. After around 52 days, the funds earned almost $14,000.

"Clients really shop around. The best banker with the best rates or relationship with the client wins," the bank chairman said.

Why no private banker?
Sometimes, convenience matters, too, explained Geronimo when asked why so many bank branches are involved.
"It is near his house or his office. From that branch, you can give instructions to invest in money market, T-Bills, etcetera…This probably explains why there are many in and outs. In other words, he think it's convenient for him to maintain in this account then order that account to flow out to another investment outlet," he said.
 
Typical low-risk investment outlets among banks are Treasury Bills (T-Bills) which have terms that range for less than a week to 360-days.

"He seems very conservative. With that amount, he should actually be investing in stocks or other instruments that can give more bang for his buck," investment expert Herbosa stressed. "But again, it all boils down to his risk appetite."

Given the amounts and worth of assets involved, the private banker from Singapore said the banks should have already assigned a private banker or account officer to Corona to help him manage his liquid accounts.

"It takes only P5 million to qualify as a private banking client…You have a client here who has much, much more. If you want to keep him as a client, make him happy, give him the convenience of having someone shopping around for the best rates, best products that fit his investment strategy," she said.

So far, aside from PSBank president Garcia, only branch-level officers have been called to the witness stand.
This is a major difference between the impeachment trials of former President Joseph Estrada and Corona, noted Herbosa.
"We were talking about investment management accounts or IMAs of Estrada then. That's why Clarissa Ocampo testified. She was in charge of his (Estrada) investment accounts and had a good overview of the total banking relationship of her bank with Estrada, who was also a high-level official like Corona."
This time, the focus on Corona's liquid assets are on "plain old deposit accounts," which has one of the least returns among investment products, Herbosa said.  
Not to protect public officials
A  lesson from the Corona trial for local bankers and investment officials is a reiteration of a mantra: good governance in the financial system.

"Certainly, good governance of accounts, as well as of the bank itself, will require that these transactions be handled by a person for him and for the bank," Geronimo noted.

Geronimo was referring to that Corona holds the highest post in the judiciary, and that cases or issues may be raised against him or the banks handling his funds.

He also espoused having a point person familiar with why foreign-denominated accounts should be handled prudently.
Corona's foreign exchange bank accounts have grabbed most of the limelight since Corona's counsels and a local bank, PSBank, have cited that these are covered by strict secrecy laws, and should not be divulged at the trial.

Geronimo explained that, "The secrecy of the forex deposits was initially conceived for foreigners…The purpose of FCDA (Foreign Currency Deposit Act) is not to protect public officials who want to hide their money in dollar accounts, but to encourage foreign investors to bring in their money here. The foreigners are given this assurance of absolute secrecy."
The law was not meant to "enable Philippine officials to send money abroad and round trip it in local banks."

The banking law expert added, "This also stresses the KYC (know your client) aspect. It is an obligation (of the bank) to know your client. There should be prudence to reject (a client) the minute that his (account) is going to put your institution in bad light…Some banks are lax on KYC because they want the deposits."

He said it is likely that banks have known Corona for a long time, as well as the records of his bank transactions. "If we can take a look at origins of these accounts, it may show that these must be an accumulation, such that it did not cause the raising of the red flags for the banks."

Geronimo said that the Corona impeachment trial has resulted in another round of review of banking practices among local players, similar to what happened during the Estrada trial.

"I think the banking system will be more careful. Bankers are usually conservative people. We know what happens to people who are very aggressive with other people's money," he said.
 
"Eventually, bankers will establish internal rules again to make banking be more boring. It is important for activities like this to be boring and predictable so everyone will know the rules, and know what will happen if this is done. We have to have to have that kind of stability in this system," he stressed. – Rappler.com
Click on the links below for more.