While research on the matter is ongoing, health experts agree that the limited doses available should go to those who remain unprotected
As COVID-19 cases in the Philippines and around the world continue to rise due to the highly contagious Delta variant, many vaccinated people are asking if they should be getting "booster" doses.
Some countries have started offering third doses to vulnerable groups, while scientists are still debating whether an extra shot is truly needed for the rest of the population at this point in the pandemic.
In the Philippines, there are reports that, among the 11% of the population who are fully vaccinated, those who can afford it are inquiring whether vaccines purchased by the private sector can serve as "booster" doses.
Only a very specific subgroup need boosters
Scientists and health experts worldwide are still fielding studies to answer several questions related to this:
Who will need booster shots?
Which vaccines should they get for boosters?
When exactly will people be able to receive an extra shot?
How often will a booster dose be needed?
For now, research has shown that some severely immunocompromised individuals – such as those who were on immunosuppressant medication or have had an organ transplant – could benefit from receiving an extra shot. This is because they get little to no protection from the currently authorized vaccine dosage.
Such was the thrust behind the move of the United States, which recently authorized giving an additional dose of a messenger RNA COVID-19 vaccine to certain people with weakened immune systems.
But for people outside this specific subgroup, experts are firm about fully vaccinated individuals not needing an additional dose yet.
Vaccinologist and global health specialist Dr. Melvin Sanicas points out that the Delta variant has not brought the world, nor vaccines, back to square one.
"Having more infections because of a more transmissible variant is not enough to recommend boosters for all," he said.
Waning antibodies doesn't necessarily create a need for extra doses. "Antibodies are just one part of the immune system. To fight COVID-19, protect versus infection, and clear infection, we need antibodies and cell-mediated immunity," Sanicas said.
One way to know that a booster shot is needed is when countries with high vaccine coverage record substantial numbers of hospitalizations among those fully vaccinated. This hasn't been the case.
While thousands of breakthrough infections among fully vaccinated individuals have been reported in different countries in recent weeks, these cases remain relatively rare.
Available data show that vaccines continue to work. It is unvaccinated people who are much more likely to contract COVID-19 and end up in the hospital, while those who are fully vaccinated experience drastically reduced risk of severe outcomes.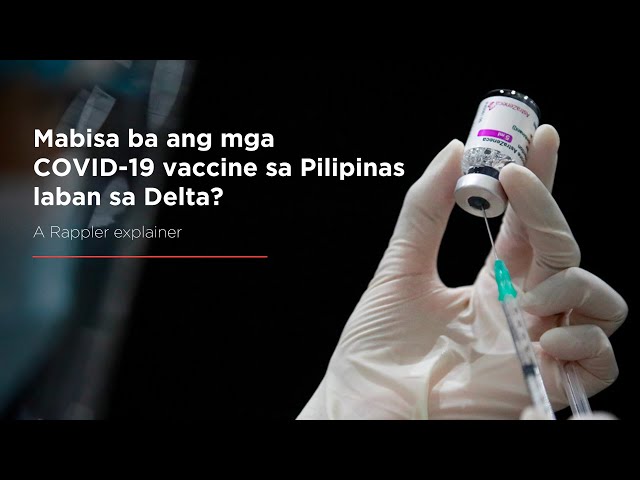 Safety of mixing and matching vaccines still being studied
Cambodia and Chile have allowed an extra dose of AstraZeneca's vaccine to be given to citizens who received Sinopharm and Sinovac vaccines. But according to the Philippines' Dr. Benjamin Co, an infectious disease and clinical pharmacology specialist, the jury is still out on mixing different vaccine platforms.
"The data for COVID vaccines is very scant in the sense that the clinical trials done have been undertaken for a year or so only. So I'm really not too sold on the safety issue of mixing and matching without stronger data," he said.
In countries that have tried this set up, initial findings show that mixing and matching vaccines can come with increased side effects.
Giving an extra "booster" shot to people who don't need it yet likewise isn't a guarantee against COVID-19, Co said, adding data on this was still up in the air.
PH has yet to fully protect vulnerable groups
The Department of Health says boosters are not yet needed at this time, especially as vaccines remain scarce and the country has yet to fully protect vulnerable groups. The Philippine Society of Microbiology and Infectious Diseases supports this position.
Many experts agree that doling out extra shots to those who are fully vaccinated cannot come at the expense of leaving vulnerable individuals unprotected.
"I will stand up on what we know as of now – that a third dose is not needed as of the moment. We do not even have enough [vaccine supply] for everybody, and then you give a third dose for the same people? The issue here is equity," said Dr. Maria Quizon, an epidemiologist and member of the National Immunization Technical Advisory Group (NITAG).
She added: "If it really is needed, [then] why not? But it is not…proven right now that we do need a third shot."
WHO has called for booster moratorium
Kate O'Brien, director of immunization, vaccination, and biologics at the World Health Organization (WHO), warns against providing booster shots without strong evidence that it was needed. Such a move will be difficult to defend, and can lock countries into giving more doses while the global distribution of vaccines remains grossly unequal. 
"When we are in a position where the evidence is weak and yet people proceed with the intervention, it's really difficult to walk back from that," O'Brien told STAT.
In calling for a moratorium on boosters, the WHO has taken pains to distinguish between giving extra doses to severely immunocompromised individuals – who may need it to develop immunity to begin with – and vaccinated populations to shore up immunity, for which data is not yet clear.
O'Brien says the biggest impact of vaccination would be felt if the most high-risk populations, like the elderly and health workers, are protected across the world.
"People in one country are not more important than the humans in another country," she said.
The same goes for personal choices. It would feel wrong to line up for a third or fourth dose knowing there are millions of others who are still waiting for the opportunity to get even a first dose, Sanicas says.
In the same way that wealthy countries buying out most of the world's vaccine supply has allowed the virus to flourish, getting an extra shot while there is no need for it yet risks deepening the divide between poor and rich Filipinos.
"If everyone thinks like this, then how about those who haven't been vaccinated? The outbreak will be prolonged," Sanicas said.
But the DOST is already studying the need for booster shots
While this is where the data leave us for now, it is not to say the findings won't change in a few more months.
In the Philippines, the Department of Science and Technology is conducting studies on the viability of mixing vaccine brands, offering boosters, as well as the real-world effectiveness of shots. Results from some of the studies may be known in a few months' time.
But even when a recommendation is made, giving out boosters still might not be a free-for-all, as situations in countries like the US have shown.
If boosters become available while supplies remain limited, it will most likely be prioritized for high-risk groups, like immunocompromised people who don't respond well to vaccines. It could also go to the elderly, people with comorbidities, and healthcare workers who remain exposed to COVID-19 on a frequent basis, as scientists study how long immunity afforded by vaccines lasts.
To prepare for this eventuality, Quizon urges the government to start the work needed to secure vaccines for the next round of vaccination. The effort to ensure the availability of more doses starts now, she says.
In the meantime, "We need to immunize as many people first, before even talking about booster shots or additional shots from different platforms," Co said.
As long as the virus is allowed to spread, the more likely it can become more dangerous. New variants may emerge that could overtake the progress made by available vaccines, worsening the crisis and prolonging the pandemic. – Rappler.com
Read Rappler's series of guides on the Duterte government's vaccine program below:
Read Rappler's series of explainers on the Duterte government's vaccine program below: