While COA flagged the OVP's non-utilization of its Medical Assistance Program fund, the commission only gave recommendations to the office for better implementation of the program.
Claim:
The Commission on Audit (COA) is running after Vice President Leni Robredo after the commission reported P195-million worth of unutilized funds by the Office of the Vice President (OVP).
YouTube channel Showbiz Fanaticz uploaded a video with this claim on September 14. Websites phildews.xyz and philnewsinsider.blogspot.com then embedded the video on their blog posts and used the same title.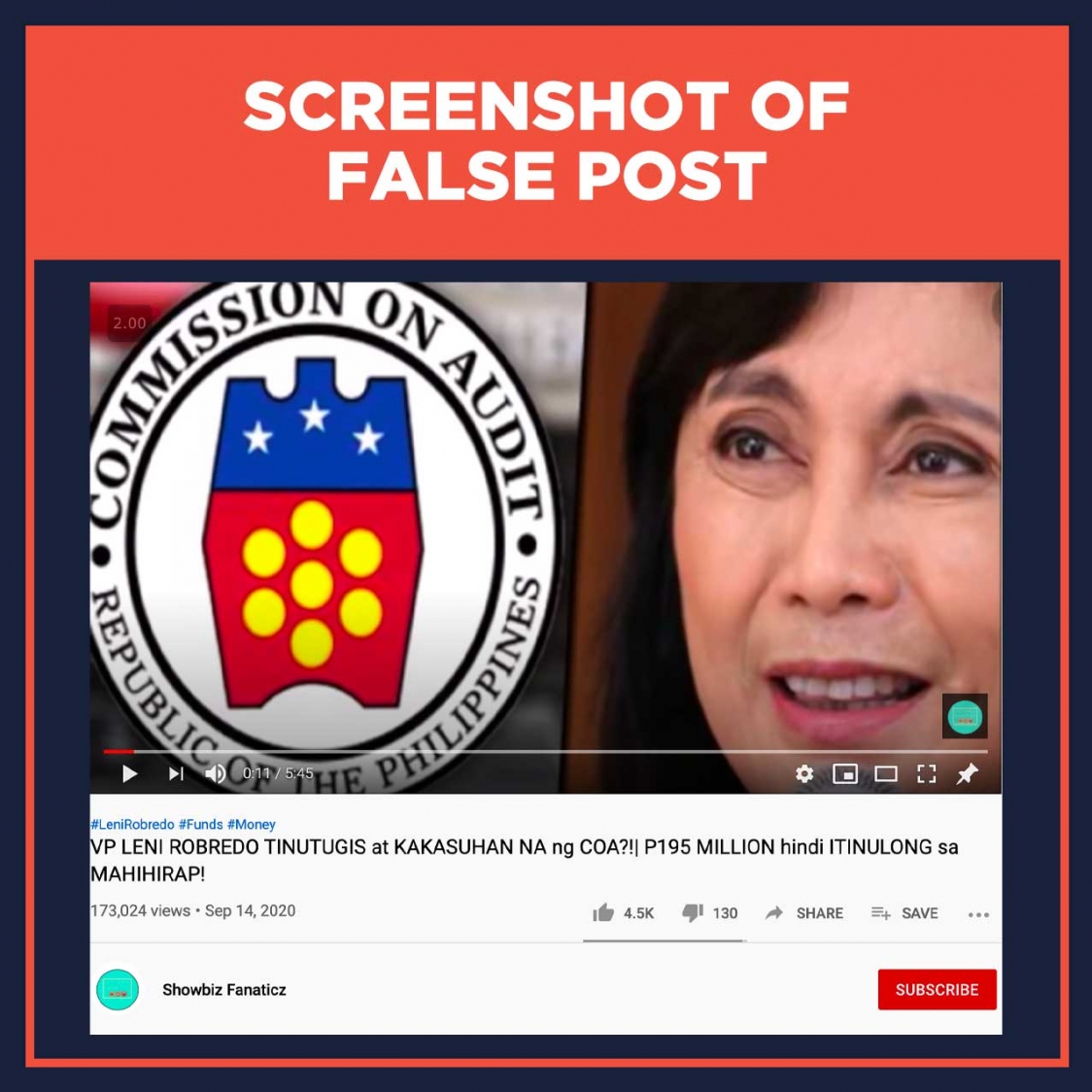 Readers emailed the website links to Rappler for verification. As of writing, the links had 9,839 combined engagements on Facebook, while the YouTube video had 173,024 views.
Rating: FALSE
The facts:
Neither official audit reports from COA nor the Inquirer.net report used by the video as its source mentioned anything about filing a case against Robredo or her office.
While COA's 2019 audit report flagged the OVP's non-utilization of its P195-million Medical Assistance Program (MAP) fund, it only gave recommendations to reevaluate the office's guidelines and consider alternative services for better implementation of the program.
The Inquirer.net report cited in the video also included Robredo's explanation, which was left out by Showbiz Fanaticz. Robredo said the reason for the delays in the disbursement of MAP funds was the elections that took place last year, which prohibited them from spending for their programs.
Inquirer.net also said that Robredo's explanation was confirmed by COA, which said that the OVP failed to get an exemption on expenditures from the Commission on Elections in 2019.
The false video came out after COA gave the OVP the highest rating in the 2019 audit on September 6.
YouTube channel Showbiz Fanaticz had posted false claims before. Some of its posts debunked by Rappler included claims that the Supreme Court affirmed that ABS-CBN is guilty of multiple charges, and that the High Court rejected the PIRMA Kapamilya people's initiative.
In these false videos, the channel also used real news reports from legitimate news agencies as sources but either wrongly interpreted them or deliberately left out significant details. – Pauline Macaraeg/Rappler.com
Keep us aware of suspicious Facebook pages, groups, accounts, websites, articles, or photos in your network by contacting us at factcheck@rappler.com. Let us battle disinformation one Fact Check at a time.