At least three media outlets reported on the deficiencies flagged by the COA in the OVP's reporting of donations received and distributed
At a glance
Claim: The media did not report on deficiencies observed by the Commission on Audit with regard to the Office of the Vice President's reporting of donations received and distributed.
Rating: FALSE
The facts: At least three media outlets reported on this.
Why we fact-checked this: The video containing this claim has gained 14,057 views, 556 likes, and 103 comments, as of writing.
Complete details
YouTube channel Robin Sweet Showbiz posted a video on August 23 falsely claiming that the media did not report particular deficiencies shown in the 2020 annual audit report (AAR) on the Office of the Vice President (OVP) under Vice President Leni Robredo. 
The video was entitled "LENI UMALINGASAW ANG BAHO SA COA (Commission on Audit) PERO DI BINALITA NG MEDIA! SINAMPAL NG INTERNATIONAL RELATION (COA exposes Leni's stink, but this was not reported by the media! She was slapped by international relations [expert])." 
Its thumbnail also read, "Leni Robredo may tinatago din palang baho sa COA? Ngunit bakit hindi ito inilalabas ng mainstream media (Leni Robredo has apparently also been hiding something from COA, but why didn't mainstream media report on it?)" and "May mga deficiency pala sa Office of the Vice President ni Leni, lahat ng detalye inisa isa ng international relations expert (Turns out there are also deficiencies in Leni's Office of the Vice President, and the details were enumerated by an international relations expert)!"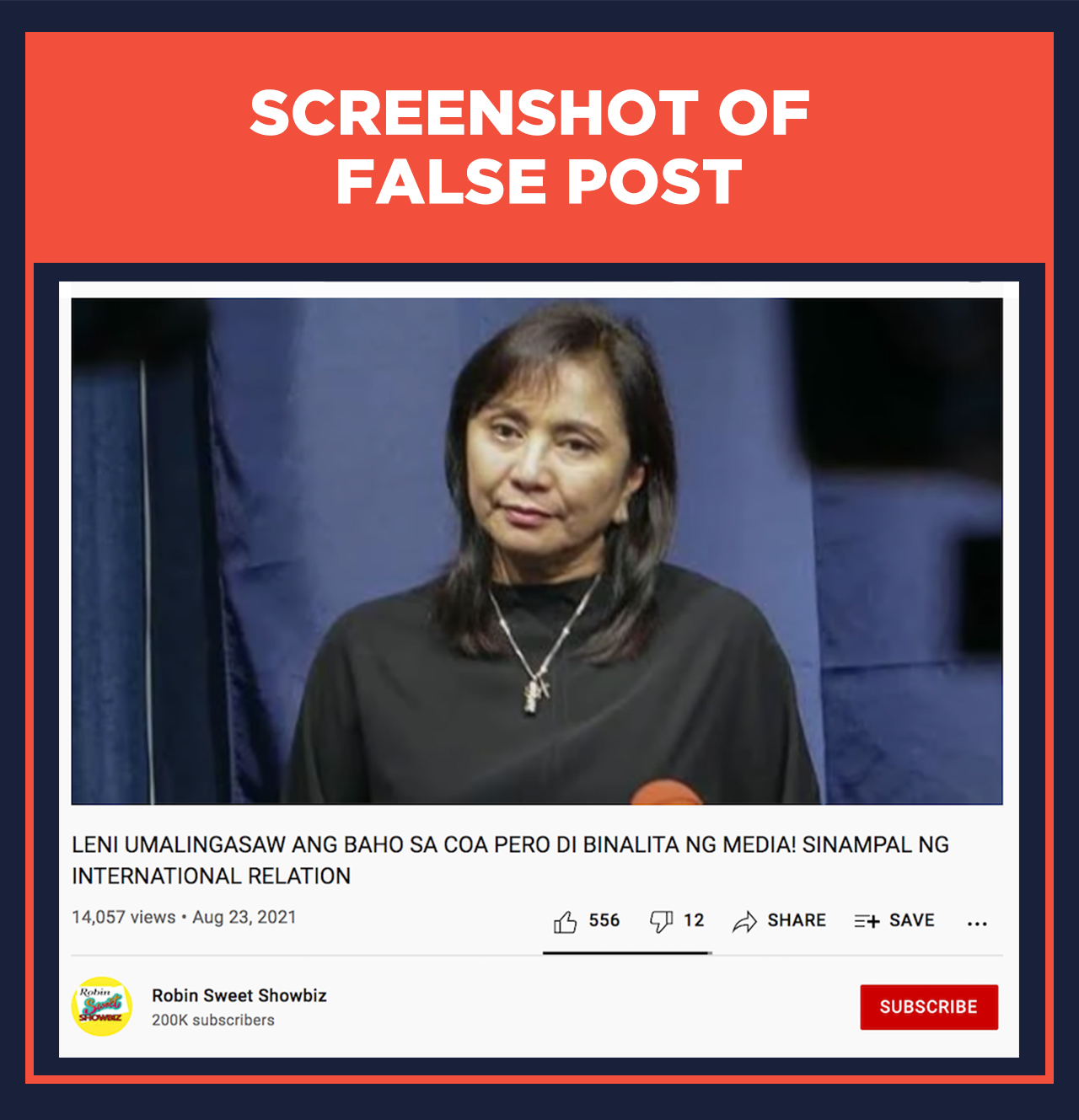 "Tungkol nga ito sa mga relief goods, in-kind donations, nakitaan nga umano ng deficiency ngunit bakit hindi ibinabalita sa mainstream media? Ito ang pagsisiwalat ng international relations expert na si Ms. Sass Rogando Sasot," the video narrated.
(This is about relief goods, in-kind donations, where deficiencies were apparently flagged, but why were they not reported by the mainstream media? This is the exposé by international relations expert Ms. Sass Rogando Sasot.)
Sasot is a pro-administration blogger.
The video has gained 14,057 views, 556 likes, and 103 comments, as of writing.
This claim is false.
A post by Sasot cited COA's observations with regard to the verification of in-kind donations received by the OVP, among others. These included "lack of item description, unit, quantity, and cost of several items, inclusion in the relief packs was not itemized, and variances between the summary/list of donations and distribution list."
This was mentioned in a number of news reports. First, Manila Bulletin published a report on July 1, 2021, entitled "Deficiencies found despite OVP's 'highest audit ratings' from COA."
These deficiencies were also mentioned in a July 3 Philippine Daily Inquirer report entitled "OVP spends P113M for pandemic response sans COVID funds from gov't."
This was also indicated in a July 2 CNN Philippines report entitled, "Without COVID-19 funding, audit shows OVP spent ₱113M for pandemic response."
Meanwhile, the OVP responded to these observations by attributing the discrepancies mostly to the "difference in the unit of measure of the summary/list of donations and the distribution report," and said that some pre-packed kits with varying contents were not repacked but distributed as is.
The audit team gave further recommendations and said, "We acknowledged the difficulty experienced by OVP due to voluminous in-kind donations received during the period of quarantine when the accuracy of the reports needs to be established as well."
For the third consecutive year, COA gave the OVP its "unqualified opinion," which is the highest audit rating.
Rappler has fact-checked the channel Robin Sweet Showbiz multiple times. Read about their other debunked claims here:
– Loreben Tuquero/Rappler.com
Keep us aware of suspicious Facebook pages, groups, accounts, websites, articles, or photos in your network by contacting us at factcheck@rappler.com. Let us battle disinformation one Fact Check at a time.