This is AI generated summarization, which may have errors. For context, always refer to the full article.
In 7 years, this task force has only 13 convictions to show out of 385 cases it has handled. Of these, 127 perpetrators have been cleared.
The Duterte government, through its Department of Justice (DOJ), banners a special task force to prove its commitment against a culture of impunity, but the track record of this 7-year-old unit leaves much to be desired.
Very few have been convicted, and most perpetrators have been cleared, according to the Philippine government's own report submitted to the United Nations last May.
From the creation of the task force in 2012 under former president Benigno "Noynoy" Aquino III to December 2019, its latest data, the task force has handled only 385 cases, including those that go all the way back to 2001 when Gloria Macapagal Arroyo was president.
Aquino signed Administrative Order (AO) 35 on November 22, 2012, creating a mechanism to investigate extrajudicial killings and other politically-motivated violence. Currently, the AO 35 task force is headed by the Department of Justice (DOJ) with teams led by prosecutors.
Of the 385 cases handled by the AO 35 task force, 270 were extrajudicial killings (EJKs), 80 were cases of torture, 28 were cases of enforced disappearances, and 7 were cases of violations of International Humanitarian Law (IHL).
These are very low numbers because, according to the tally of rights group Karapatan, there were 1,206 EJKs in the 9 years that Arroyo was president, 333 in Aquino's 6-year term, and 328 so far in Duterte's 4 years.
For a case to be put under AO 35, not only does the victim have to be a member of a cause-oriented organization, his or her killing must also be proven to have been related to an advocacy or profession.
In addition, "the method and circumstances of the attack [must] reveal a deliberate intent to kill."
The mismatch in numbers shows that many of the killings recorded by the rights group were decided by the task force to be not job-related.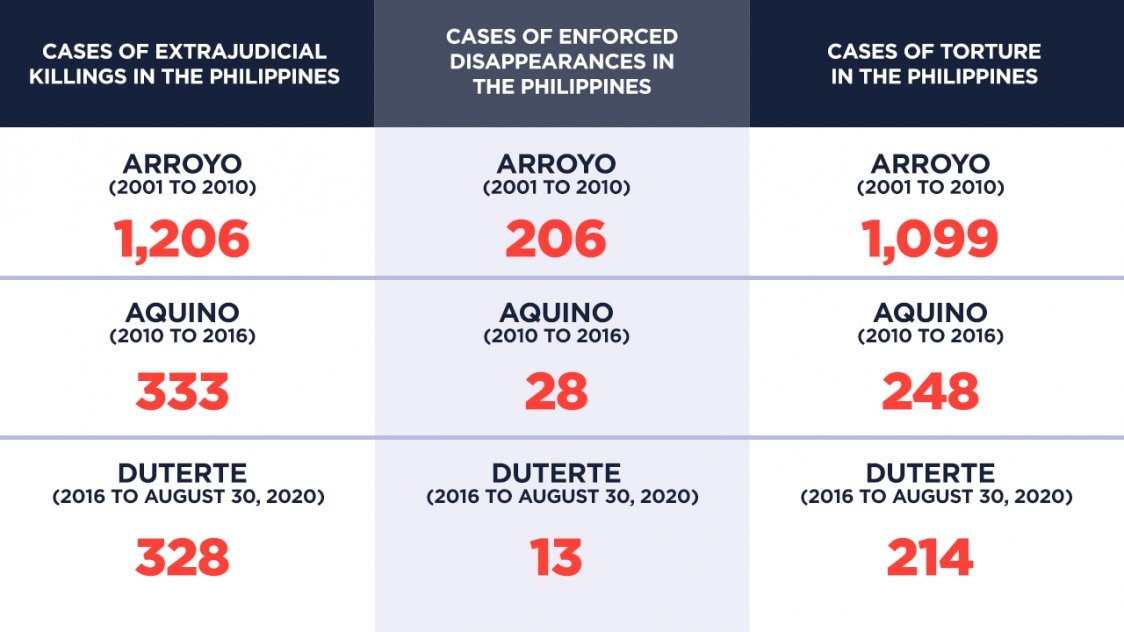 Perpetrators cleared, most cases archived
Of the 385 cases it has handled, the task force has only 13 convictions to show, according to the Philippine government's human rights situationer.
In most of the cases, or 127, the perpetrators were cleared. They were either acquitted, or had their cases dismissed by the court – with finality or provisionally. There were a lot of cases, too, where perpetrators were cleared as early as the prosecutors' level.
There have been 111 cases archived and 89 still under investigation.
The government's report did not provide a breakdown of these numbers per administration.
"Hundreds of activists have already been killed under this fascist regime and the DOJ's task force has failed to bring them to justice and hold their perpetrators accountable," Karapatan said in an earlier statement.
This poor track record and a general sense of distrust between human rights groups and the government have led Karapatan to say it is "cynical," to say the least, about what the AO 35 task force can bring to the table, especially with the recent killings of activists Randall Echanis and Zara Alvarez.
Karapatan said it doesn't trust the government to investigate Echanis' death, for example, accusing the police of a coverup. "This is becoming more and more like a cold-blooded State-sponsored murder being covered up by the police," said Karapatan in an earlier statement.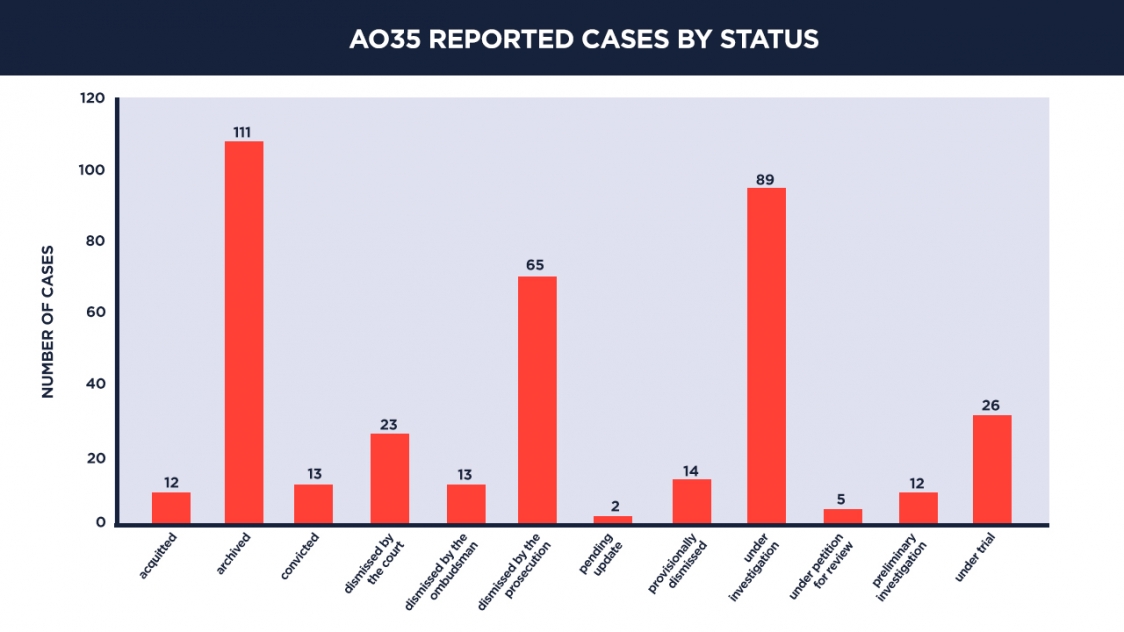 Investigating the state
The Philippine situationer also did not provide a breakdown of the cases that involve state agents as perpetrators. Yet there are at least 13, based on the number of cases dismissed by the Office of the Ombudsman. The Office of the Ombudsman only prosecutes cases involving public officials.
Karapatan said it would rather have the Commission on Human Rights (CHR) investigate the killings. The CHR, by mandate, investigates violence by state forces.
The DOJ and CHR signed on Wednesday, September 2, a data-sharing agreement that provides for the CHR having access to AO 35 data upon request. Requests, however, can be denied.
"In case of a denial of a request for information and/or data, the requesting party may seek reconsideration with the Focal Commissioner of the Protection Cluster or Undersecretary-in-Charge of AO 35. The decision of the concerned official shall be final," said the agreement, a copy of which was obtained by Rappler.
The AO 35 mechanism can include the Philippine National Police (PNP), which makes it tricky because human rights groups sometimes accuse policemen of being involved in the crimes. At times, cops have been suspected of trying to cover up the crimes, too. The CHR has also had difficulty trying to access PNP case folders.
Justice Undersecretary Markk Perete has not answered, as of writing, Rappler's question on whether CHR would also have access to PNP data under this agreement.
But CHR Commissioner Leah Tanodra-Armamento said they would.
"Yes," Armamento told Rappler. "There is a process (for sharing data on cases that implicate state forces), and during the National Monitoring Mechanism), there was no problem," said Armamento.
Spotting patterns
More than just convictions, the bigger purpose of A0 35 is to prevent violations from happening in the first place, and to do that, patterns need to be spotted and systems need to be tightened.
For one, Perete said prosecutors would play a more proactive role under this mechanism. The passivity of prosecutors has already been questioned in drug-war related killings. (Drug-related killings in Duterte's Oplan Tokhang are under a different DOJ task force).
"Unlike the current setup where prosecutors assume a passive role in case build-up, the AO 35 mechanism places investigating teams under the direction and supervision of prosecutors to expedite investigations and improve conviction rates in human rights cases," said Perete in July 2019.
But so far, the AO 35 task force has not released any conclusive analysis on heat maps and patterns of violations.
"We originally planned on completing this work this year. We are assessing if this time frame is still feasible considering the budget realignments and the other disruptions (e.g., prohibition on the hiring of consultants for the IT component of the project) arising from the pandemic," said Perete in August.
"But the project is still ongoing. We remain confident that we can complete this work," Perete added.
Human rights groups do their own documentation of killings, just like what Zara Alvarez was doing before she got killed. Asked if the AO 35 mechanism would involve engaging with rights groups, Perete said the Secretariat has "directed team leaders to get in touch with all relevant persons."
Karapatan Secretary General Cristina Palabay told Rappler, however, that none from the AO 35 task force has gotten in touch with anyone, at least from their group.
"We will have a monitoring and coordination meeting sometime this month. We will give further updates after then," said Perete.
The Philippine government told the UN that its situationer report, including the AO 35 updates, "endeavor to shed light on government actions which have been misrepresented outside the country as human rights violations."
The AO 35 task force has two years left to show concrete results. Will it be able to bring perpetrators to account, slow down, or even stop the killings? – Rappler.com