'If it can happen to a governor, it can happen to anyone'
NEGROS ORIENTAL, Philippines – Negros Island has perennially struggled with violence.
But something changed after the brutal broad daylight assassination of the province's governor Roel Degamo in Pamplona town last March 4. Now, there is a sense of indignation, and resistance, that is bubbling beneath the surface in communities that have lived with violence their entire lives.
There are posters calling for justice hanging on the street corners in Dumaguete, the province's capital. And people are wearing T-shirts, not only calling for justice for the governor, but for other citizens who have been killed in the province in recent years.
In an environment where impunity has become the status quo, what is different this time around?

One resident, who did not want to be named, told us that while there is still fear, she will try to speak up more now. "Because if they can do it [kill] the governor, how much more to us ordinary people," she said.
Pamplona Mayor Janice Degamo echoed this sentiment shortly after her husband was laid to rest on March 16.
"Something that happened to us – it's not a joke. It's not something you can put aside – because it concerns our peace and order [situation] in the province. If it can happen to a governor – if something violent can happen to a governor – always remember it can happen to anyone," she said.
Pamplona Vice Mayor Joel Remolano, who has been facing death threats himself, also told Rappler that while his people are traumatized by the massacre, they have run out of fear.
"Ubos na ang takot namin. Dati pa kami takot (Our fear has run out. We've always been afraid)," the Vice Mayor said.
During the funeral mass of Degamo, Dumaguete Bishop Julito Cortes told parishioners that his death has "galvanized" the people to begin to fight impunity in their home province.
"We pray that the cycle of unsolved killings in Negros Oriental will end," Cortes said during his homily in a Requiem Mass for the fallen governor on Thursday, March 16.
"This is something good for the province that has come out of the late governor's death," he said.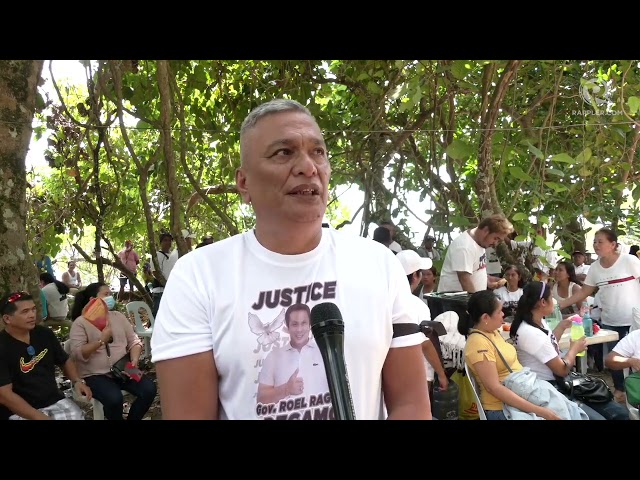 In Negros Oriental alone, there has been at least 78 unsolved killings since 2016, according to the combined counts of the Degamo family, the Defend Negros Organization, and Rappler's count, based on other non-government organizations and news reports.
Social volcano
And because there are a number of killings that never get reported, with a majority of cases never making it to court, that number is likely much higher.
The late bishop Antonio Fortich, who is from Negros Occidental, called Negros Island a "social volcano" in the early 1980s. This became a well-known metaphor for the volatile social conditions of high poverty, hunger, and landlessness, which makes the island a powder keg for violence.
These conditions remain prevalent today, and had become more pronounced during the Duterte administration. While on one hand, the previous administration would call for peace in Negros Island, on the other hand, they would push for more aggressive military action against insurgency, while fighting a bloody war on drugs.
And under these eruptive conditions, that meant no one – neither the governor nor average citizen – is safe from violence.
'People die here all the time'
Lady Jean Canseco of Pamplona, Negros Oriental, whose husband Jomar, 33, was killed in the massacre, said she is praying for justice for the death of her husband, even if she's unsure how she'll get it.
"People here die all the time," she told Rappler in a hushed tone, in the backyard of her home in Pamplona town.
While violence is commonplace in Negros Oriental, Lady Jean could have never imagined that she'd be raising her two young daughters, 12 and 8, alone, and that she would lose her husband Jomar so soon.
"Pagka-Sabado sa buntag, nitawag iyahang ka relyebo, kung puwede, siya daw mao'y mu-duty usa, kay naa daw emergency (On Saturday morning, his reliever asked if he [Jomar] could take his shift because of an emergency)," Lady Jean said.
She was at home at around 10:30 that morning taking care of her two daughters when her brother-in-law ran to her house to bring the news that assassins rained bullets at the event where the governor was, in a neighboring village called Nuebe, and where her husband was also on duty.
She tried to call his cell phone many times, but Jomar would not answer.
"Sige ko kontak. Pila ka beses ko sige'g kontak, di jud niya matubag. So naa ko'y nadungan, nga si Gov, gadala didto sa hospital, so nag-expect lang ko nga basin siya ang ga-drive (I kept trying to contact him. How many times I kept trying. He really would not answer. So I heard that Gov was taken to the hospital, I expected that Jomar was just driving)," Lady Jean said.
Her father-in-law went to the barangay captain to find out what happened.
"Ingon siya naa'y duha ka buok patay nga driver. Una, si Jerome. Wala ko tug-ani kung kinsa ang ika-duha (He said two drivers were killed. First, was Jerome. But they did not tell me who the second one was.)," Lady Jean said.
Jerome was the driver of the provincial engineer's office, and the driver of Degamo's car that morning.
Lady Jean and her father-in-law ran to Silliman University Hospital immediately. But by the time they got there, it was too late.
"Pag-abot namo didto, akong bana, nana sa morgue (When we arrived, he was already in the morgue)," she said.

Lady Jean is aware Jomar is not the first casualty, but she hopes that he would be one of the last.
"Ang akoa. Una jud sa tanan, justice sa nahitabo. Dili lang sa akong bana, sa tanan nga nabiktima adtong adlawa (For me, the priority is justice for what happened. Not only for what happened to my husband, but for all those killed that day)," she said, referring to the eight other victims who were killed that day.
But justice is hard to come by in Negros Oriental.
At least three radio journalists have been killed in Negros Oriental between 2018 and 2020, including Edmund Sestoso, Dindo Generoso, and Rex Cornelio.
Sestoso and Cornelio's cases remain unsolved, while three police officers were arrested in the Generoso case.
Cry for justice
Degamo's wife Janice acknowledged that justice, even for the governor, would be difficult to attain without intervention from the national government.
"Allow me also to express this: The message I want to amplify, is that I think, DENR should be investigated as well. DAR (Department of Agrarian Reform), it should be investigated thoroughly because there are so many incidents of killings where land is the cause. DENR (Department of Environment and Natural Resources) should have something to say, but they'll just end up saying, 'you'll have Arnie kill us," Janice told the media in Negros Oriental in a mix of Filipino and English, shortly after Degamo was laid to rest.
"This cannot be. If we want to live under a democracy, this cannot persist. So I am requesting the national government to investigate," she said.
But for Monisgnor Julius Hereula, the parish priest of St. Nicholas de Tolentino Church in Dauin town, while the newfound courage to stand up against violence has not quite resulted in a groundswell, the fact that people have begun talking about the issue of unsolved killings in ways they have not before is already an important step forward.
"May takot ['yung mga tao]. Natural, may pinatay doon, tapos unsolved 'yung killings. And then, 'yung media, pinatay nga (People were afraid. It's natural because anyone can get murdered, and the killings remain unsolved. Even the local media gets killed)," Hereula said.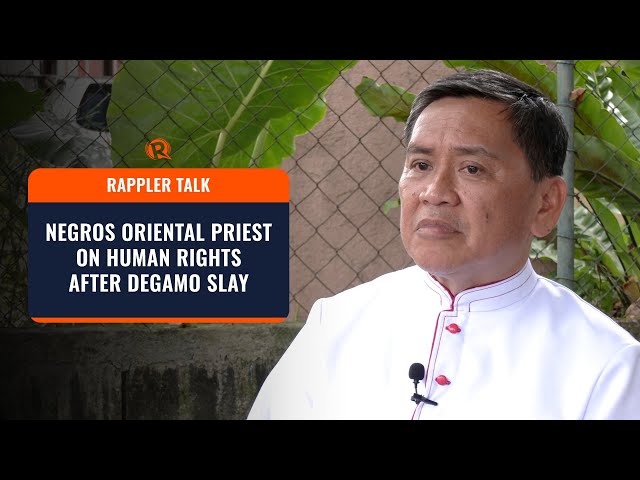 Heruela, who is originally from Bulacan but has been assigned to Negros Oriental for the past 30 years, has seen his fair share of killings in Dauin and other parts of the province.
"Ganoon ang mga sitwasyon. Ang mga tao, tahimik (That's the situation. People are quiet)." he said.
But the shift in conversations that he's been hearing among his parishioners gives Hereula hope that things will change.
"Nagbigay buhay sa mga tao. Nabigyan ng pinsan sa Negros Oriental sa mga killings. It gave us hope. Parang tingin namin, ito na yata ang katapusan ng killings sa Negros," Heruela said. ([Degamo's death] has stirred the people. People are paying attention to the killings in Negros. We think this will be the end of the killings in Negros.)
"We hope and pray for that," he added. – Rappler.com