'If the government could find ways to reopen the economy, why couldn't it find ways to safely reopen schools while mitigating risks?' asks Aral Pilipinas' co-convenor Kat Tolosa
Despite his lack of resources, Rhondon Aligarbes made sure his 4 children would not miss this school year, even if it meant burning the candle at both ends just to support their remote learning needs.
The 41-year-old construction worker told Rappler in a phone interview on Thursday, March 18, that the pandemic was not a hindrance to his children's ability to continue their education. But just like many parents bearing the brunt of the distance learning setup, Aligarbes believes that the government's lack of support for struggling families like his is what's making things more difficult.

Aligarbes is the only one providing for his family; his wife, who used to work as a canteen helper before the pandemic, had lost her job. Two of their children are college students in a state university, one is in the 8th grade at a public school, and one is in kindergarten.
Despite the burdens of distance education, particularly on his finances, Aligarbes said that he would still not let his children attend school physically should the government allow face-to-face classes. Aligarbes and his family reside in a municipality in Laguna adjacent to virus epicenter Metro Manila. The province of Laguna has been reporting hundreds of COVID-19 cases in the past days.
"I am protecting them from the virus. The fear of contracting it is still there," he said.
On March 15, 2020, schools in the country were physically closed due to the pandemic, and have since been using a distance learning system – a mix of online classes, printed modules, and TV/radio lessons – following President Rodrigo Duterte's directive to suspend in-person classes until a COVID-19 vaccine became widely available.
Distance learning, however, has been criticized repeatedly. The country appears to be not fully prepared for it, as shown by teachers' and students' difficulty in coping with the new format, their lack of access to the necessary gadgets and an internet connection, and reports of erroneous learning modules.
Calls for face-to-face classes
On December 14, 2020, Duterte approved the dry-run of face-to-face classes for January 2021. However, he withdrew this when countries reported cases of the more infectious United Kingdom variant of COVID-19.
Despite the lack of classrooms, basic health facilities, school nurses, and teachers, the Department of Education (DepEd) again made a pitch to resume in-person classes in the country on January 18.
In her pitch, Education Secretary Leonor Briones cited a survey her department conducted that supposedly showed that majority of students wanted face-to-face classes. Reporters have been asking the DepEd for a copy of the survey, but it has yet to release the copy as of posting time.
But Duterte on February 22 again rejected the DepEd's bid as the UK COVID-19 variant reached the Philippines, with 223 cases as of March 20.
Aside from the DepEd, senators and groups have also been pushing for a pilot test of face-to-face classes at a small number of schools to prepare the system and address gaps before all schools in the country reopen.
Senator Sherwin Gatchalian, chairman of the Senate basic education committee, said that pilot testing of limited face-to-face classes would help experts to study how to mitigate the effects of the pandemic.
In November 2020, some senators and groups had already urged the DepEd to consider resuming face-to-face classes, as they expressed apprehension about whether students are able to retain much from the current modes of remote learning, especially those unable to take online classes. (READ: In remote learning, some students pay someone else to do their classwork)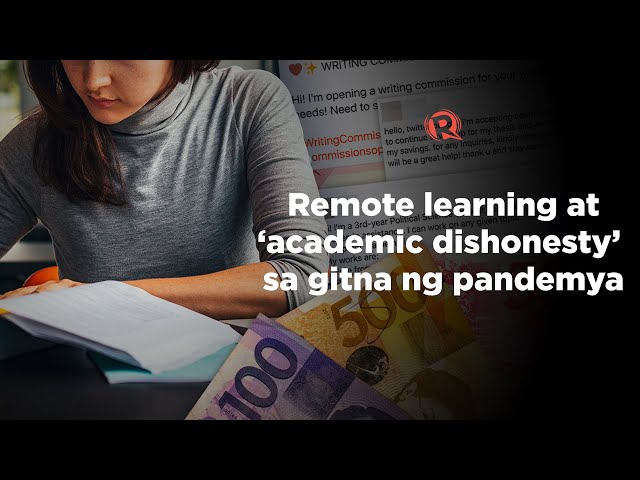 'Slow' pandemic response
A year into the pandemic, the situation in the Philippines has worsened. The country experienced a record-breaking surge in COVID-19 infections on March 22, with 8,019 new cases reported – the highest since the pandemic began.
The country has over 677,653 COVID-19 infections as of March 23 while nearly 13,000 people have died.
Since December 2020, Briones has been saying the Philippines is the only country in Southeast Asia whose schools remain closed. Indonesia, the only Southeast Asian nation which has more COVID-19 infections than the Philippines, however, still keeps its schools closed, although its capital Jakarta had moved to "gradually" reopen them in January 2021 before the new surge of infections.
Other Asian countries like Malaysia, Mongolia, Myanmar, Thailand, and Vietnam reopened schools again last year, but new outbreaks of COVID-19 prompted them to go back to the remote education system.
Aligarbes attributed the prolonged closure of schools to the government's slow pandemic response. While he believes that there is no better alternative to face-to-face classes, he would rather not risk the lives of his children.
Though he admitted he has little knowledge about the country's vaccination program, Aligarbes said that the slow pace of the inoculation drive is also a big factor why the Philippines is being left behind by other countries in the fight against COVID-19.
"The situation is slow. The response is too slow as well – for example, the vaccination. How many more years will we be in this situation?" he asked.
On March 1, the country began to legally roll out COVID-19 vaccines, among the last do so in Southeast Asia. As of Monday, March 22, only 336,656 have been vaccinated in the country, nowhere near the government's 70 million target by the end of the year.
Global assessments show that the Philippines lags behind other countries in pandemic response based on the number of cases, number of deaths, and testing capacity – ranking 79th among 98 nations surveyed.
'Give autonomy, not blanket rule'
Regina Sibal, lead convenor of education advocacy group Aral Pilipinas, said that aside from the slow response, the government's top-down approach in its policy making is also another barrier in the reopening of schools. She said that the government should not be implementing a "blanket rule" across the country.
"The policies being implemented is one-size-fits-all, which should not be the case…. The challenge really is that different areas have different contexts [and] situations," she said.
"We do understand that Metro Manila schools are using online [learning], but if you go to other areas that are already marginalized in terms of resources – those in the isolated islands, those living in the mountains, they are the ones who don't have access to online learning and don't have enough School Education Funds for [the] printing of modules…. What are their means to continue education under [the] remote learning setup?" she asked.
Sibal added that the government's policies on education during the pandemic needs recalibration to address the concerns of the most vulnerable sectors.
"The solutions for those living in coastal areas, for example, are different from those living in the mountains. At the same time, the solutions in urban settings are also different," Sibal explained.
Sibal added that the government should provide local communities with guidelines on how to contextualize solutions for their specific situations.
DepEd's plan
In a Senate hearing on March 3, Education Undersecretary Nepomuceno Malaluan said that students would be allowed to stay in schools for a maximum of half a day only, should the proposed face-to-face classes pilot implementation push through in areas deemed low-risk.
Based on his presentation, a maximum of 50 schools per region would be allowed to participate in the pilot run. In terms of the number of classes, only one class per grade level can hold face-to-face classes in a small school; a maximum of 3 classes per grade level in a medium school, and up to 5 classes per grade in a large school. Each class would have a maximum of 20 students, depending on the size of a classroom.
If the government decides to resume in-person classes in the middle of the pandemic, the lack of classrooms, nurses, and basic health facilities in the country's public schools remains a concern. Rappler found that 2,970 schools in the country don't have basic handwashing facilities, while only 28% of the 47,013 or 13,081 schools have a clinic.
In a Viber message to Rappler, Education Undersecretary Diosdado San Antonio said that they have presented their proposal to the President several times.
"He will make the final decision considering the health situation of the country and the requirements needed for the undertaking," he said.
Meanwhile, James Francis Miradora of Aral Pilipinas said that the government should also be considering the capacity of the schools, households, and the local communities where the pilot implementation would be conducted, and not just the number of COVID-19 cases.
"At the very least, schools that would reopen [should] have access to basic handwashing facilities. But we are aware that those who don't have access to them are also those that belong to lower-income municipalities. When we speak of reopening of schools, it should be a shared responsibility," he said.
Another year of remote learning?
San Antonio said that DepEd is "preparing for all the possibilities and learning modalities next school year (whether through limited in-person classes or distance learning)."
"Learning modalities will greatly depend on the advice of the IATF in consideration of the national and local health situation. The health, safety, and well-being of our learners and teachers will remain to be on top of our priorities," he added.
Alliance of Concerned Teacher Secretary General Raymond Basilio said that the government should allot enough budget for the education sector should the distance learning system be implemented again in the next school year.
"We are losing a generation of learners with this setup – unprepared, ill-budgeted. If we would still implement distance learning for one more year with not enough budget, no recourse, and no comprehensive plan, I think we're facing a future of uncertainty," he said.
In the 2021 budget, only P15 billion was approved for the distance learning setup – P35 billion short of the agency's proposal. Briones earlier said that students should eventually "reduce dependence" on modular learning because of its cost. (READ: IN NUMBERS: School opening during a pandemic)
Teachers from public schools took it upon themselves to launch donation drives to raise funds for bond paper and printers. (READ: Help! These schools need bond paper, printers for students' learning modules)
Meanwhile, Aral Pilipinas' co-convenor Kat Tolosa raised the alarm over the learning crisis during the pandemic. "We cannot afford another year of remote learning. Even prior to the pandemic, we have a lot of catching up to do."
Citing data from the World Bank, Tolosa said that the Philippines' learning-adjusted years of school (LAYS) would be pushed back from 7.5 years pre-pandemic to 5.9 to 6.5 years, depending on the length of further school closures and the effectiveness of the remote learning setup.
This means that while the Philippine basic education system offers 12 years of instruction, Filipino students show proficiency equivalent to only around 6 years spent in school.
"It has been pushed back to 5.9 to 6.5 years due to learning losses. We already have learning losses. If we still continue with one more year of distance learning, it would go down further," she said.
Tolosa asked: If the government could find ways to reopen the economy, why couldn't it find ways to safely reopen schools while mitigating risks?
"There's no end date in the pandemic. I'm not saying we open it now. In fact, we're looking at August if this is a more reasonable timeframe. Let's sync it with the new school year. But we have to start planning it now and laying it down concretely how," she explained.
"Local governments should be involved in the planning stage," she added.
But for Aligarbes, he would allow his children to attend face-to-face classes only if there are no more cases of COVID-19 being reported, and if they get vaccinated.
Advocates have been pushing for the government to make education accessible even in times of crises, as it is a constitutional right of every Filipino. Will DepEd and Malacañang listen to stakeholders this time? –Rappler.com

Editor's note: All Filipino quotes were translated into English.