This is AI generated summarization, which may have errors. For context, always refer to the full article.
De Lima brings home from Camp Crame the five cats closest to her
There's Avatar, Doll, Duchess, Otto, and Lily. They're just five of maybe 20 or so felines that kept former senator Leila de Lima company at the Philippine National Police Custodial Center in Camp Crame.
The five were the closest to her and became her favorites.
While the other cats would approach only during meal time, Avatar, Doll, Duchess, Otto, and Lily never left De Lima's side. Like loyal guards, they would spend the day with her and sleep by her side.
How to distinguish one from the other? Avatar is light brown, Otto is the smaller light brown, Lily is a combo of white and brown, Doll is black and white, and Duchess is gray.
Dog lover Leila de Lima didn't really like cats before but affection eventually grew over time.
"I used to hate cats kasi dog lover ako. Pero no'ng nandiyan na, I learned to love them (I used to hate cats because I am a dog lover. But when they arrived, I learned to love them)," De Lima told Rappler in a one-on-one interview on Tuesday, November 14.
The former senator had unconditional love for her cats. In fact, on her first press conference on Monday, she didn't fail to mention her fur babies: "I was so sad, I was almost crying when I left Camp Crame today because I left the cats there. The cats there had been my companion, they kept my sanity intact." She had, after all, been in detention for six years, eight months, and 21 days.
When she heard that she would finally attain freedom, her cats became one of her immediate concerns. "I cannot, in conscience, leave them," she told Rappler then.
Her legal team was previously worried that her attachment to her cats would delay De Lima's exit from the detention center. Fortunately, everything went smoothly after the court allowed her to post a P300,000-bail.
Cat lady
After a year in detention, De Lima counted nine cats in 2018. This number grew to over 20, for whom her staff would also bring food and fish to be shared. And yes, there had to be enough cat food to go around.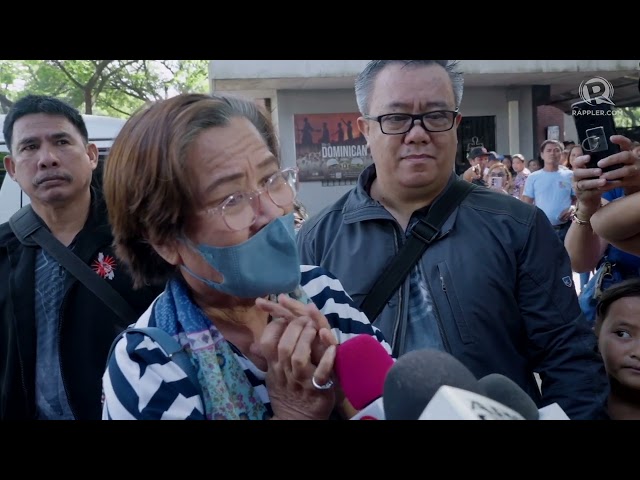 Because no gadgets are allowed inside the detention center, De Lima spent her days reading, writing, and playing with her cats. Although she had frequent visitors who often included friends, staff, and counsels, the cat lady would repeatedly say her adopted pets who kept her company day in and out kept her sane the most.
But it was not always love and affection between her and her cats. There were two instances when she was bitten and had to take anti-rabies shots. Because one incident happened late at night, there was a mad scramble to look for anti-rabies vaccine at midnight.
In a span of close to seven years, some of the cats that loitered about passed away. De Lima admitted grieving and crying over them, even making arrangements for their burials inside Camp Crame. Her lawyers said that during some of those times, they had difficulty talking to her.
ALSO ON RAPPLER
---
Saying goodbye
Bail granted on November 13 meant she would have to leave her detention facility – and her cats. The parting wasn't easy because she would not be able to bring all of her cats home. Best she could do was take the five that were closest to her.
On the day she was released, De Lima said her four cats were immediately transferred to her home. The remaining favorite was transported only the day after because she wasn't around when the four were chosen and taken to their new home. She made sure though that those left behind would be taken good care of by her former detention guards.
A 2021 Newsweek article listed some characteristics of cat lovers: introverted, independent, non-confirmist, worrier, and open-minded. De Lima would likely identify with some of these. Would you? – Rappler.com