This is AI generated summarization, which may have errors. For context, always refer to the full article.
'Hindi ko isusuko ang aking pagkatao at pagiging tao. They may have taken years of my life, but they will never take my humanity,' De Lima says
Kept out of circulation for almost seven years by her nemesis, former president Rodrigo Duterte, many expected former senator Leila de Lima to get back at him with an outpouring of words during her first public appearance on Monday, November 13 – the day she was released on bail.
But De Lima kept her message to him short and simple. "First, 'yong message ko kay former president Duterte, well isa lang sasabihin ko. God forgive him and God bless him, 'yon lang muna ngayon. Marami pa 'kong puwedeng sabihin sa kanya, pero 'wag muna."
(First, as my message to former president Duterte, there is only one thing I wish to say. God forgive him and God bless him, that's all for now. I have a lot to say to him, but that's all for now.)
Will she go after her persecutors and file counter-complaints? De Lima said she is still discussing it with her team, and is unable to divulge details.
During the presser, De Lima also disclosed her struggles while in detention. She pointed out how "every moment was a test" for her, especially the temptation to be overcome by "vindictive thoughts."
"Lahat po iyon nilabanan ko. Hindi ko isusuko ang aking pagkatao at pagiging tao. They may have taken years of my life, but they will never take my humanity. Ang mundo ay puno ng mga taong buktot ang kaluluwa at makasarili sa harap ng pagdurusa ng taumbayan. I will never be one of them," the former lawmaker said.
(I resisted all of that. I will never surrender my personhood and my humanity. They may have taken years of my life, but they will never take my humanity. The world is full of people with wicked souls, selfish even in the face of a suffering nation. I will never be one of them.)
De Lima's Monday appearance was her first press conference in almost seven years. She was detained for six years and eight months over three drug charges filed under Duterte's administration. The accusations that De Lima enabled the drug trade inside the New Bilibid Prison were floated when the former senator criticized Duterte's drug war that took thousands of lives.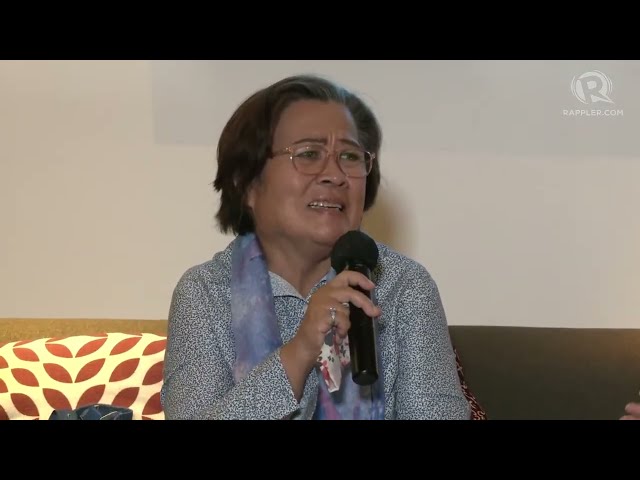 She was temporarily freed after Muntinlupa City Regional Trial Court Branch 206 Presiding Judge Gener Gito granted her bail, acting on her motion for reconsideration. De Lima had to ask the court to reconsider her bail after the previous court, Branch 256, denied her petition back in May.
Now, De Lima is out on bail with only one remaining drug case. The first case was already junked in 2021, while De Lima secured acquittal in her second case last May.
De Lima-Hontiveros reunion
The press conference also took an emotional turn as opposition Senator Risa Hontiveros reunited with her fellow opposition lawmaker. Hontiveros waited for De Lima inside a hotel in Quezon City, as the former lawmaker completed the final procedures for her bail prior to leaving Camp Crame.
When the two met, Hontiveros gently guided De Lima as they sat before the media, their supporters, and staff for the press conference. All throughout, Hontiveros looked with admiration at De Lima, nodding at times, and showing her support.
When it was her turn to speak, Hontiveros was unable to contain her tears: "You did it, Leila, kaunti na lang. And napakalaking vindication ito sa buong oposisyon, itong vindication (mo). Kasi sa lahat sa 'tin, ikaw talaga 'yung ano, sumalubong sa pinakamatinding dagok galing sa dating presidente, ikaw talaga 'yung sinirang puri niya."
(You did it Leila, just a little more. This is a big vindication for the entire opposition, your vindication. Because among us, you really took the hardest blow from the former president, you were really the one whose dignity he tarnished.)
Hontiveros also took note of the challenges De Lima had to face while in detention. This included the hostage-taking situation, where De Lima almost lost her life while under the watch of the police inside her detention facility back in October 2022.
"Na-survive mo lahat 'yan…Na-survive mo 'yong hostage-taking. Hindi ka tumigil magsalita sa mga issue. Libo na siguro 'yong mga handwritten letters mo from Crame, and here you are, here you are," an emotional Hontiveros told her long-time ally.
(You survived all of that. You survived the hostage-taking. You never stopped talking about vital issues. Your letters from Crame probably number around a thousand now, and here you are, here you are.) – with a report from Precious Altura/Rappler.com
Precious Altura, a fourth year journalism student from the Polytechnic University of the Philippines, is a Rappler intern. Learn more about Rappler's internship program here.