This is AI generated summarization, which may have errors. For context, always refer to the full article.
(2nd UPDATE) The retraction of allegations against De Lima by key witness Rafael Ragos, former BuCor acting chief, 'created reasonable doubt' which warranted acquittal
MANILA, Philippines – A Muntinlupa court acquitted former senator Leila de Lima in one of her remaining drug charges, bringing her closer to temporary freedom after six years.
On Friday, May 12, Muntinlupa City Regional Trial Court (RTC) Branch 204 cleared De Lima in Criminal Case Number 17-165 – the first case filed against the former lawmaker. De Lima's acquittal also means the opposition leader is now facing only one more charge, since another Muntinlupa court already cleared her in one of the three charges in 2021.
The retraction by key witness and former Bureau of Corrections acting chief Rafael Ragos of his allegations against De Lima proved significant in her acquittal.
However, despite De Lima's victories in two different courts, she will remain in detention because Muntinlupa City RTC Branch 256 has yet to issue its resolution on the former lawmaker's petition for bail. The same court has yet to announce its decision on De Lima's bid for temporary freedom.
In a statement after her acquittal, De Lima said: "I had no doubt from the very beginning that I will be acquitted in all the cases the Duterte regime has fabricated against me based on the merits and the strength of my innocence. That's already two cases down, and one more to go. I am of course happy that with this second acquittal in the three cases filed against me, my release from more than six years of persecution draws nearer. I am extremely grateful to all those who stood by and prayed for me all these years."
In the charge where De Lima attained her most recent victory, she was accused of alleged violation of section 5 of the Comprehensive Dangerous Drugs Act of 2002 that penalizes the "sale, trading, administration, dispensation, delivery, distribution and transportation of illegal drugs."
Between November 2012 to March 2013, De Lima and Ragos allegedly extorted money from persons deprived of liberty inside the New Bilibid Prison, according to the charge sheet. The money was allegedly used by De Lima to fund her 2016 senatorial run.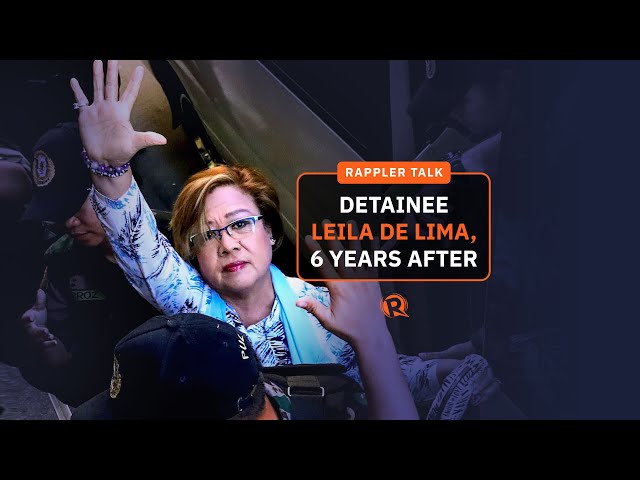 During her trial, two key witnesses in her case – Kerwin Espinosa and Ragos – retracted their allegations. Espinosa said he was "coerced, pressured, intimidated, and seriously threatened" to make his previous allegations against De Lima. Ragos, in 2022, revealed he was forced to lie by former justice secretary Vitaliano Aguirre II.
Court decision
The court, in its decision, said Ragos' retraction created "reasonable doubt" about the accusations against the opposition leader.
"Under the circumstances of this case, the testimony of witness Ragos is necessary to sustain any possible conviction. Without his testimony, the crucial link to establish conspiracy is shrouded with reasonable doubt. Hence, this Court is constrained to consider the subsequent retraction of witness Ragos," Presiding Judge Abraham Joseph Alcantara said in his ruling.
"Ultimately, the retraction created reasonable doubt which warrants the acquittal of both accused," he added.
In an interview with reporters after the promulgation, De Lima's lawyer Filibon "Boni" Tacardon quoted the court and said the prosecution failed to prove De Lima's ties to the alleged drug trade inside the national penitentiary.
"Ang sinabi ng hukuman, although napatunayan na meron ngang illegal drug trading sa loob ng NBP, walang naipakitang ebidensya of positive evidence ang prosecution na mag-uugnay kay [former] senator De Lima at Ronnie Dayan sa nasabing illegal na kalakaran ng droga," Tacardon explained.
(The court said, although it was proven there exists an illegal drug trade inside the New Bilibid Prison, the prosecution failed to show positive evidence that links former senator De Lima and [her former aide] Ronnie Dayan in the said drug trade.)
The cases against De Lima flourished under former president Rodrigo Duterte. She was also detained during the former president's term.
When De Lima was still the chairperson of the Commission on Human Rights (CHR), she probed into the killings of the so-called Davao Death Squad (DDS). Whistleblowers from the said group alleged they carried out kill orders from Duterte himself.
As a lawmaker, De Lima headed the probe into Duterte's drug war, which took the lives of at least 6,000 people – 30,000 if vigilante-style killings are included, according to human rights groups. De Lima even presented self-confessed DDS member Edgar Matobato, who confirmed they took orders from Duterte.
Matobato revealed in a 2016 Senate hearing that there was a planned ambush against De Lima when she was still the CHR chairperson. – Rappler.com