Allies and appointees – members of the Philippine delegation to Davos – are interviewed on government-run RTVM about the supposed gains of joining WEF
President Ferdinand Marcos Jr.'s chief "consultant" in Beijing is also among his cheerleaders during their five-day visit to the posh and snowy Alpine town of Davos.
In an interview conducted and released by RTVM, an agency tasked to document the President's activities, former president Gloria Macapagal-Arroyo piled on praises for Marcos at the World Economic Forum (WEF).
"Napakahalaga ang World Economic Forum dahil napakaraming mga political and business influencers na dumadalo dito sa Davos. At matagal nang paniniwala ko na magiging maganda ang dating ni Pangulong Marcos dito sa Davos," said Arroyo, in an interview on RTVM's official channels.
(The WEF is important because a lot of political and business influencers come here to Davos. I've long believed that President Marcos would have a good impression in Davos.)
Arroyo, who is part of the official delegation, added: "He is Western-educated at intelehente siya at articulate siya. To put it in English, he speaks their language. Alam ng Pangulo na sa pag-unlad ng ating bansa, napakaimportante ang pagsasama ng gobyerno at ng pribadong sektor." (READ: Oxford: Bongbong Marcos' special diploma 'not a full graduate diploma')
(He is Western-educated, intelligent, and articulate…. The President knows that in order for the country to progress, it's important to bring together the government and private sector.)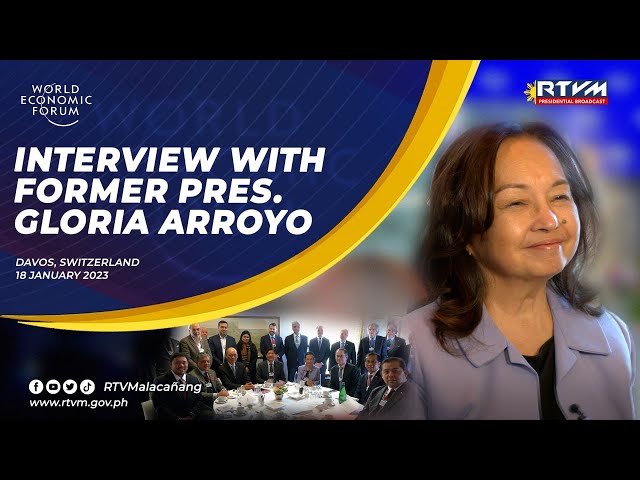 Arroyo wasn't the only public official interviewed and featured by RTVM during the Davos visit. Interviews with Trade Secretary Alfredo Pascual, Transport Secretary Jaime Bautista, Finance Secretary Benjamin Diokno, Private Sector Advisory Council Lead and Aboitiz Group CEO Sabin Aboitiz, and Alliance Global CEO Kevin Tan were also up on RTVM's channels.
In all these interviews, the top government and business officials explained why they were in Davos and detailed how Marcos had been received by delegates to the forum.
It's an interesting move by Malacañang, which has thus far been quiet on criticism over Marcos' decision to fly to Davos even as the country struggles with the high cost of food.
RTVM is directly under the Office of the President.
These interviews have also been the topic of press releases from the Presidential News Desk, an agency under the Presidential Communications Office or the messaging arm of the Palace.
Senator Mark Villar, who had joined several of Marcos' trips in the past, vouched for the supposed support of the Davos elite they met for the controversial Maharlika wealth fund. The proposal has been approved by the House but has yet to be tackled by the Senate.
In Davos, thus far, Marcos has met with WEF founder and chairman ​​Klaus Schwab, foreign business executives, and Filipino executives who also flew to the Swiss town for the forum. He's also participated in panels and a lengthy conversation with Børge Brende. He caps off the Swiss excursion with a gathering of Filipinos based there and nearby European countries before flying back to Manila on January 21.
Arroyo, an economist before joining politics, also heaped praise on the Philippines' economic team. "In fact, historically, maganda ang track record ng ating bansa na magagaling ang mga economic managers, kung sino pa man ang pangulo. So ibig sabihin stable ang pagpalakad ng ating ekonomiya, kaya maganda ang ating economic forecast sa 2023," she said.
(Our country has a good track record of having skilled economic managers no matter who the president is. That means our economy is stable, and that's why our 2023 forecast is promising.)
Marcos himself has said that the Davos visit won't be too different from the others he's made in his first seven months in office – save for his new pitch for the proposed Maharlika sovereign wealth fund.
The Philippine President has undertaken three state visits – to Indonesia, Singapore, and China – as well as several working or official visits to the US, Cambodia, Thailand, and Belgium for regional and international assemblies and forums. In all these visits, the message is almost exactly the same: to sell the Philippines as a good place to invest in.
Seven months in, however, those visits have yet to yield anything completely new since these meetings held around the world are typically done to re-affirm old commitments and to begin discussions for new ones. – Rappler.com