This is AI generated summarization, which may have errors. For context, always refer to the full article.
'What would you call it, what do you call it if nobody dies? What else do you call it? It's a war, a war on drugs,' says General Bato dela Rosa
This compilation was migrated from our archives
Visit the archived version to read the full article.
After more than two years and an estimated 23,518 deaths under investigation, Rappler tells the story of Rodrigo Duterte's drug war from the eyes of the killers.
In early 2017, the Philippine National Police (PNP) arrested members of a vigilante gang suspected of preying on drug suspects and criminals in Tondo, Manila. The group was a local chapter of the Confederate Sentinels Group (CSG), a national volunteer organization that the police had officially accredited as force multipliers.

Rappler's 6-month investigation shows strong indications that the police were outsourcing extrajudicial killings to the same vigilante gang they accused of murder. According to individuals with knowledge of CSG Tondo Chapter 2's activities, officials of the PNP coordinated with vigilantes, took credit for murders, and on occasion paid for assassinations in the name of the war against drugs.
This conclusion to Rappler's Murder in Manila series, published in installments, includes on-the-record testimony from community members as well as two of the CSG's self-confessed vigilantes. At their request, Rappler has changed or withheld their names for their own safety. Angel and Simon are not their real names.
---
On February 10, 2017, a day after the Philippine National Police announced they had arrested members of a vigilante group in Tondo, Manila, The Philippine Star reported that police had already filed criminal charges against six men for the death of 16-year-old Charlie Saladaga.
Three men had already been arrested during the raid on the Confederate Sentinels Group's (CSG's) outpost: Alfredo Alejan Jr, Marco Morallos, and Manuel Murillo.
They pointed a finger at their leader, Ricardo Villamonte, alias "Commander Maning."
Commander Maning, along with Barangay 105 councilman Michael Sibucao, and a third man known only by the alias "Onic," remained at large at the time charges were filed.
According to the affidavit of apprehension filed by the Manila Police District's homicide section, "a hot pursuit was immediately conducted."
Rappler's sources in the community said there was no visible attempt at pursuit, as the three men continued to live freely in Village 105.
On February 15, the Office of the City Prosecutor asked police to conduct preliminary investigations against the missing men.
Commander Maning, Sibucao, and Onic were subpoenaed to appear at the Manila City Hall on April 20 to testify under oath "and answer clarificatory questions."
On the day of their subpoena, Charlie Saladaga's mother Cristina filed a document retracting her sworn statement, including the complaint of murder and kidnapping she filed against men who had already confessed to the assassination of her son.
In her affidavit of withdrawal, Cristina explained that she had been "thinking repeatedly about the events" leading up to Charlie's death. She asked to "dismiss all charges of kidnapping with homicide and murder" against all the men implicated.
She said she had come to realize that the entire complaint was the result of "a misunderstanding."
---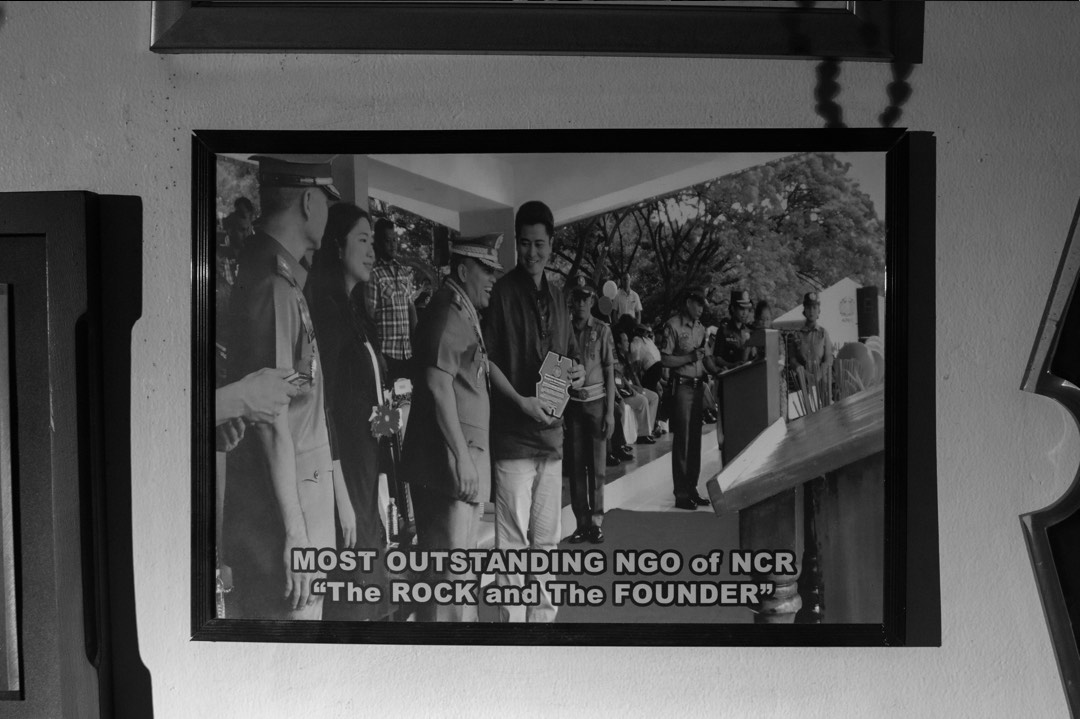 It was Simon, a self-confessed vigilante from CSG Tondo Chapter 2, who told Rappler that a group of ranking police officials gave CSG Tondo Chapter 2 the mandate to kill.
"We wouldn't do this without their blessing," said Simon. "But this had their blessing."
One day in 2016, said Simon, a number of their members were called to a briefing early in the drug war. It was at that meeting that police officers explained to the chapter's new recruits that their mission was to kill "those with bounties and the ones involved in drugs."
It was a meeting that may have occurred in the CSG Inc headquarters. Simon described the location as "a small office" located "near Sangandaan."
Directions to reporters seeking an interview with CSG Inc director Alvin Constantino included meeting CSG guides at a McDonald's branch "at the end of Tandang Sora going to Quirino Highway, Sangandaan." The office in Sitio Campo Uno, whose exact location cannot be found on GPS maps, is a few minutes away off a winding one-way road into the Constantino compound.
While Constantino admitted that members of CSG Tondo Chapter 2 have visited his office at the same time as police officials, Constantino doubted an order to kill could have been announced inside the headquarters. "The PNP wouldn't do that in front of the other members there," he said, "especially because there were also women and older CSG members. I don't think the PNP would say that."
Alvin Constantino remains the national director of officials of the CSG Inc, although he is in the process of having the name officially changed to Confederate Sentinels of God. His Facebook account still banners his photo side by side with a laughing former police chief Ronald dela Rosa.
Constantino said the alleged violence committed by CSG Tondo Chapter 2 in no way reflects the values of the national organization he founded.
In June 2017, four months after the PNP accused the organization of abduction and murder, Constantino received a letter from the National Police Commission. It certified that "the Confederate Sentinels Group, Incorporated, headed by Mr. Alvin Constantino, is a partner NGO of the Philippine National Police."
The CSG, said Constantino, remains an accredited partner of the Manila Police District.
Constantino said the police never explained how CSG Tondo Chapter 2 came to be accused of murder.
If they are guilty, Constantino said, they are a rogue organization whose actions have nothing to do with the national volunteer organization. "I thought about it, if they were vigilantes, who gave them orders? Wasn't it the PNP who introduced them to us? What does that imply?"
Police Superintendent Robert Domingo, whom Rappler sources accused of outsourcing murder to the CSG, is attending to his education at the Philippine National Police Academy. He has refused to comment on this story.
On October 9, 2018, as this series was being published, the House of Representatives recommended the filing of "appropriate" charges against police officers of Manila Police District in Station 1, Raxabago, where Domingo was station commander at the time of Charlie Saladaga's death.
According to the House, a jail cell hidden behind a bookshelf inside the station in April 2017 was "beyond humane conditions."
Vigilantes interviewed by Rappler said Domingo was, by no means, the mastermind of what they claimed was the outsourcing of extrajudicial killings.
"He's just a tool for Tondo," said self-confessed vigilante Angel. "There's someone higher than him. There's a general involved. We were supposed to meet with him. We were told, 'You're being called by the general.' It was some sort of briefing. But that's all I know, because when we were about to go meet the general the whole thing was called off."
---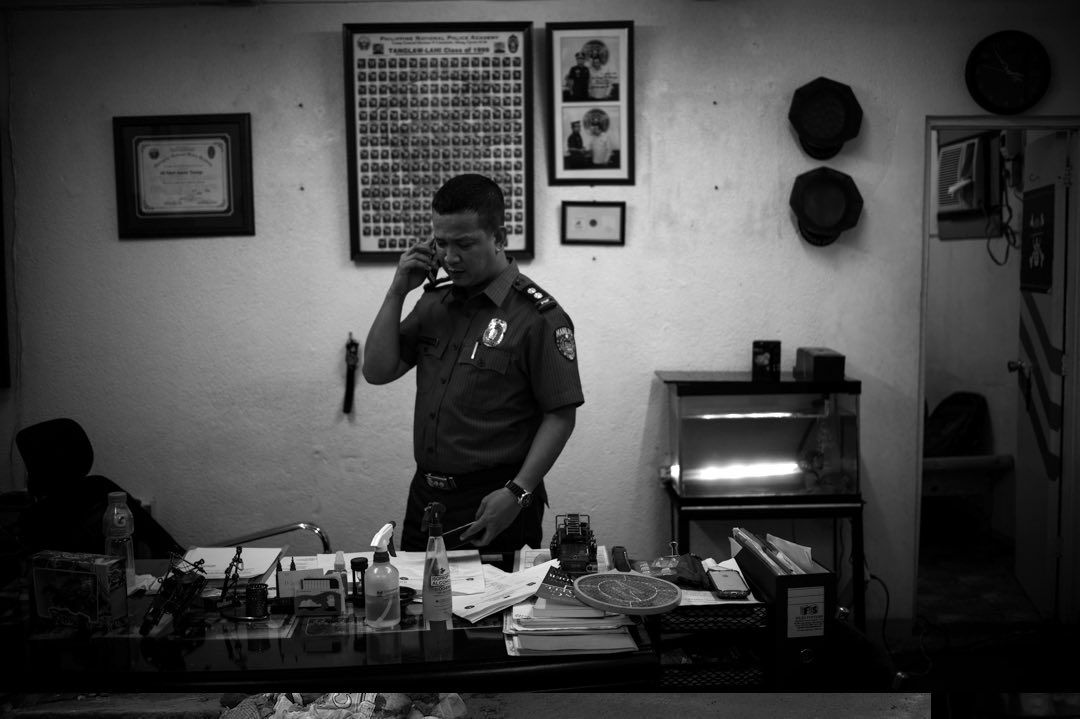 Angel, one of Rappler's vigilante sources, said he does not consider himself a hired gun. The money wasn't the point. It was a bonus, he said, but the goal was to kill criminals, not to work with them.
"Look at me, I have trauma," he said. "Not just me, even my neighbors, and the people still living there. They're scared if they screw up because people will talk. You're a guy, you did nothing wrong, but someone will whisper in Maning's ear and say, 'Maning, it's like this, that person is like this.' You'll be afraid."
Angel left the hotel room where he was interviewed as quickly as he arrived, stepping out of the small room in the small hotel in a city that cannot be named. He has killed many people. He hopes to stay alive.
Sources in the community said that the Saladaga family moved out of Village 105 for fear the CSG would make good on their threats.
"The parents are hiding," said Simon, shaking his head. "It's all backwards. The parents are in hiding…and the Commander's still around."
Simon remains an active member of the CSG, or what is left of the CSG. He still conducts surveillance. He still joins the boys on the job. He still works with the police. He doesn't trust the CSG, but he understands there are people who need killing.
"Look, everyone thinks we're bad guys," he said. "Not all of us are like that. There are decent guys in the CSG. It's just some of them, even the ones who never even killed anyone, the ones who only did the minor stuff, they all got big heads because they got to lean on the CSG."
Simon has one last target. One of Toyo's men is still alive. When the work is done, he'll pack up his gun and walk away, "because I don't know who the enemies are anymore."
"All we wanted was to do something about the drugs. All the drugs. We didn't want the killings either, but we wanted peace where we lived. That's all. But it was for nothing. Even if people were getting killed, the others were still selling drugs. You'll hear people say now, 'That CSG, they were nothing.' But it's only when someone gets killed or threatened that they get scared."
He shook his head. He has to leave by nightfall. There's a job tonight.
---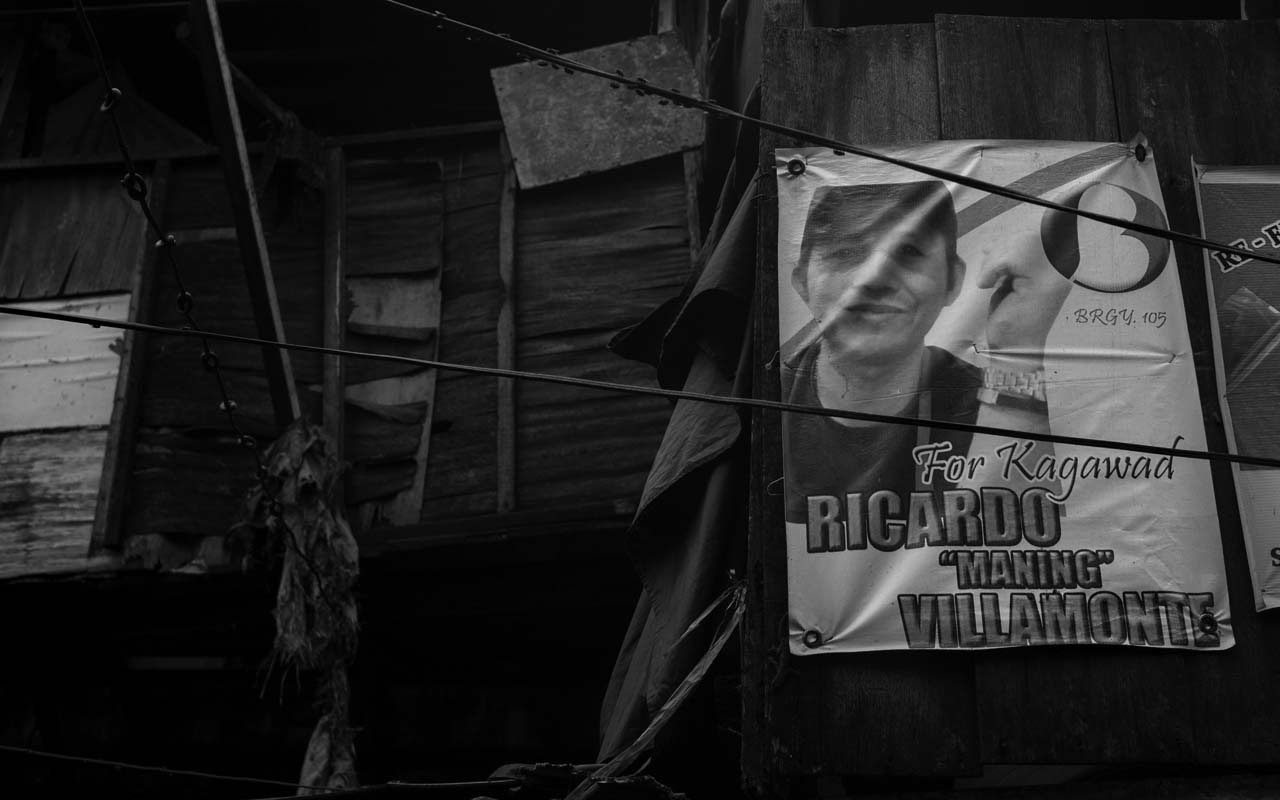 All but one of the men whom the Philippine National Police accused of murdering Charlie Saladaga and three others walk free in Village 105.
At least three of them, including Commander Maning, ran for local elections a little more than a year after they were condemned as vigilantes on national television. All of them lost. (Commander Maning denied all allegations of vigilante activities, and said the police were "very wrong" to accuse the CSG.)
The CSG headquarters along Road 10 has been repainted. It is now a local government outpost. Sources in the community said the murders continue, with vigilantes reporting instead to the homes of CSG leaders, or working as assets for anti-drug cops.
General Ronald dela Rosa, now Director of the Bureau of Corrections, said that allegations of police corruption, collusion, and murder should be investigated. He said that "there have always been stories, urban legends" of police ordering the murders of drug suspects, but "if proven, they should file charges against the police."
Of the four deaths under investigation that Dela Rosa attributed to the CSG, Rappler has only been able to confirm charges filed on a single case. The former chief of police stands by the statements he made during the February 2017 press conference.
The CSG, he said, were confessed killers. They said they killed Charlie Saladaga.
"I have nothing to hide," Dela Rosa told Rappler. "I didn't make up stories. What I said was straight from the source. They were there. They admitted it."
Dela Rosa has announced his intention to run for senator. He believes the drug war has been effective. He believes he served President Rodrigo Duterte well. He believes that the public is sincere in their gratitude, so sincere that when they speak to him, they hug him and weep in thanks.
Asked what he thought of his successes given the thousands of deaths, he said the country is at war.
"It's war. War," he repeated. "Otherwise, we wouldn't call it a war on drugs. What would you call it, what do you call it if nobody dies? What else do you call it? It's a war, a war on drugs. We are waging war against drugs."
---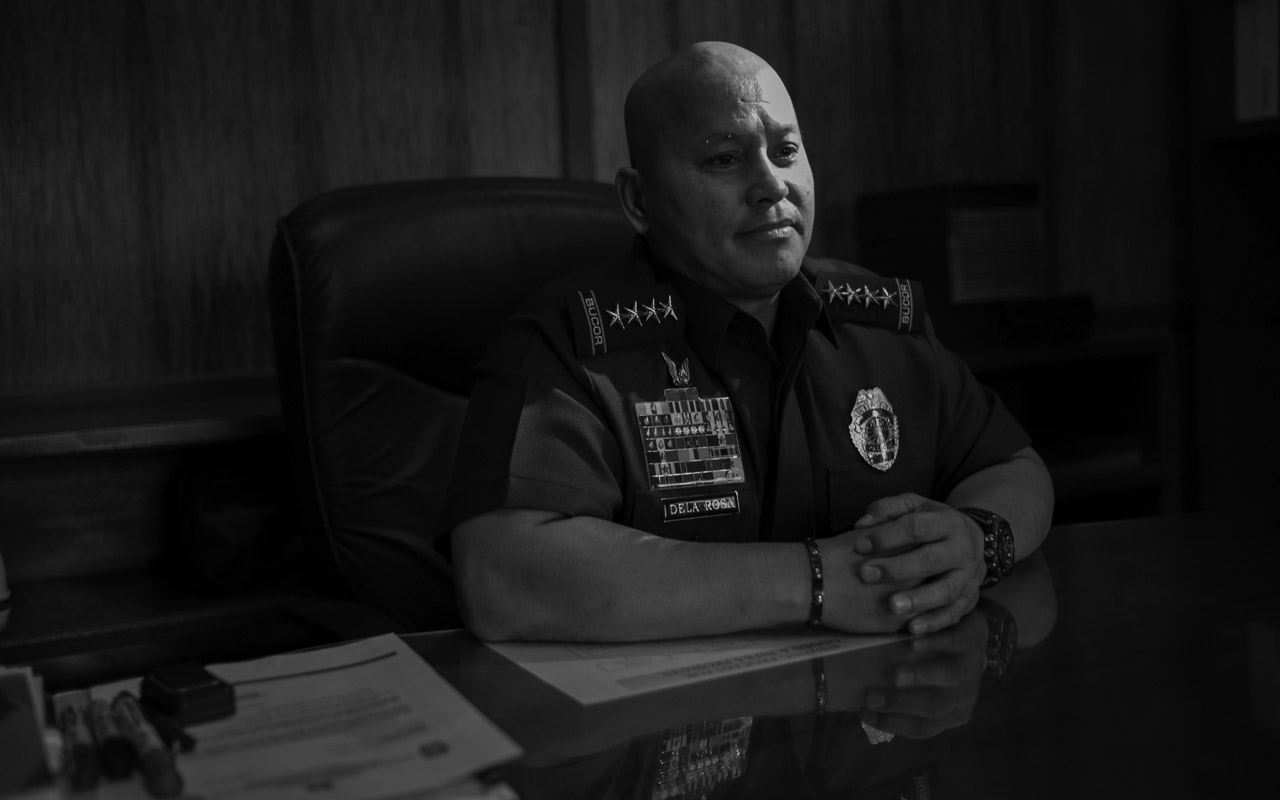 On September 30, 2018, before the United Nations General Assembly, Foreign Secretary Alan Peter Cayetano announced to the gathered representatives of the international community that the Republic of the Philippines will choose the protection of law-abiding citizens and law enforcers over the lives of drug lords and criminals.
The administration, Cayetano said, was "salvaging" the future of a country on the verge of becoming a narco-state.
The statement marched in lockstep with the President's own words. Just days earlier, President Duterte spoke at the oath taking of new career service executives at Malacañang Palace and proceeded to defend his two-year administration.
"What is my sin? Did I steal even one peso? Did I prosecute somebody who I ordered jailed?" Duterte asked.
"My only sin is extrajudicial killings." – Rappler.com
PART 1 | 'Some People Need Killing'
PART 2 | 'The Cops Were Showing Off'
PART 3 | 'Get It From The Chief'
PART 4 | 'What Did The CSG Do Wrong?'
PART 5 | 'I Finish The Job'
PART 6 | 'There Are Snakes Everywhere'
---
Editor's Note: All quotes in Filipino have been translated into English. Rappler filed two Freedom of Information requests with the Manila Police District for case folders pertaining to investigations on murders allegedly committed by CSG Tondo Chapter 2. There has been no response. Rappler also requested an interview with former Manila Police District director Joel Coronel. There has been no response as of publication.
On October 8, four days after the publication of this series' first story, Philippine National Police Chief Oscar Albayalde dared any witnesses of vigilante killings to file affidavits and testify about police involvement. "We'll be very much willing to investigate that," he said at a press briefing in Camp Crame. The police chief earlier denied Rappler's request for an interview.