Former senator Alan Peter Cayetano and then-PNP chief Bato dela Rosa allegedly reminded the accused Davao Death Squad gunmen to stay loyal to Duterte
Former Davao Death Squad insider Arturo Lascañas claimed in his affidavit submitted to the International Criminal Court that, then-Philippine National Police chief Ronald dela Rosa and then-senator Alan Peter Cayetano briefed the policemen tagged as DDS members before the first Senate inquiry into the group in 2016.
Cayetano, also the President's running mate in 2016, allegedly told them to stay loyal to Duterte and deny all accusations, which was exactly what they did – at least before Lascañas decided to turn whistleblower and appeared again before the Senate on February 21, 2017, to confirm the existence of the DDS.
Dela Rosa has since been elected senator in 2019, while Cayetano became Speaker of the House of Representatives and is seeking to return to the Senate in 2022.
In his affidavit, Lascañas recalled that on October 1, 2016, he was ordered by Dela Rosa to attend a "conference and final briefing" inside Camp Crame, the national police headquarters, about allegations of self-confessed DDS hitman Edgar Matobato.
Lascañas said the following policemen attended that meeting:
SPO4 Sanson "Sonny" Buenaventura
Superintendent Dioniso "Jun" Abude
Superintendent Antonio "Tony" Rivera
Senior Inspector Reynaldo Caputy
SPO4 Jim Abragan Tan
PO3 Enrique Ayao
PO3 Arnold Dechavez
SPO2 Rizalino "BoBong" Aquino
Senior Inspector Jay Francia
SPO2 Reynante Medina
SPO4 Alvin Laud
SPO4 Dionito "Pogi" Ubales
PO3 Jun Bisnar
SPO2 Benvenido Furog
Three lawyers joined them: a certain "Attorney Malaki" for Buenaventura and his group, Meliton Limos for Lascañas, and a certain Myla Lao, identified as the wife of Senior Inspector Ronald Lao, one of the named members of the Heinous Crime Task Group.
Avoid testimony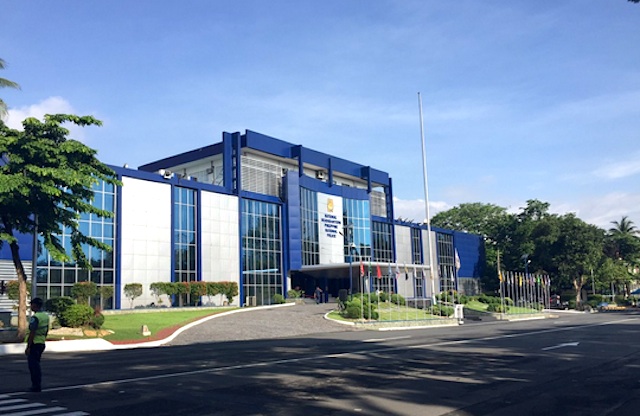 The group of policemen and lawyers stood by the entrance of the PNP's national headquarters building in Quezon City. There, Lascañas said, he was pulled aside by Rivera and advised that "it was better for me not to appear and testify personally at the Senate."
Policemen Buenaventura and Abude had followed Lascañas and Rivera. They apparently did not want "to jeopardize [the] group and expose everyone's identity before the viewing public nationwide."
Rivera's suggestion to avoid testifying was seconded by Abude, Buenaventura, and lawyer Malaki. They also apparently told Lascañas what to do in case he was compelled to speak.
"They told me that if I would be obliged and compelled to appear and testify personally, I had to deny all the accusations of Edgar Matobato against our group, and, foremost, the existence of the Davao Death Squad," Lascañas said, adding that he agreed with them at the time.
After this conversation, Lascañas said Buenaventura "called" then-special assistant to the president Christopher "Bong" Go (now a senator and presidential aspirant for 2022). Buenaventura told his fellow cops that Cayetano would meet them inside Camp Crame to "personally brief us on the possible scenario[s] during the Senate inquiry."
Loyalty to Duterte
At 6 pm of the same day (October 1, 2016), the policemen and lawyers were called to a conference hall near the PNP White House – the official residence of the PNP chief located just in front of the main building in Camp Crame.
Lascañas said Dela Rosa "welcomed" them, then asked who else could be possible witnesses aside from Matobato. Dela Rosa then allegedly directed them: "Foremost of his instruction to our group was that we have to be 'loyal' to Mayor Rodrigo Roa Duterte, now President of the country. That we have to deny everything about the existence of [the] Davao Death Squad or DDS, and no matter what may come during the Senate inquiry, we have nothing to worry, for President RRD [Rodrigo Roa Duterte] will take care of everything," Lascañas said in his affidavit.
Lascañas also said that, after the meeting with Cayetano, Dela Rosa told him to "neutralize anyone from our present and former civilian assets" whom Lascañas suspected would show "sympathy" for Matobato.
"He instructed me to emphasize to our group the importance of 'loyalty' to Mayor President Rodrigo Roa Duterte," Lascañas said.
We reached out to Dela Rosa for specific questions related to this series, but he refused to give any comment.
'Nothing to worry about'
When Cayetano arrived, he supposedly told the DDS members they had "nothing to worry about."
Lascañas said this was Cayetano's advice: "To just answer the questions in [a] polite manner and be respectful to the honorable senators."
He said Cayetano warned them to "expect the unexpected," especially from staunch Duterte critics, senators Leila de Lima and Antonio Trillanes IV.
"He just told us to deny everything for he would be there to assist us. Further, he told us to be composed and relaxed if felt insulted, and the best defense is to deny always," Lascañas said.
Cayetano did not respond to our questions sent via email and text.
Cayetano as main defender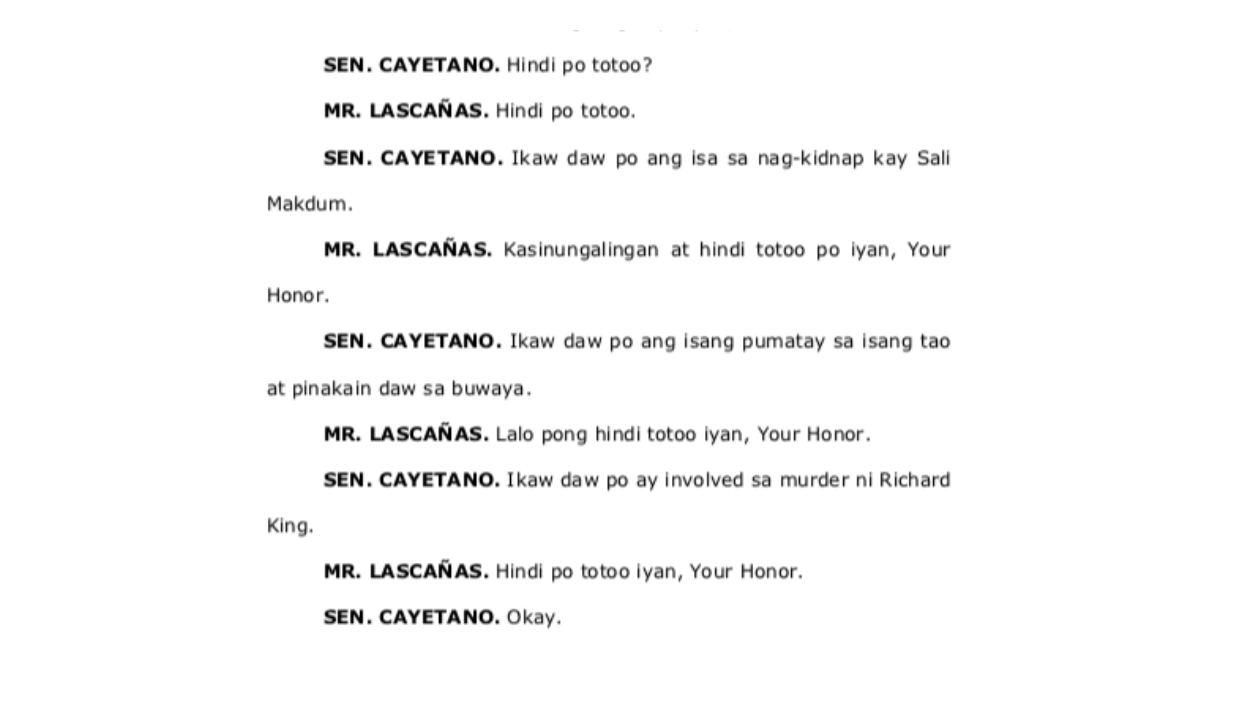 On October 3, 2016, Cayetano stood as the main defender of Duterte and the accused policemen. He made this clear at the start of the hearing.
"I wanted to manifest that we are inviting people who have been mentioned. It is the tradition of the Senate that they can defend themselves here. It is the tradition of the Senate that, in accordance with the Constitution, a person can confront his accusers," Cayetano said in a manifestation.
He interpellated Lascañas, reciting a list of accusations culled from Matobato's testimony. From the exchange, Lascañas issued denials at least 12 times, mostly saying, "That's not true, your honor."
Later, Cayetano interpellated Buenaventura – no different from what he did with Lascañas. Cayetano echoed Matobato's accusations, which Buenaventura also denied.
"Have you ever heard him (Duterte), whether face to face, or on the phone, or you're just standing behind him, or inside a car, any policeman, any go-between in Davao, say, 'Kill that person'?" Cayetano asked.
Buenaventura replied: "Nothing."
Before the hearing was suspended, De Lima asked if the accused policemen would return in the next hearing. Cayetano spoke on their behalf.
"Mr. Chair, I can speak for them. But I know they are all from Davao. And they are here at their own expense. So I would assume they [would] rather finish tonight and be able to go home to their province tomorrow," Cayetano said.
The Senate investigation closed in October 2016. It reopened in March 2017, when Lascañas did a turnabout and joined Matobato in accusing his fellow policemen and the President of being killers.
Cayetano has since become the country's secretary of foreign affairs from May 2017 to October 2018, and then Speaker of the House starting June 2019.
During his stint as foreign secretary, Cayetano sought to frame Duterte's popular but bloody anti-drug campaign before the international community as an act of "salvaging" the country from criminals.
"[I]n cases where we have to choose between protecting the rights of law-abiding citizens and law enforcers versus the rights of drug lords and criminals, it is clear we will protect the former. Who wouldn't? Wouldn't you do the same?" Cayetano said in a speech before the United Nations General Assembly in New York in September 2018.
He rose to the speakership in July 2019, but was ousted by fellow lawmakers in October 2020. He represents the 1st district of Taguig-Pateros, and is running for senator again in 2022. – Rappler.com
Contributors to "THE LASCAÑAS AFFIDAVIT | 'I KILLED FOR DUTERTE'" series: Lian Buan, Jodesz Gavilan, Glenda M. Gloria, Chay F. Hofileña, Pia Ranada, Rambo Talabong
Read and watch the stories in this series:
NEXT: Duterte promotes alleged key Davao hitmen to national posts