(2nd UPDATE) In 2020, without the required memorandum of agreement, the DOH transferred P41 billion to the PS-DBM. P3.82 billion of this was used for the purchase of face masks and face shields.
The Department of Health (DOH) has been under close scrutiny for the deficiencies in how it handled P67 billion worth of COVID-19 funds, which were detailed in the 2020 report of the Commission on Audit (COA) released on August 11.
A chunk of the misused funds was the P41 billion transferred to the Procurement Service of the Department of Budget and Management (PS-DBM) without the required memorandum of agreement (MOA) and supporting documents.
PS-DBM used a huge portion of this amount to purchase for the DOH personal protective equipment (PPE) sets worth P1,910 per set, for a total of P3.82 billion. It was the biggest contract won by the now controversial Pharmally Pharmaceutical Corporation, which turned out to have been incorporated only in September 2019 with a P625,000 paid-up capital.
In total, Pharmally won at least P8.7 billion worth of contracts for pandemic items, at least P4 billion of which were for the use of the DOH.
Apart from Pharmally, there were six other companies which the COA flagged in its audit of the PS-DBM in 2020 for supply the government with expensive face masks and face shields. The PS-DBM and the trade department have both said the high prices were due to scarce supply at the time.
These face masks went for as high as P27.72 per piece, and the face shields for P120 per piece. Not all were sourced from the DOH's P41 billion transfer, as many agencies also coursed their procurements via the PS-DBM. The PS-DBM actually spent at least P20.9 billion buying for other agencies.
Senators considered the items overpriced because, they said, the Philippine Red Cross was able to purchase face shields at around P50 apiece during that time. For another, there could not have been a high demand for face shields for supplies to be scarce worldwide because it's only in the Philippines that these have been required during the pandemic.
By September 2020, COA noted, the DOH released a memorandum with much lower suggested retail prices (SRP) for these items: P2 to P4 per piece for face masks and P26 to P50 per piece for face shields.
As a result, those initially purchased had become slow-moving items, with agencies opting out of the purchases precisely because they were expensive. By yearend 2020, there were P95 million worth of surgical masks and face shields lying idle at the Procurement Service office in Manila and in various regional depots.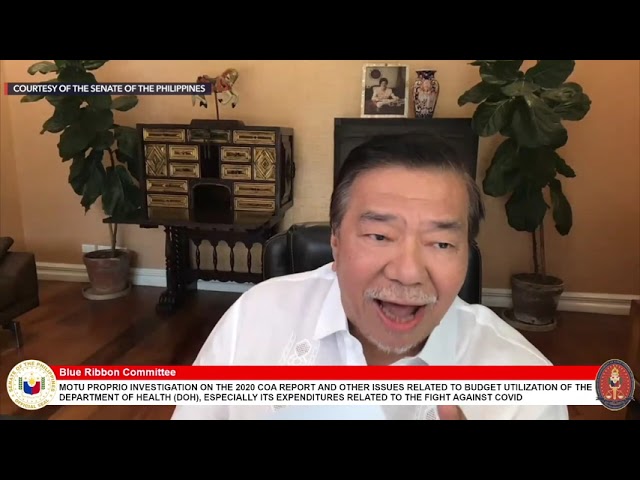 Who were the suppliers of these expensive face masks and face shields? COA's report on PS-DBM lists down seven companies.
Newlife Pharmaceutical, Inc.
Item: Surgical masks
Purchase order date: April 8, 2020
Unit price: P16
Quantity: 50,000 pieces
Total Cost: P800,000
Newlife Pharmaceutical, Inc. is a conglomerate of pharmaceutical, food and supplements, and medical device firms incorporated in 1979. It is headquartered in New Delhi, India, but serves export markets across Europe, Asia, the Middle East, and Africa as well. Their local importer is based in San Isidro, Makati.
Deepak Bahl is listed as a contact person on their website and is the CEO of Newlife Pharmaceutical Inc.
Pharmally Pharmaceutical Corporation
Item: Surgical masks
Purchase order date: April 16, 2020; April 16, 2020; April 20, 2020
Unit price: P22.50; P27.72; P22, respectively
Quantity: 2,400,000 pieces; 500,000 pieces; 10 million pieces, respectively
Total Cost: P287.860 million
Pharmally Pharmaceutical Corporation is a company that imports and distributes pharmaceutical products and medical devices and supplies. (READ: Pharmally had P625,000 capital before bagging P8 billion in COVID-19 contracts)
Pharmally is owned by Huang Tzu Yen (40%), Twinkle Dargani (10%), Mohit Dargani (30%), Linconn Ong (16%), and Justine Garado (4%), according to the company's general information sheet. Huang registered the company with the Securities and Exchange Commission on September 4, 2019, five months before the pandemic started.
In September 2020, Pharmally was one of the companies called out by Senator Franklin Drilon for selling overpriced COVID-19 test kits.
Cosmic Technologies Incorporated
Item: Surgical masks
Purchase order date: April 16, 2020
Unit price: P22.50
Quantity: 300,000 pieces
Total cost: P6.750 million
Cosmic Technologies Incorporated is the company behind the Cherry Mobile smartphone brand, which was established in 2009 and is headquartered in Ermita, Manila.
Its CEO, Maynard Ngu, graduated from De La Salle University and was nominated for Entrepreneur of the Year in 2017, a program of the SGV Foundation Inc., and co-presented with the Department of Trade and Industry, the Philippine Business for Social Progress, and the Philippine Stock Exchange.
Phil Pharmawealth Inc.
Item: Surgical masks
Purchase order date: April 16, 2020
Unit price: P27.49
Quantity: 100,000 pieces
Total cost: P2.749 million
Philippine Pharmawealth, Inc. (PPI) imports and distributes medical devices, disposables, and instruments, as well as finished pharmaceutical products. They were established and incorporated in 1993 by former Iloilo 4th District representative Ferjenel Biron, who was succeeded as district representative in 2019 by his son Braeden John Biron.
PPI also has a manufacturing facility in San Pablo City, Laguna, called Singapore Pharmawealth Lifesciences Inc.
In an email to Rappler on Thursday, September 2, PPI president Diana Biron said the prices they quoted for face masks in April 2020 were the DOH's SRP, based on Department of Health Circular No. 2020-0142. The company sold their masks at P27.49, while the SRP was P28.
"Despite the limitations imposed by the pandemic, PPI tried its best to source the much needed PPEs to protect Filipino health workers at the best price that it could offer during that time. Those masks have the required quality certifications as the company cannot just source them from ordinary, fly-by-night suppliers in China. The COA should have considered the relevant DOH Circulars when they prepared their report," the statement said.
The firm also said the Office of the Congressman of the 4th District of Iloilo has nothing to do with the business of the company with government agencies. 
EMS Components Assembly Inc.
Item: Surgical masks
Purchase order date: April 27, 2020
Unit price: P13.50
Quantity: 100 million pieces
Total cost: 1.350 billion
EMS Components Assembly Inc. was founded in 2004. EMS Components Assembly is now led by chairman and CEO Perry Ferrer.
Their main office is located in Biñan, Laguna, but they also have offices in Calamba and Cabuyao, Laguna; Sto. Tomas and Malvar, Batangas; General Trias, Cavite; and Cebu City.
Aside from supplying medical grade face masks, EMS also offer contract manufacturing and semiconductor engineering services.
In an email to Rappler, Ferrer said the Department of Trade and Industry had asked local companies to repurpose their factories to produce personal protective equipment, including face masks. EMS began to renovate their factory for face mask production on April 6, 2020, and received a purchase order and notice of award from DBM on April 24. At the time, they sold at 50% of the SRP.
EMS said that they delivered 25.875 million pieces of face masks at P13.50 each to DBM from June to November 2020. DBM then requested that they reduce the price to P2.35 per piece on February 22, 2021. They then delivered 74.125 million face masks at P2.35 from March to July 2021. As a result, the medical face mask business resulted in a loss for their company.
EMS is also one of the co-founders of the Coalition of local PPE manufacturers (CPMP).
Health Wellness Lifestyle Inc.
Item: Surgical masks
Purchase order date: May 20, 2020
Unit price: P17.50
Quantity: 600,000 pieces
Total cost: P10.5 million
Health Wellness Lifestyle, Inc is owned by husband and wife Roberto Gerard Nazal Jr. and Sheila Nazal, who also own YSA Aesthetic & Wellness. They are based in Quezon City, but also export to the Middle East (Abu Dhabi, Dubai, Qatar), Africa, and the US.
Health Wellness Lifestyle Inc. also produces nutraceutical products, such as Glutamax, Glutamax MEN, Nice day coffee, and Anagen.
Philippine Blue Cross Biotech Corporation
Item: Face shields
Purchase order date: April 22, 2020
Unit price: P120
Quantity: 1,317,711 pieces
Total cost: P158.125 million
Blue Cross, whose office is in Pasig, provides medical assistance through laboratory diagnostic tests and over-the-counter products. Aside from personal protective equipment, they sell drug abuse tests and fertility tests, and equipment like nebulizers. They were established in February 1997.
Blue Cross is part of the Euro Group of Companies, whose CEO is Stephen Techico. He made headlines in 2018, when he said he would finance a table tennis training center in the Philippines. Articles published at the time said he was the honorary president of the Federation of Filipino Chinese Associations. – with reports from Lian Buan and Danna Gonsalves/Rappler.com
Danna Gonsalves is a Rappler intern. Learn more about Rappler's internship program here.