This is AI generated summarization, which may have errors. For context, always refer to the full article.
While Vice President Sara Duterte herself sidesteps questions, Marcos' Cabinet members and a congresswoman come up with various explanations for the highly criticized transfer of confidential funds to the OVP in 2022
MANILA, Philippines – Vice President Sara Duterte is in hot water over questions on the legality of the transfer of confidential funds from the Office of the President to her office in 2022.
Duterte may have engaged in a public and sometimes ugly word war with female opposition lawmakers, but her answers to criticisms are nothing more than a blanket denial of allegations that the funds have been used inappropriately.
Government officials, including President Ferdinand Marcos Jr.'s Cabinet members, have been coming to her defense, or coming up with their own explanations, as the country's second highest leader continues to sidestep questions.
Below is a growing list of their names.
Executive Secretary Lucas Bersamin
On September 5, Executive Secretary Lucas Bersamin said the release of the funds to the Office of the Vice President (OVP) in 2022 had President Ferdinand Marcos Jr.'s blessing.
"Vice President Sara, who was newly elected then, needed funds for her new programs for the remaining period of 2022. The President supported this initiative and released the funds, with the favorable recommendation of the Department of Budget and Management," he said.
A total of P221.4 million was released to the OVP, sourced from the contingent funds for 2022. From that amount, P125 million was intended for OVP's confidential funds "for newly created satellite offices."
But reporters have prodded Duterte's Viber group: Why does the OVP need confidential funds – intended for surveillance activities in civilian government agencies – just to operate its satellite offices?
House appropriations senior vice chairperson Stella Quimbo
Then there's the question of whether interagency transfers were allowed or not.
On September 7, Marikina 2nd District Representative Stella Quimbo spoke to ANC, saying those transfers were commonplace and legal.
"The line item, which was confidential and intelligence funds, already existed in 2022, it just so happened that the amount was zero. You can actually augment an item, because the item already existed," the House appropriations senior vice chairperson said.
Rappler fact-checked such a claim, and we found out there was no provision for confidential and intelligence fund (CIF) items in the OVP's budget for 2022.
It was – as former spokesperson to former vice president Leni Robredo puts it – an "account category heading," not a line item, and there was no zero in there.
Duterte assumed the vice presidency in June 2022 with the budget prepared by her predecessor Robredo.
Budget Secretary Amenah Pangandaman
Department of Budget and Management Secretary Amenah Pangandaman wrote to House appropriations committee chairperson Zaldy Co on September 11, explaining to Congress that the confidential funds the OVP received in 2022 were a "release," not a "transfer."
Pangandaman saw the need to make the distinction because "transferring" appropriations from one office to another is deemed unconstitutional unless it is through the process of augmentation.
But she argued that contingent funds exist with the purpose of covering funding requirements of new and urgent activities of the national government.
"The contingent fund is intended to fund multifarious projects that are necessary but were not anticipated during budget preparation and legislation," Pangandaman said.
She added that the P125 million "released" to the OVP in 2022 was for the office's Good Governance Engagement and Social Services Projects," which include:
the safe implementation of various projects and activities of the OVP across its satellite offices for the last quarter of FY 2022
the conduct of its official engagements and functional representation in international and local events
the implementation of various projects and activities relevant to national security and peace and order
the implementation of the same with proper security and safety protocols for the benefit of the institution.
Defense Secretary Gilbert Teodoro Jr.
In an interview with ANC on September 14, Department of National Defense Secretary Gilbert Teodoro Jr. defended Duterte's request for confidential funds in 2024.
Her OVP has requested P500 million, and her Department of Education has sought P150 million.
"The youth are the most impressionable targets for potential influencing," Teodoro said. "They would be one of the most vulnerable targets for exploitation by malefactors or those who wish ill against this country."
What Duterte has said
Duterte, for the most part, has avoided the usual interrogation conducted by lawmakers towards heads of government agencies presenting their proposed 2024 budget, because the House and the Senate have extended "parliamentary courtesy" to the Vice President.
This means opposition lawmakers did not get the opportunity to scrutinize the spending plan proposed by Duterte's offices.
When it comes to statements, however, she becomes more blunt, attacking her main critics: Senator Risa Hontiveros and ACT Teachers Representative France Castro.
Her press releases also expressed gratitude towards Bersamin, Quimbo, and Teodoro.
"It is a shame they still cannot produce any proof to support their dirty imagination," she said on September 11, referring to her critics.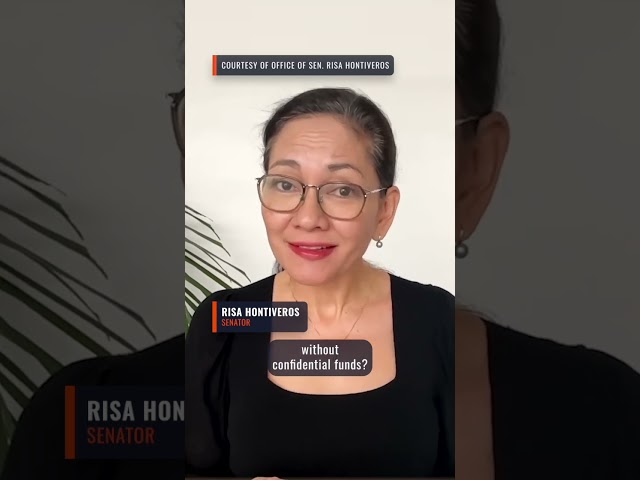 But the criticisms are not exclusively from key women of the opposition, the only people Duterte specifically responded to.
Also expressing their apprehensions are Senate Minority Leader Koko Pimentel, former Senate president Franklin Drilon, other former lawmakers, former vice president Robredo's chief of staff, economists, and think tanks.
Will she ever issue a more satisfactory, and more detailed response? – Rappler.com