Five years into Duterte's presidency, the constants in his Cabinet and drug war are people he worked with in Davao City. We track their rise to power.
When Rodrigo Duterte of Mindanao was swept into power in Manila, he brought his friends with him.
Today, the small circle of Davao Boys call the shots, managing everything, from legal issuances of the Office of the President to government coffers. Law enforcers once assigned to Duterte's hometown were ordered to implement his signature anti-drug campaign on a national scale – and were rewarded with plum civilian government posts after.
Trust, not competence or track record, is the President's main consideration when deciding who to put in powerful posts, former presidential peace adviser Jesus Dureza told Rappler.
"He will not appoint you to sensitive positions unless he knows you personally [from] before. That's why many of the people in the Cabinet are from Davao and military officers he knew from before whom he knows are good," said Dureza.
"He trusts only those whom he knew before. If you're a newcomer, sorry. Maybe he will appoint you to lower positions," said the former Cabinet member.
Dureza himself was part of this Davao Group in the Cabinet before he resigned in 2018 amid corruption allegations hounding his underlings.
But, for the most part, the Davao Group has remained intact.
From their small spheres of influence in a Mindanao city, their reach is now nationwide and beyond. Their links with Duterte have forever altered the course of their lives and, in some cases, become the launching pad of political ambitions.
One member is a longtime neighbor and childhood friend. Another is a loyal assistant and self-proclaimed "errand boy." There's a family friend-turned-lawyer, and a few city hall right-hand men.
Rappler looks at Duterte's inner circle of Davao confidantes and advisers, their impact on his presidency, and how the presidency has changed their careers.
Bong Go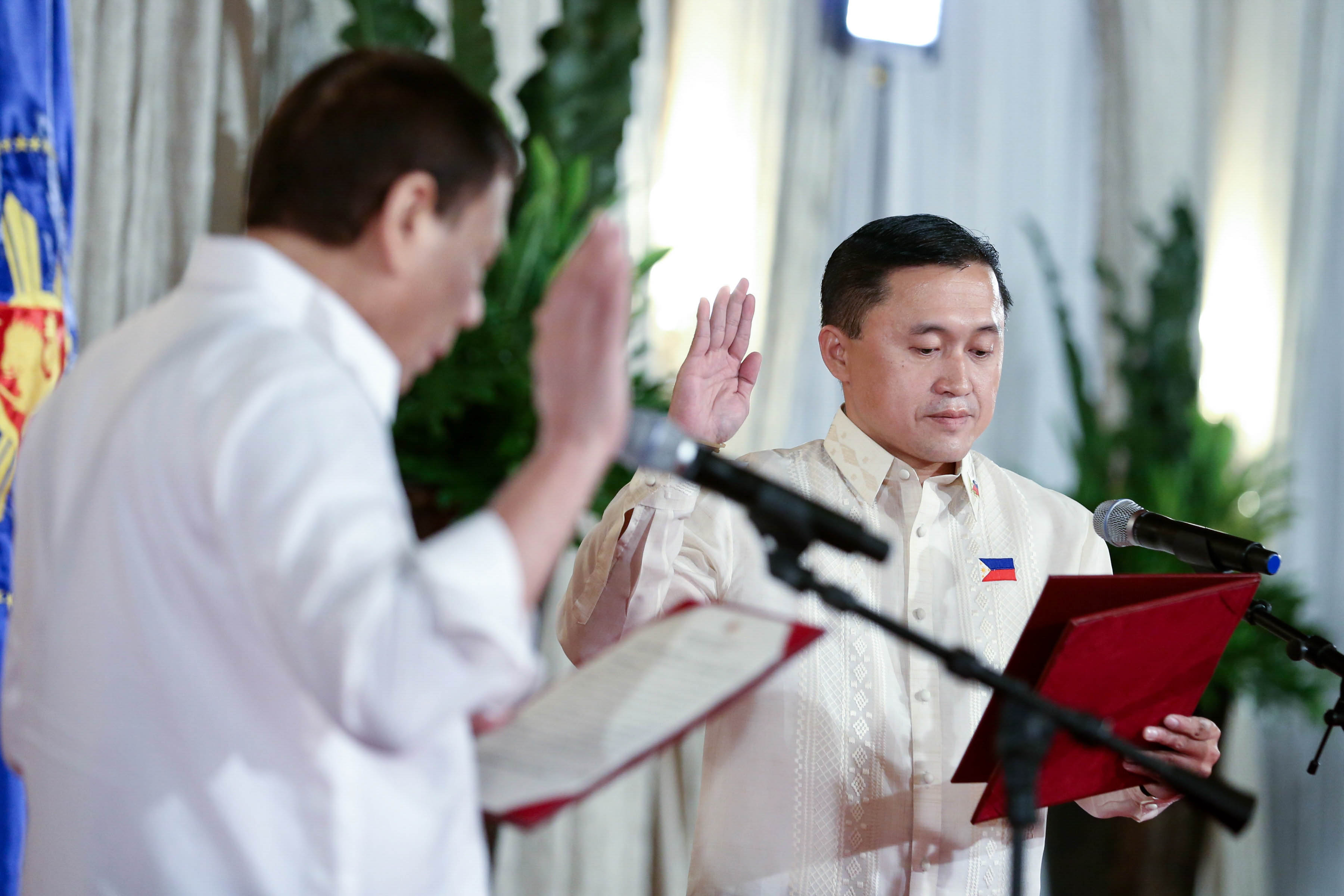 Go was fresh out of college when he signed up to be then-congressman Duterte's executive assistant in 1998. Since then, he's done everything for the mayor, from setting up meetings with VIPs to fixing the lightbulbs in his house. That devotion has paid off, big time. As "Special Assistant to the President" until 2018, Go became another "Little President" with his unfettered access to Duterte and power over his schedule. Other Cabinet members have complained that Duterte himself is difficult to reach since he doesn't give out his personal cellphone number. It's Go who takes the calls for the President.
In 2019, packaging himself as Duterte's champion, the "kuya" to the President's "tatay," Go was elected senator. Indeed, the mayor's "Boy Friday" has come far. Though he is technically part of a separate branch of government, Go retains his influence over Duterte and Malacañang. He is the sole lawmaker present at all of Duterte's weekly "talk to the people" addresses about the pandemic, even influencing its agenda. Go is constantly beside the President at government functions and is still the authority on Duterte's whereabouts, activities, and priorities.
Go's star may soon rise even higher. Duterte himself has promoted Go's possible 2022 presidential bid.
Sonny Dominguez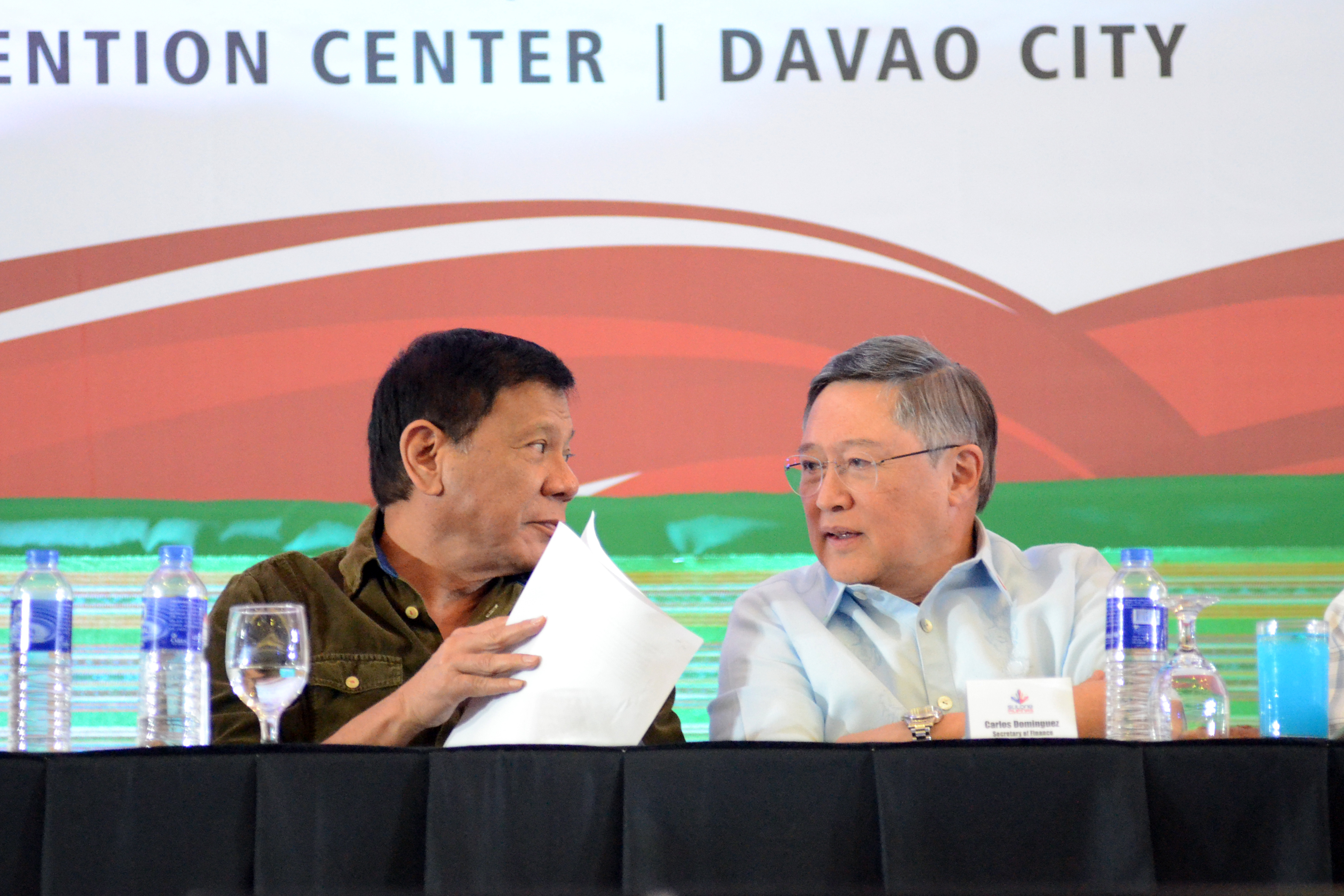 Duterte's high school classmate, the overachiever to Duterte's "bugoy," has become that rare species in the present Cabinet – one who can openly contradict the chief executive.
Like Duterte, Dominguez won't let anyone control his mouth. Frank and assertive, he has been called the "Voice of Reason" by some Palace staff present at Cabinet meetings. When he and former agriculture chief Manny Piñol had a "showdown" in a Cabinet meeting about rice importation, Duterte eventually sided with Dominguez. It's been said that the finance secretary was behind Piñol's exit as agriculture chief.
Dominguez once openly criticized Duterte's federalism push during a Cabinet meeting. His public anti-federalism remarks drove calls for Duterte to sack him. Duterte himself teases Dominguez with the nickname "Mr. Tsk Tsk Tsk" for opposing costly and unnecessary initiatives.
Perhaps owing to their old personal ties and Duterte's respect for Dominguez's expertise in finance and economics, the President gives his high school pal a lot of leeway in managing public coffers. He's thrown his political capital behind Dominguez's economic thrusts like tax reform, loosening restrictions on foreign investments, and a national ID system.
Salvador Medialdea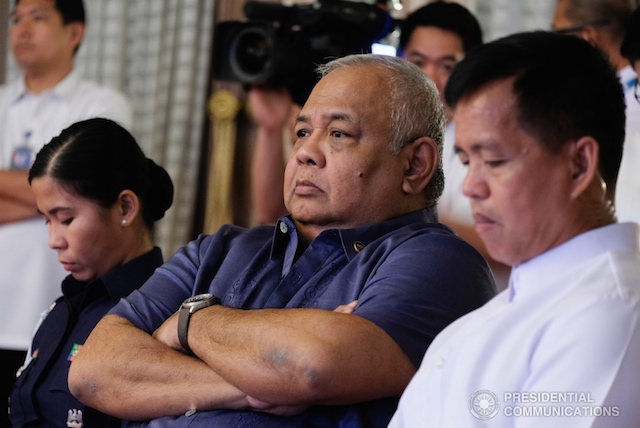 Though Medialdea spent a lot of his younger years in Manila, his ties with Duterte have their roots in Davao City. Their fathers worked in local government – Leo Medialdea was provincial prosecutor, Vicente Duterte was governor. But the friendship of their sons would bloom in their adult years, as Medialdea served as Duterte's lawyer when he needed representation in Manila.
During his presidency, Duterte relies heavily on Medialdea to sign off on many presidential issuances he'd rather not personally deal with. He refers suggestions and corruption complaints to Medialdea's office. It's the Executive Secretary who is often the bearer of bad news, tasked to call presidential appointees Duterte has decided to axe. It's also Medialdea, fondly called the "Little Big President," who has the unenviable task of interpreting Duterte's most shocking pronouncements and turning them into legal issuances and policies. Through it all, Medialdea has kept a low-profile, but his leadership over the Cabinet is undisputed and so is the level of trust he enjoys with Duterte.
Delfin Lorenzana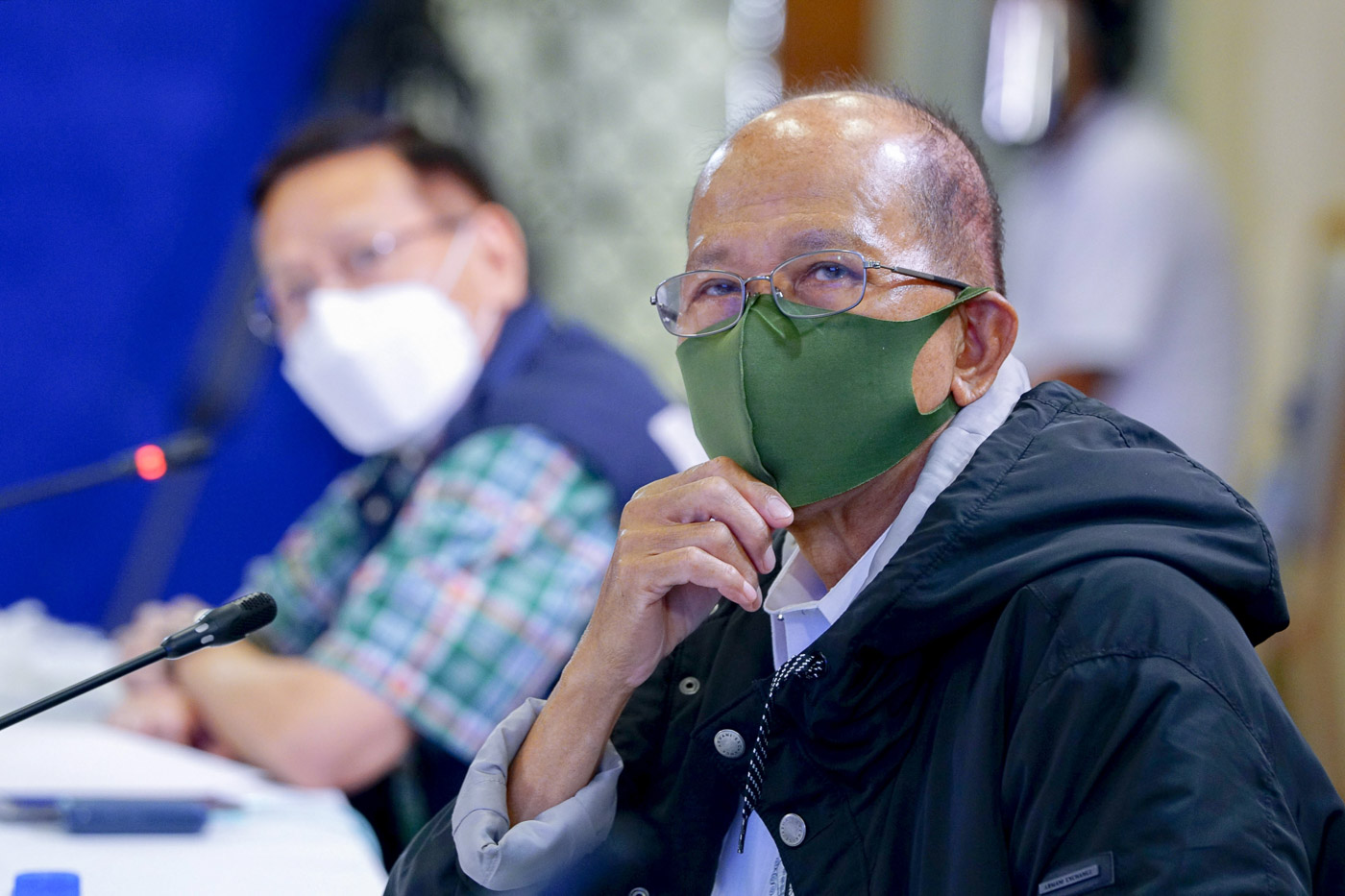 Though Defense Secretary Delfin Lorenzana was born in Midsayap, Cotabato, his ties with Duterte were forged in Davao City. He was a Scout Ranger Battalion Commander assigned to Davao City in the earliest days of Duterte's political career, from 1987 to 1989. Duterte was then vice mayor and then mayor, and he needed Lorenzana's help to purge Davao City of communist rebels.
Today, Duterte is still busy with a communist crackdown and Lorenzana is calling the shots on a national scale. But he's also been put in charge of fighting the COVID-19 pandemic with his new title of chairman of the National Task Force vs COVID-19. Such appointments of retired generals has fuelled criticism of an overly militarized response to a health crisis, but, for Duterte, a no-questions-asked approach from his trusted men is just what he needs. (READ: Duterte and his generals: A shock and awe response to the pandemic)
Wendel Avisado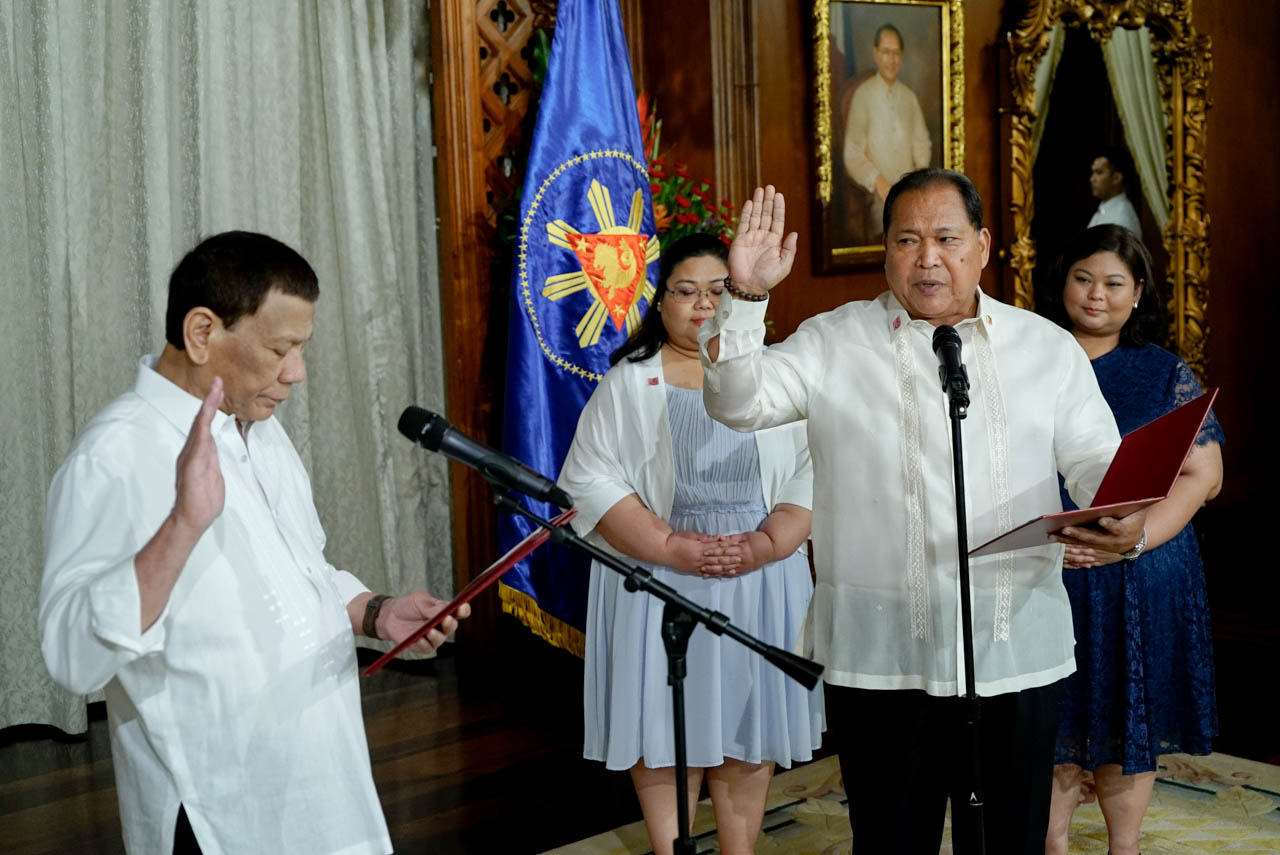 Avisado is one of two former Davao City administrators Duterte appointed to key national government posts. City administrators typically handle day-to-day bureaucracy that mayors themselves can't or won't attend to. As Duterte's budget secretary, Avisado, in many ways, is reprising his old job on a national scale. Avisado is one of the first officials Duterte calls to ensure there is funding for certain initiatives – be it a virology institute or media hub for the Visayas.
He helms budget decisions during the biggest crisis to hit Duterte's presidency, the COVID-19 pandemic.
Having served as Duterte's city administrator from 2004 to 2010, and then as presidential assistant from 2016 to 2019, Avisado knows Duterte's leadership style. Avisado meanwhile, has proven his loyalty to Duterte. He was one of the city officials who staunchly defended Duterte during Commission on Human Rights (CHR) public hearings on Davao death squads.
Jun Evasco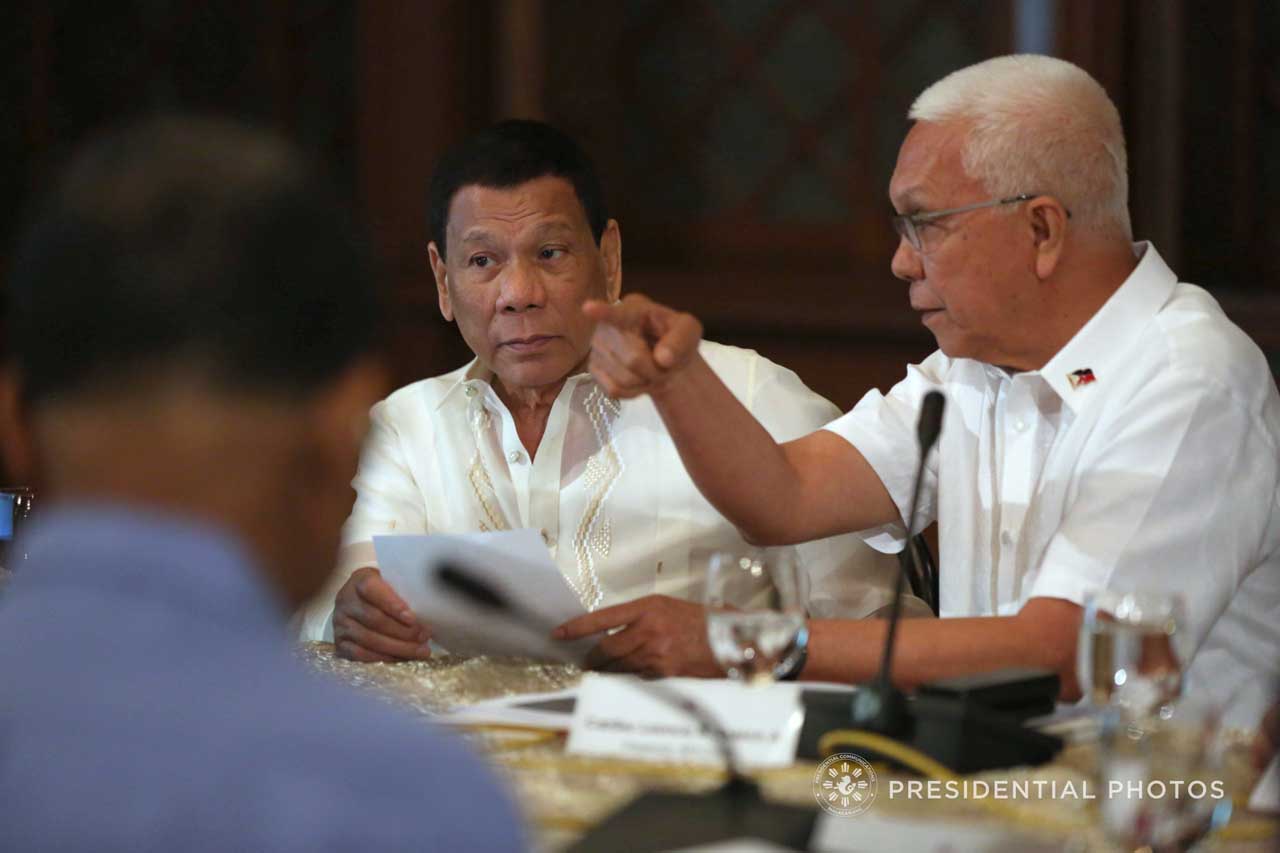 It's been a roller-coaster ride for Duterte's first Cabinet Secretary, Leoncio Evasco Jr. After years of non-stop meetings and a bitter rift with other Duterte appointees, Evasco decided to leave Duterte's Malacañang and run for Bohol governor in 2018. Though Duterte publicly expressed support for him, it was another Duterte ally, Arthur Yap, who won the gubernatorial post. But, come 2020, Evasco was back in the Palace, this time as Duterte's adviser on streamlining government processes, a role that the President bestowed with Cabinet rank.
Evasco's Davao days ties with Duterte run deep. He was his first campaign manager in 1988, then became his chief of staff at city hall. It was only natural that Evasco would lead Duterte's 2016 presidential campaign.
Jesus Melchor Quitain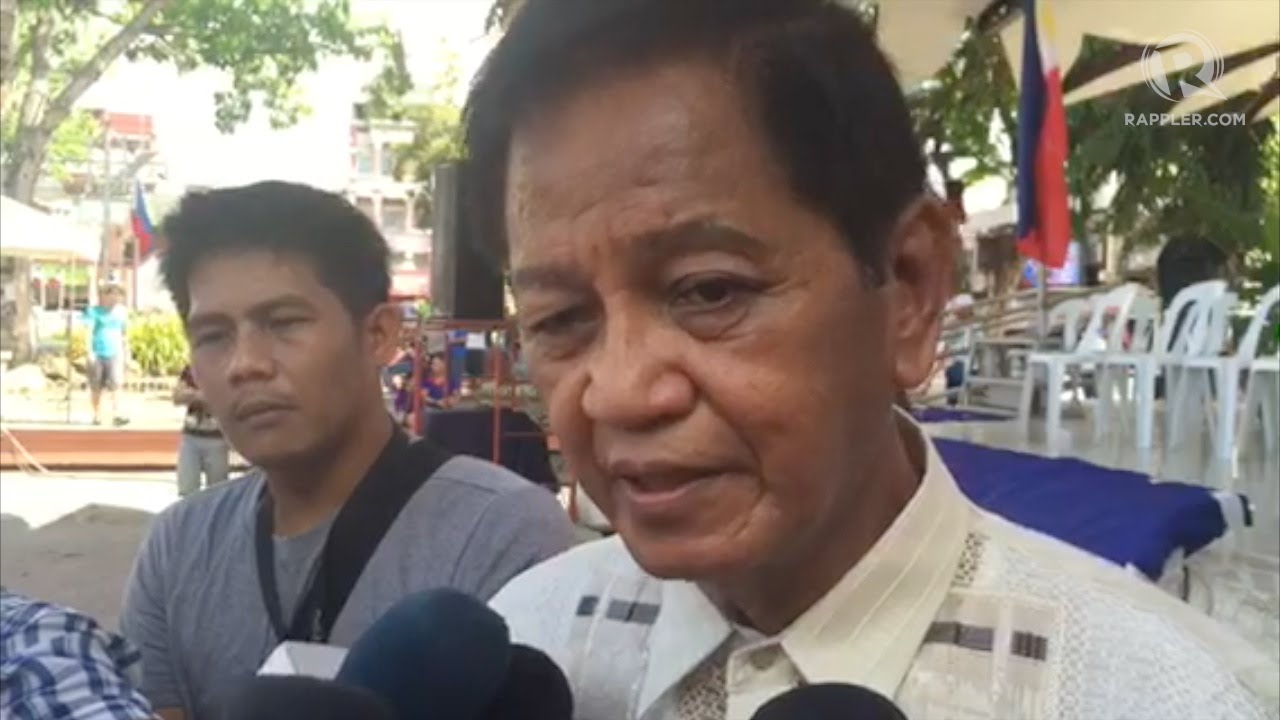 Another former Davao City administrator, Quitain was appointed Palace undersecretary in 2016 and has been there ever since, one of Duterte's low-profile constants. He is known as the man behind most of Duterte's high-impact speeches, like his State of the Nation Addresses and inaugural speech. In 2018, his Palace responsibilities grew. Duterte made him officer-in-charge of the Office of the Special Assistant to the President, the former office of Bong Go. This means Quitain now has supervisory functions over the Presidential Management Staff, Duterte's schedule, citizen complaints, and appointments. A lawyer, he's consulted on special legal matters and administrative concerns.
Like Avisado, he's defended Duterte during CHR investigations into Davao killings.
Davao Club helming anti-drug campaign and beyond
It says volumes about Duterte's drug "war" that he has entrusted it to men and women law enforcers who were assigned to Davao City while Duterte was mayor. While most were not born in Davao City, they were assigned there for a time and became implementers of Duterte's infamous local anti-drug campaign.
Their loyalty amid scrutiny and even legal cases was rewarded by Duterte through appointments to crucial civilian government posts during his presidency. In many cases, they're now heading agencies with portfolios they have no expertise in. Under the Duterte administration, retired cops are put in charge of vocational training, health insurance, and running an airport.
For this Davao Club, there seems to be nowhere else to go but up – at least until bodies like the Philippine judiciary or the International Criminal Court decide they must be held accountable for abuses that continue to hound Duterte's banner program.
Ronald dela Rosa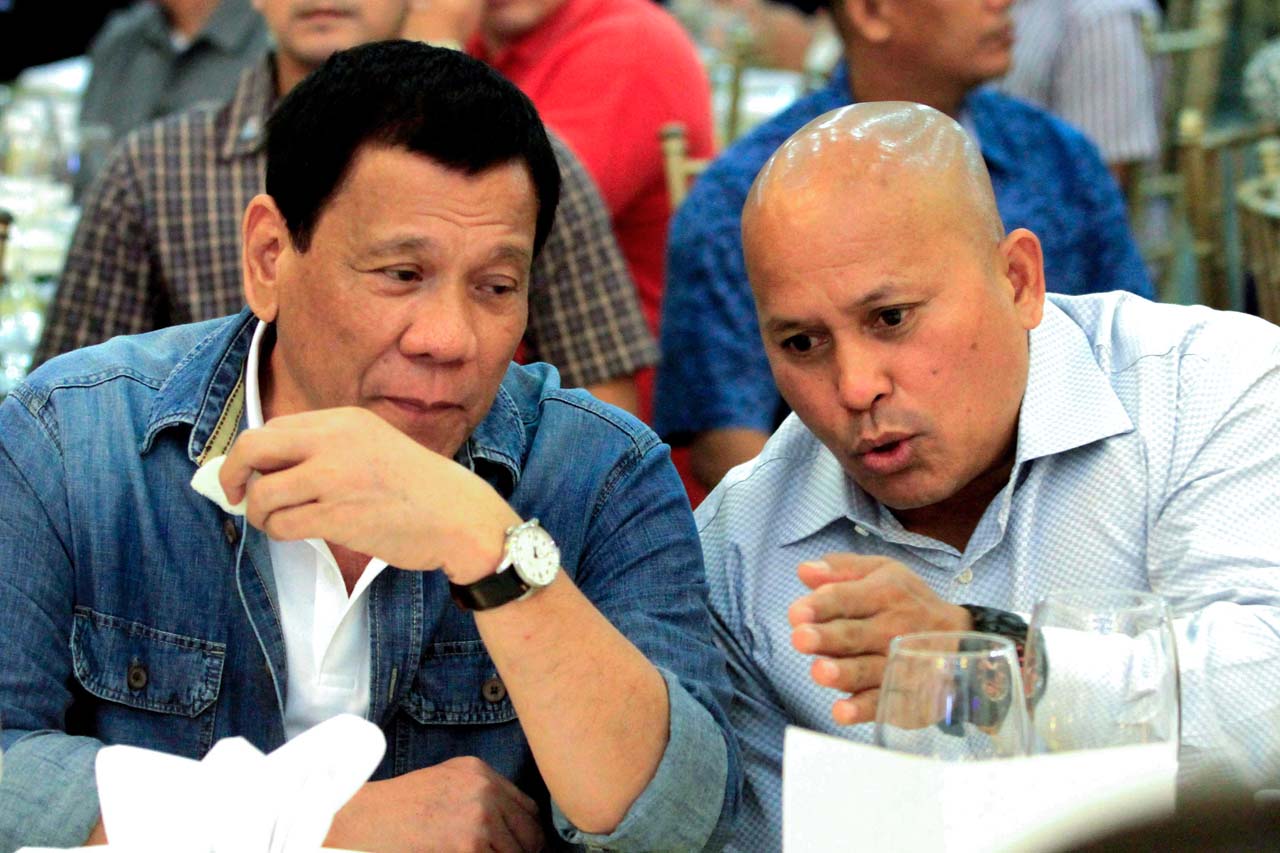 Duterte's last Davao City police chief has reached stratospheric heights. Ronald "Bato" dela Rosa, once a fish market porter in Davao City before he entered the police force, became PNP chief in 2016, skipping three older Philippine Military Academy batches. Upon Dela Rosa's retirement, Duterte named him Bureau of Corrections chief, but his ascent did not stop there. With the help of his strong ties to Duterte and his own brand of campaign charm, he was elected senator in 2019.
Dante Gierran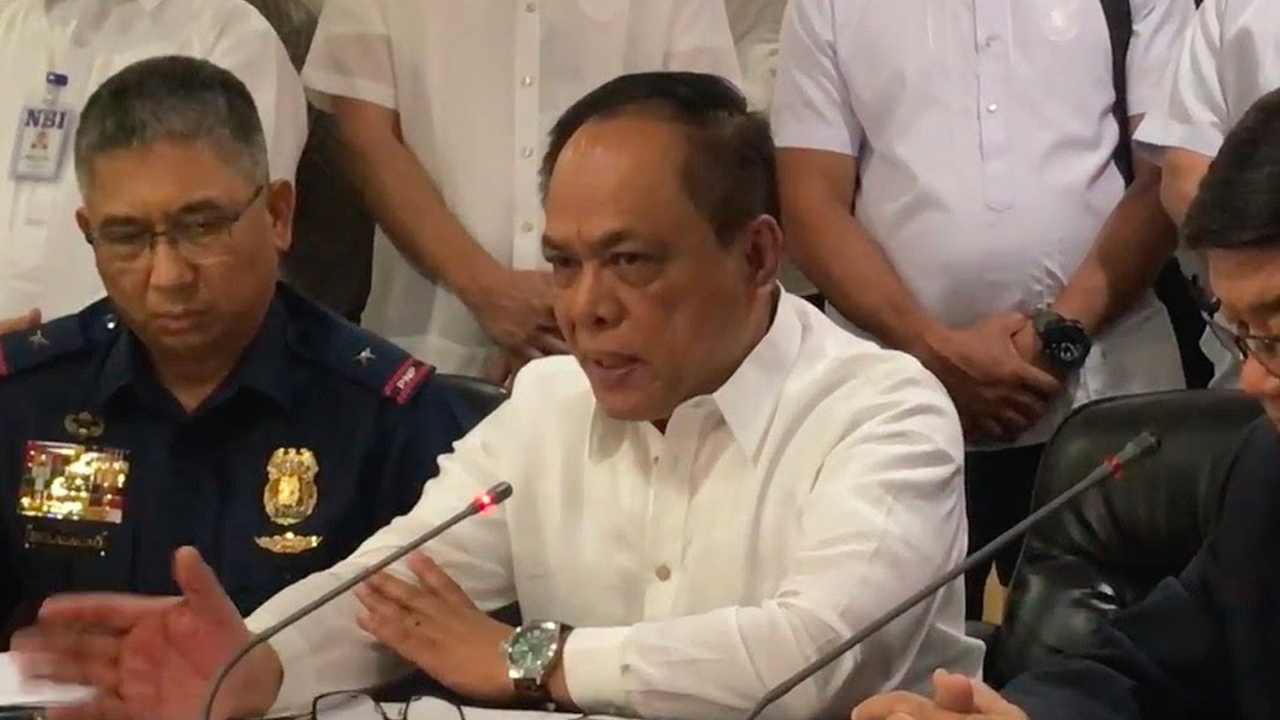 Gierran's connection to Duterte began when he was assigned to Davao City as a National Bureau of Investigation line agent from 1992 to 2001. More than a decade later, Gierran was back in Davao region, this time as NBI's acting regional director there, from 2013 to 2016. When Duterte assumed the presidency, he promoted Gierran to NBI chief. Then, in 2020, amid corruption allegations hounding the Philippine Health Insurance Corporation, Duterte had a different job for Gierran. Believing Gierran's criminal investigation bent would come in handy in purging PhilHealth, Duterte named him the state health insurer's chief executive officer. But controversies continued to hound PhilHealth even under Gierran – like its non-payment of hundreds of millions of pesos to Red Cross for COVID-19 testing and its billions of pesos worth of debts to hospitals struggling to cope with the pandemic.
Isidro Lapeña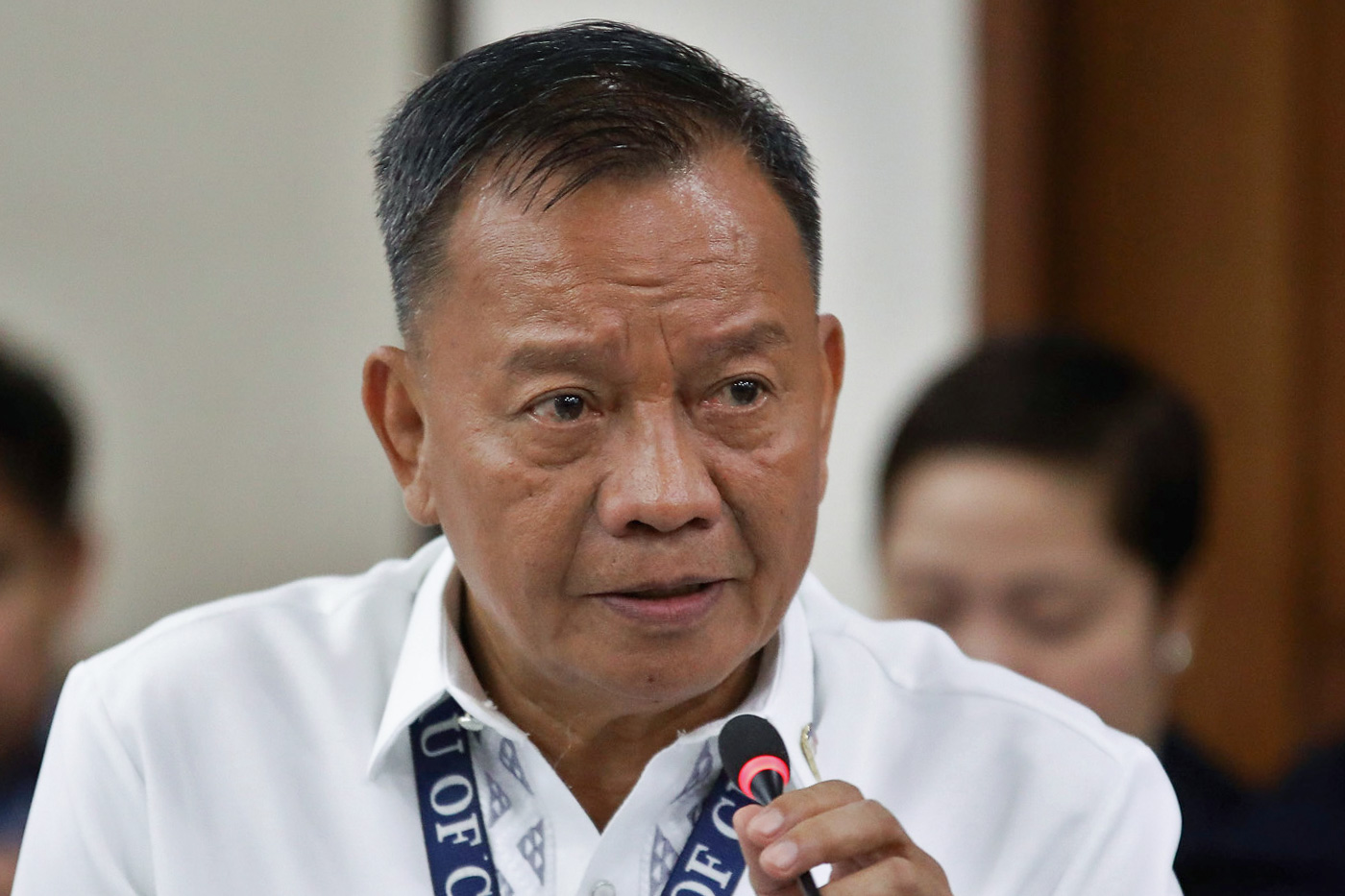 Davao City police chief from 1996 to 1998, and then Davao police regional director from 2002 to 2004, Lapeña was instrumental in Duterte's city-wide drug war. Come Duterte presidency, Sid, as he is called by the chief executive, was made Philippine Drug Enforcement Agency director-general, then Bureau of Customs chief in 2017. A year later, facing scrutiny over billions worth of shabu that got past his agency in magnetic lifters, Lapeña was moved to the Technical Education and Skills Development Authority.
Aaron Aquino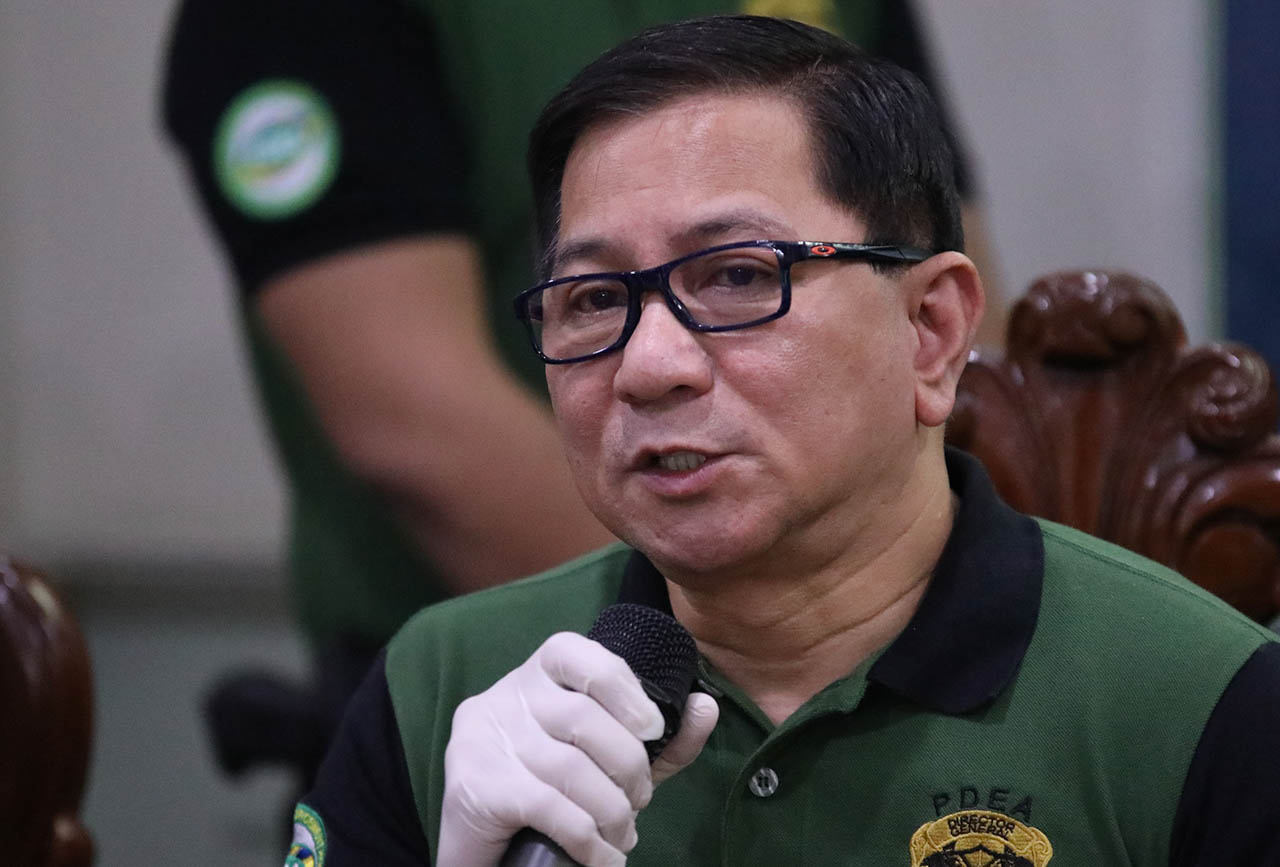 Also a former Davao City police chief and former Davao regional police official, Aquino was put in charge of the Philippine Drug Enforcement Agency right after retiring from active duty in 2017. After three years, and in the middle of a pandemic, Aquino was named Clark International Airport Corporation CEO and president in 2020. He was transferred to give way to another Davao Club member, Wilkins Villanueva, to head PDEA.
Wilkins Villanueva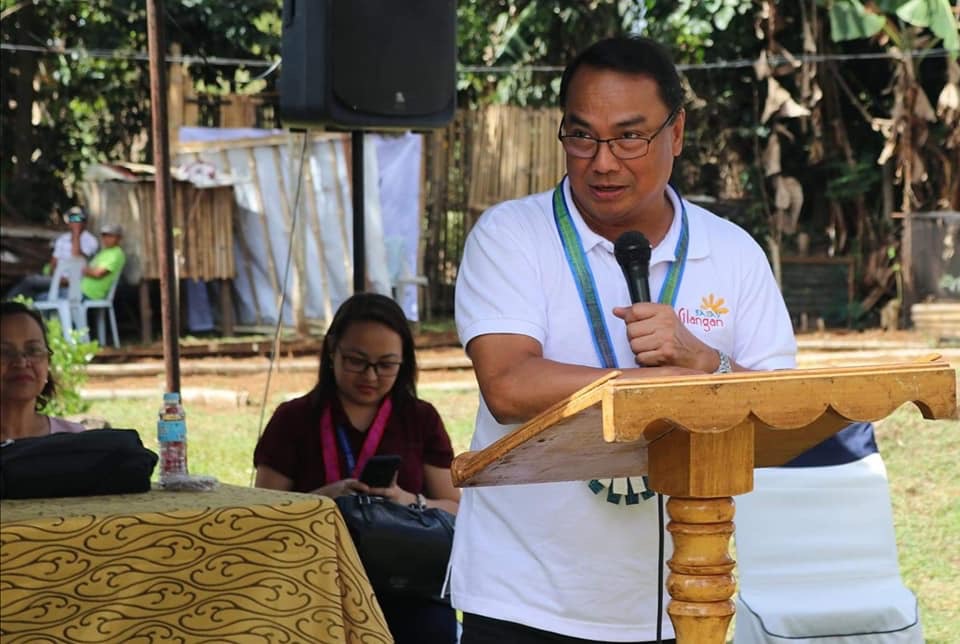 Villanueva, the current PDEA director-general, came to know Duterte during his time as PDEA Davao regional chief. When Lapeña became Bureau of Customs chief, Villanueva was transferred there as well, serving as head of its intelligence and investigation service. But he eventually returned to PDEA, this time as its regional chief in Northern Mindanao, before Duterte named him the agency's national head.
Other notable ex-Davao City law enforcers with plum posts include Brigadier General Vicente Danao Jr., now Metro Manila police chief, and ex-Davao City police chief Catalino Cuy, now Dangerous Drugs Board chief. Cuy was also acting interior secretary and interior undersecretary for public order during the Duterte administration. Cuy was among the 21 Davao City police officers suspended by the Office of the Ombudsman for simple neglect of duty over the spate of summary killings in the city from 2005 to 2008, when Duterte was mayor.
Royina Garma, who held various positions in the Davao City Police Office during Duterte's mayorships, was promoted to Cebu City police director during his presidency. Killings rose in the Visayas city during this time. In 2019, Duterte had a new assignment for her: leading the Philippine Charity Sweepstakes Office, which was then battling a series of controversies. Garma was also named in a complaint filed before the International Criminal Court as among Davao law enforcers who allegedly oversaw death squad operations.
– Rappler.com