WHAT YOU NEED TO KNOW
The Philippines returned to the polls on Monday, October 30, to select a fresh set of leaders in the barangay.
This was the first village-based and youth council elections in five years, after the Duterte and Marcos administrations separately approved postponement of the polls that were previously set in 2020 and 2022.
The barangay is the smallest unit of government, and is the primary implementer of government policies.
A total of 1.41 million people filed their candidacies to fill the 672,432 seats in this year's polls.
Here are the highlights of the 2023 barangay and Sangguniang Kabataan elections.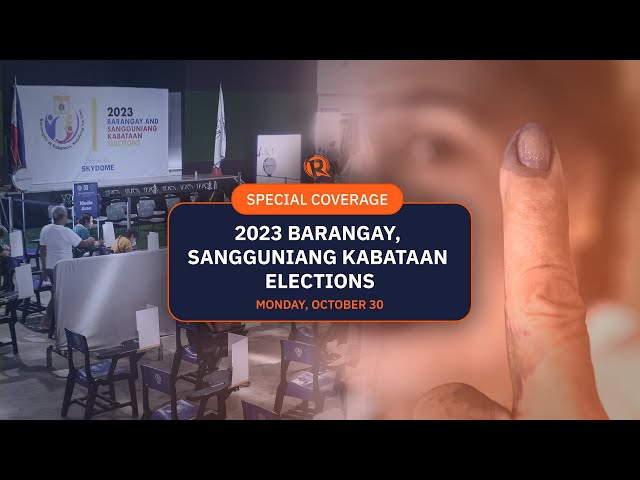 LATEST UPDATES
Fire hits Comelec office in Sta. Margarita, Samar
A fire engulfed the office of the Commission on Elections in Sta. Margarita, Samar, on Thursday, November 2.
In a press briefing on Friday, November 3, Comelec Chairman George Erwin Garcia assured the public that the election results were not affected, as the winners in the barangay and Sangguniang Kabataan elections in the municipality had already been proclaimed. Copies of the certificate of canvass of votes were also secured.
Read the full story here.
No overtime pay for teachers who served extra hours on barangay election day
The Commission on Elections (Comelec) said it would not be able to provide additional pay to teachers who worked overtime during the 2023 barangay and Sangguniang Kabataan polls.
"In as much as we would like to give, there is this joint circular between the Commission on Audit and the Department of Budget and Management, which provides that only employees of an agency are entitled to claim overtime," Comelec Chairman George Garcia explained on Thursday, November 2.
"The teachers who served as electoral board members are not employees of Comelec. Moreover, the budget provided to us did not provide for such an item," he added.
Read the full story here.
Comelec justifies need to go after teachers, police officers who skipped poll duty
Commission on Elections (Comelec) Chairman George Garcia defended on Thursday, November 2, his previous statement vowing to pursue legal action against teachers and police officers who withdrew from poll duty on the day of the election.
"Those who withdrew prior to the election, we respect their decisions as it is an absolute right. Election-day duty is not mandatory to teachers. But what about those very, very few who, on the day of the elections, when the precincts already opened, suddenly withdrew without any notice whatsoever?" he asked. 
"Complicating this is their refusal to turn over the election paraphernalia to their replacements for no known reason. This must be investigated to prevent similar incidents from happening as things like this may endanger future electoral exercises," he added.
The poll body previously said that more than 2,000 teachers in the Bangsamoro Autonomous Region in Muslim Mindanao backed out of election-day service. 
Comelec filing raps vs teachers who backed out of election duty? Group reacts
The Teachers' Dignity Coalition (TDC) said on Thursday, November 2, that the Commission on Elections (Comelec) should recognize the reality that some teachers withdraw from election-day duty due to security threats.
The statement was made after the Comelec said it was eyeing legal actions against election personnel who backed out at the last minute.
"The Comelec must know, on a case-by-case basis, why some teachers suddenly withdraw. We are talking about the same areas that the Comelec has traditionally placed under its control during elections. If the teachers in these areas believe that security is inadequate, then it is a failure of the government," TDC spokesman Noel Galvez Jr. said. "If they withdrew because they felt an imminent threat to their life, health, and safety, the Comelec should recognize it. Poll duties are not compulsory after all."
"However, if it can be established that these teachers only intend to sabotage or delay the election, which is very unlikely, then they may be held accountable," he added.
Drawing lots decides barangay election in violence-marred Lanao del Sur town
A village chief in Taraka here won Monday's barangay election by drawing lots Wednesday morning, November 1, ending the violence-marred exercise in this Lanao del Sur town.
Taraka election officer Abdulhakim Talib declared incumbent Barangay Buadi Amunta Chair Yasmalyn Macabando winner over her opponent, Casanoding Comadug, after both drew lots to break the tie. Macabando and Comandug tied at 59-59.
Read the full story here.