This is AI generated summarization, which may have errors. For context, always refer to the full article.
Kirstie Alora used taekwondo to escape from bullies while growing up in Laguna. Now the 67-kilogram jin will represent the Philippines at the 2016 Olympics
This compilation was migrated from our archives
Visit the archived version to read the full article.
Believe it or not, being bullied in grade school prompted Rio-bound Kirstie Elaine Alora to take up the tough Korean martial art of taekwondo.
"I was bullied by a boy in grade two. He would harass me, take my baon (snack) and if I didn't give it, I would lose some things in my school bag like a notebook or have my pencils broken," recalled Alora of her elementary school years at the Alpha Angelicum Academy in Binan, Laguna.
"Taekwondo became my escape plan (from bullying) because it was being offered as an extra-curricular activity aside from two other team sports," she said. "It was a martial art so I took it up."
The same bully joined the school taekwondo club, apparently thinking he could continue to torment his classmate – but was he in for a painful surprise.
"The first time time we sparred, I  kicked him hard repeatedly that I only stopped when he began crying," said Alora with a sly smile. "From then on, hindi na niya ako na-bully."   (After that I was no longer bullied.)
Alora wasn't the only one who got hooked on and quite adept in the sport, with elder sister Eunice being good enough to likewise make it to the national team, capturing a bronze and silver medal, respectively, in the 2007 Thailand and 2009 Laos Southeast Asian Games.
She said that she and her sister Eunice were fully supported by their mother, encouraging them to take the sport seriously "because she told us that we ought to give our full commitment into anything we do and excel in it."
The bespectacled athlete took her mom's counsel to heart, making her unforgettable debut at the 2005 Southeast Asian Games at the ripe age of 15 in Manila by garnering the gold medal in the featherweight division.
Alora would win two more golds in regional meet in the 2011 Indonesia and 2013 Myanmar SEA Games, the latter another memorable outing when she wrested the championship from Cambodia's Davin Sorn with a last-gasp twisting kick to the head.
Watching Alora's breathtaking comeback at ringside was two-time SEA Games gold medalist Monsour del Rosario, who was the deputy chief of mission of the national delegation in Myanmar.
"I had placed a $10 bet with my Cambodian friend on who would win the match," Del Rosario said. "I already handed him my money because Elaine was still behind close to the end, and then she made that surprise kick. Of course, I took my money back and ask him to pay up."
"Alora's performance made a believer out of me. I told her I should be the one idolizing her and not the other way around," Del Rosario, a veteran of the 1992 Barcelona Games when taekwondo made its debut as a demonstration sport, said.  
Also a winner of a bronze medal each at the 2010 Guangzhou and 2014 Incheon Asian Games, Alora's  athletic resume was still missing something: an appearance in the Olympic Games.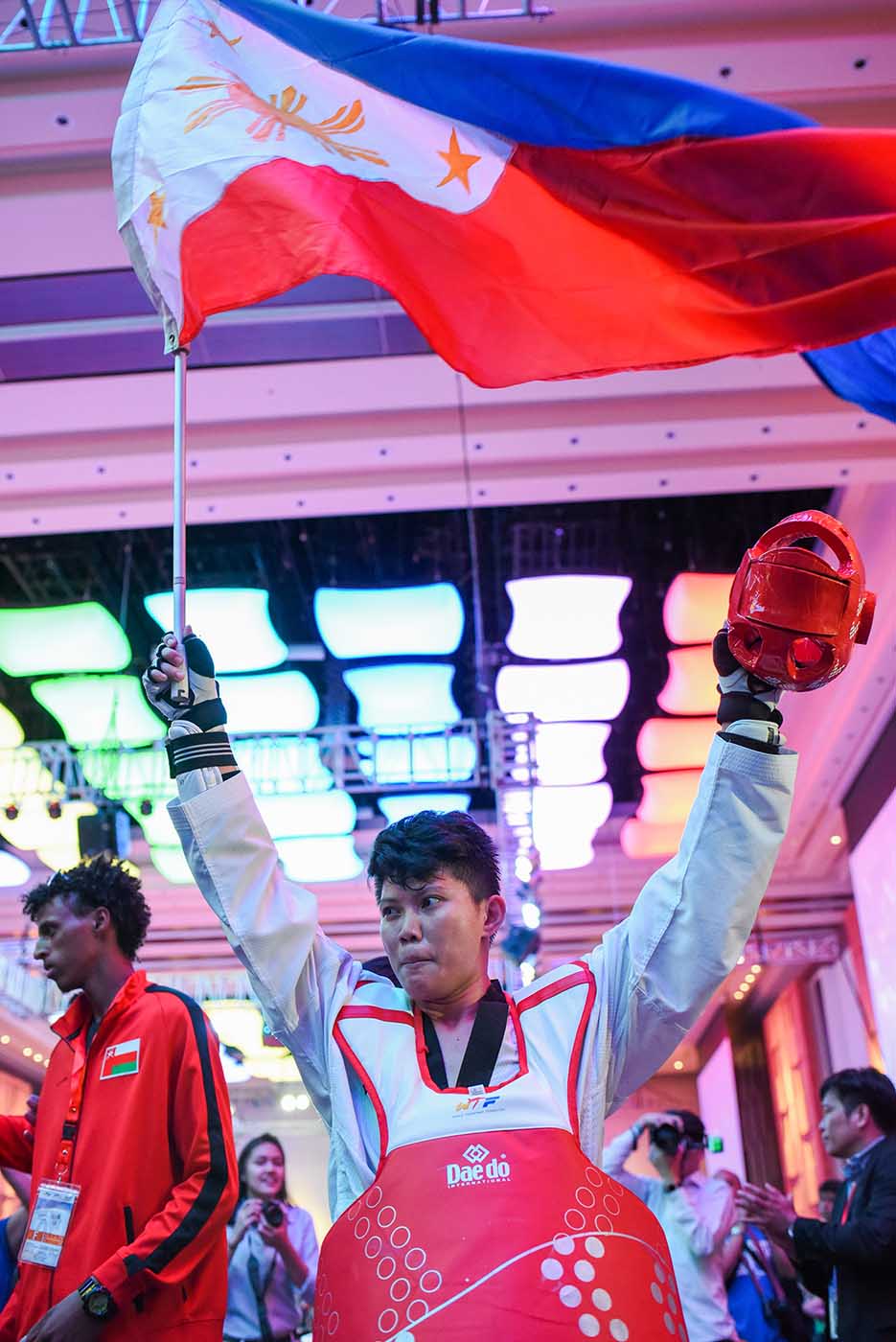 Despite failing to make the qualifying grade on two previous occasions, Alora stubbornly refused to give up on her Olympics dreams.
The third time, however, proved to a charm as the fighting Filipina finally made the cut by reaching the women's +67-kilogram finals of the Asian Olympic Qualifiers in Manila last April where she dropped a 0-5 decision to Cambodia's Seavmy Sorn, the 2014 Incheon Asiad champion.
The entire local taekwondo community heaved a collective sigh of relief with Alora's accomplishment after Filipino taekwondo bets missed the bus for the first time to the London Olympic Games 4 years ago since the discipline became a medal sport at the 2000 Sydney Olympiad.
Tshomlee Go and Marie Antoinette Rivero were the country's last representatives in the discipline in the 2008 Beijing Games.
Although acutely aware of the pressure placed on her shoulders, the athlete gamely shrugs it off and welcomes the challenge.  
"There is some pressure but I am also excited about the challenge because I believe that this is the best chance I will ever have of winning a medal and making our country proud," said Alora, who recently saw action in the tough Korean Open as part of her Olympic buildup.
"She (Alora) just needs a little bit more polishing. She is 90 percent-plus primed to compete in the Rio Olympics," said national coach Kitoy Cruz, a 2000 Sydney Olympics veteran.
Alora and Cruz will be leaving with the rest of the Manila-based athletes of the PH delegation to Rio on July 23, giving the athlete more than 3 weeks to additionally prepare for her match scheduled on August 20, a day before the end of the Olympics.
"Coach Kitoy told me that we need to increase my speed and my engagement against my rivals," said the bespectacled Alora, who will be pitted against 15 other Olympians in the tough +67-kilogram women's division.
Her opening-round opponent will be Mexico's Maria Espinoza, the 2008 Beijing Olympics champion.
But Cruz said that she was not cowed by her fancied rival since they are of the same height (5-foot-8).
"I believe Elaine has a strong chance of beating her since they are almost of the same height, unlike in the other lower part of the draw, where mostly the taller players are," he noted. – Rappler.com
---