This is AI generated summarization, which may have errors. For context, always refer to the full article.
Who is the athlete that will carry the Philippine flag at the Rio Games? This is the story of Ian Lariba, the first Filipina table tennis player to qualify for the Olympics
This compilation was migrated from our archives
Visit the archived version to read the full article.
MANILA, Philippines – On Saturday, July 23, Ian Lariba boarded a flight to Rio De Janeiro with other Filipino Olympians and the hopes of a country on her shoulders. 
The thought seems hard to believe for someone's who's only 21-years-old and in the process of submitting the final requirements of her thesis in order to graduate with a finance degree from DLSU. After all, despite the accolades, she is still a student, but balancing academics and athletics, plus dealing with pressure from other areas, is something she's become used to. 
Has the whirlwind of congratulations, preparation, and everything else become overwhelming for Lariba? Sure. It was just 12 years ago when she discovered a passion for table tennis after her parents urged her to get out more and be active during a summer in Cagayan De Oro.
The badminton courts weren't her thing – too many people, the court too big, she said. But the ping pong table? That was more her speed. Then started a journey that only some athletes can dream of.
"Of course to be given this opportunity, to be the first table tennis Olympian, and then at age 21, for me it's such an honor," she said.
"I think nung binigay yung invitation saamin (when we got the invite) to join the Olympic Qualifiers, syempre para saakin (for me), once in a lifetime lang yun. Every 4 years. Why not take the opportunity to join for the Olympics? Kasi (Because) I have nothing to lose din naman (also)."
Lariba's book is unfinished, but the written chapters already have enough to make for a great story – one that started because Anton and Imelda Lariba, who are both private employees, wanted their daughter to "get involved in sports," she says.
"The love, or the interest, really grew when we were talking with my parents na parang nakita nila na naging interesado narin ako sa pag pl-play nang table tennis, and yung sinabi nga nila na this could be a great help for my education, kasi pwede ka ma-libre sa school and all.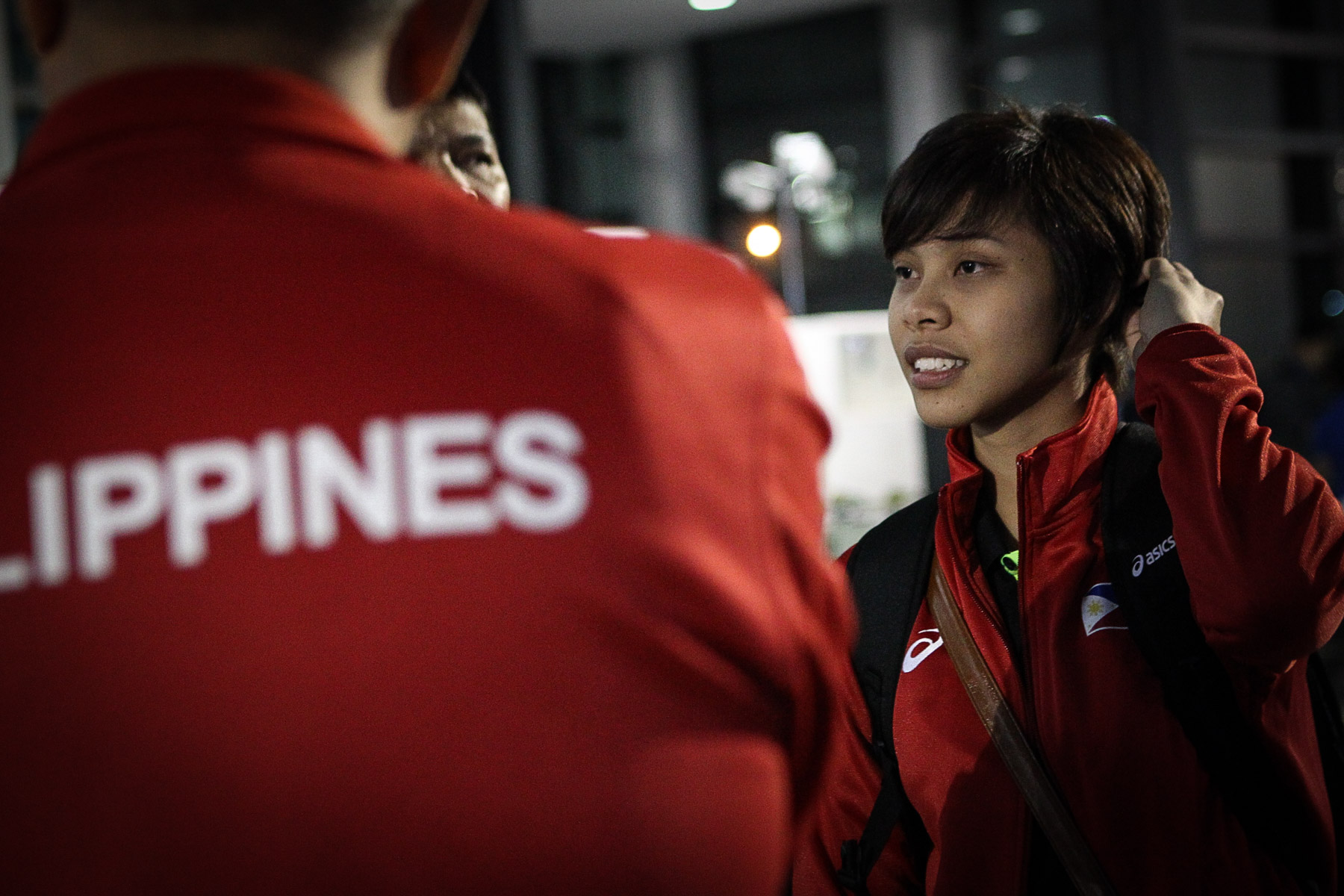 (The love, or the interest, really grew when we were talking with my parents after they saw that I became interested in table tennis, and they said that this could be a great help for my education, because of the free ride.)
Although she was hundreds of miles away, word of Lariba's talents spread as she grew older and eventually reached the college recruitment vines. Ateneo, University of the Philippines, UST, and FEU all came calling, but it was La Salle which attained her services. 
"I just got that feeling (about La Salle) na, 'Ay gusto ko dito (I like it here),'" she said.
Lariba's impact was felt right away as she was named the UAAP Rookie of the Year for Season 74, but that was just the start of the amount of success the young athlete was going to make over the next years.
In her 5-year collegiate career, Lariba, who's called "Yanyan" by friends, went undefeated in all her singles matches, was named MVP of the UAAP thrice, led DLSU's table tennis team to 3 championships, and was twice named the UAAP Athlete of the year, the latter of which in Season 78 sparking controversy because she co-shared the honor with 3 other student-athletes, including Ateneo's Alyssa Valdez. 
That's just on the court. In the classroom, Lariba, who used to be an accounting major before shifting degrees, has often been part of the university's Dean's List for outstanding performance in class – think at least an average of 90% – while building the start of what could go down as the greatest career for a Filipino table tennis athlete. 
"I think balancing my academics and my sports, I think for me, has been a habit already," she said. Kasi ever since I was in grade school, I was already a student-athlete, so there were times I was absent for around one week, but when I came back, I tried to make up for the things na hindi ko nagawa sa school.
"Yung saakin (For me), especially now that I'm finishing my thesis and then with the Olympics, for me, na-immune na ako." 
Lariba's had two noteworthy feats in international competition thus far. The first took place back during the World Table Tennis Championship held in Tokyo two years ago, where along with La Salle teammate Jane Sy, the Cagayan De Oro native won first place in the fourth division of the tournament. 
And then 3 months ago, during the ITTF-Asian Olympic Qualification Tournament in Hong Kong, Lariba was one of the 11 of more than 70 contestants who qualified for a ticket to the women's table tennis competition of the Rio Olympics – doing so in the more pressure-packed second phase of the tourney. 
Just winning that already puts her name in the history books. Decades from now, as the Philippine Table Tennis Federation (PTTF) prepares more standouts to represent the country in the Olympic sport, they will talk about how Lariba was the first to break through, and she will be the model of success for those eager to follow a similar path.
"Before coming to Hong Kong, syempre halo-halo yung feelings and emotions and syempre, there were times na I had self doubts na, 'Kaya ko ba talaga ito? Andun yung mga top players in Asia,' said Lariba.
(Before coming to Hong Kong, of course my feelings and emotions were all mixed up, and, of course, there were times when I had self doubts like, "Can I really do this? The top players in Asia are here.")
"But of course, I asked help and I asked guidance from my mentors, and then they said na sometimes, you just don't have to overthink. Have that no mind-mindset. Sabi [nila], 'Just empty your mind, and clear everything off, and just feel that moment na you're in the court already and cherish it and feel and enjoy.'
"Most importantly," she added, "enjoy that time na pag nanduon ka na, dapat no regrets (when you're there, there should be no regrets). Dapat at the end of everything, kailangan na-enjoy mo parin (you need to still enjoy) and you know what you're doing is what you love."
8 hours per day
To say Lariba's training heading up to the Olympic Games is taxing would be putting it kindly. While the Philippines may not have the advanced preparation methods – nutrition and psychological aspects included – for its athletes compared to their continental rivals, chances are it's tough to find many who can outwork the La Salle product when the cameras aren't rolling.
Two weeks after returning from the Olympic Qualifiers, Lariba started her 8 hours per day preparation in the first week of May. A usual day goes like this: waking up early for jogging and endurance followed by shadowing exercises, a short break for breakfast, drills from 9 am to 12 noon (table and system plays plus foundations), a lunch break, more drills from 3 pm to 6 pm (match plays and polishing), a short break for recovery, and then capping off the night with weight training.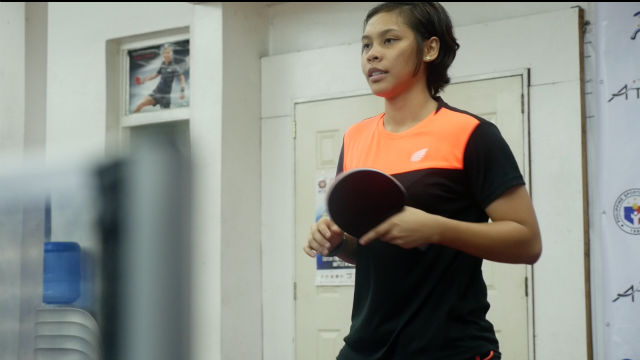 Lariba also spent time last month improving in South Korea at an all-boys school, matching up against males for familiarity in a more intense competitive environment. All that while having to take care of her academics as she tries to complete the necessary submissions for graduation. Fortunately for her, her two thesis-mates are understanding, and she says she can't be more grateful.
That's just part of the journey's struggle. Lariba admits that the pressure is slowly building up as Rio draws closer, and there are times when the emotional toll can be as tiring as the physical strains of practice. 
"Now entering into Olympics, it's really overwhelming, especially nung una talaga (at first)," she said. "Kasi syempre hindi pa makapaniwala and all, and then a lot of people are asking, 'How does it feel?' Ganon, ganon."
(Because of course, it was hard to believe and all, and then a lot of people are asking, "How does it feel?" Like that.)
So Lariba, who's being coached by two mentors in Kwan Mi So and Lauro Crisostomo, has focused on a type of mindset she wants to use when the eyes of an entire country watch her in Rio.
"Play with no regrets," she explained, "na until the end, kung ano man mangyari, alam ko sa sarili ko na, na buhos ko lahat (whatever happens, I know that I was able to give my all) and I'm satisfied and contented with my performance, and at the same time I was able to enjoy it."
There will be more than 200 competitors in the women's table tennis tournament of the Rio Olympics, and just one loss can make months of hard work and preparation feel like a waste.
The elimination is via knockout system, so an unlucky draw for Lariba – who could match up with an opponent from a table tennis powerhouse country like China or South Korea right away – could mean more vacation time in Rio than anticipated.
"Parang siyang (It's like the) Hunger Games," says Lariba, referring to a popular novel centered on the life-or-death adventure of a heroine. "Parang first game palang, kailangan na talaga ibuhos na. Siguro yung sinabi nang coach namin na mindset is that, think as if it's your last game or it's as if your championship game.
(From the first game, I already have to give it my all. The mindset coach tells us to have is to think as if every game is your last or championship game.)
"Nung sinabi niya saakin yun, tumatak talaga, kasi syempre, oo nga, parang first game palang, it's do-or-die na. So it's all or nothing, kumbaga. So it still boils down to I think mental toughness pa din and the preparation.
(When coach told me that, it really resonated, because, of course, from the first game, it's already do or die. So it's all or nothing, in a way.)
"Yung skills nandiyan naman, pero kung wala yung puso, wala yung isip, wala din."
(The skills are there, but if my mind and heart aren't, then it's for nothing.)
Another obligation
Before the send-off for the Filipino athletes going to Rio last Tuesday, Lariba was informed by Joey Romasanta that aside from competing in women's singles competition, she's also going to have another responsibility that can be considered a once-in-a-lifetime opportunity. 
Lariba will be parading the flag of the Philippines.
"Nung una parang hindi ako makapagsalita," she said, the shock still evident in her voice, "hindi ako makapaniwala, and hindi ko rin siya inexpect, kasi saakin naman, yung inisip ko na makasama lang sa Olympics, and kahit makasama sa opening, it's really a great honor for me."
(At first I couldn't speak, I couldn't believe it. I didn't expect it, because for me, just being part of the Olympics and to be included in the opening, it's really a great honor.)
"So what more nung sinabi saakin na ako magdadala nung flag sa (when I was informed I'll be carrying the flag during the) opening ceremony? So it was really a very big blessing for me, and I'm really thankful that they entrusted me with that responsibility and opportunity."
It's hard to imagine how a proven competitor can be scared at the simple thought of carrying a flag, but the stakes for this occasion are obviously heavier – literally and figuratively – and Lariba says she's praying she can march the colors of the Philippines all throughout the stadium flawlessly. 
As for what it means to her, the answer is what you'd expect. Instead of being proud that what she's accomplished has earned her the right to be the flag bearer, she looks at is as a way for the entire Philippine team of delegates to say that they are in Rio ready to compete, ready to leave a legacy, and ready to give their all for the country.
"I'm really grateful and excited as well, kasi parang (because) it's something na mapakita mo sa buong mundo na (to show the world that) we are Team Philippines and we are carrying the banner of the Philippines, not just for ourselves but for the whole Filipino people."
The innocent and low-key traits of Lariba when she first reached Manila are still present 5 years later, but years of hard-fought battles and well-earned experiences have also made her very confident while staying self-aware. 
Lariba understands the weight that has been put on her shoulders – heck, she's going to be carrying the flag when the games begin – and has welcomed them while remaining grounded in her mission, which she's given full dedication to despite the obstacles along the way.
The climb to the top is going to be tough. Still, you can be sure she's going to leave it all in Rio anyway. – Rappler.com
---