Kimi Raikkonen ignited the F1 season by winning the Australia GP but will feal the heat from rivals this weekend in the Malaysian GP.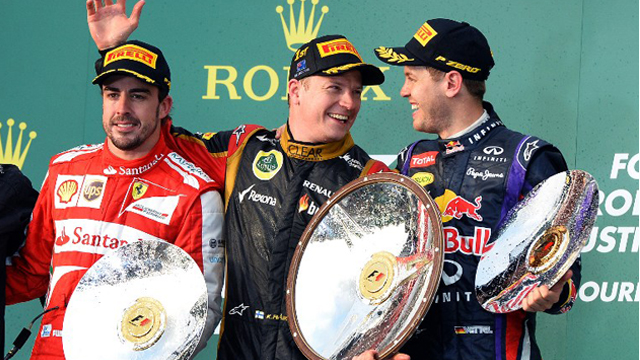 KUALA LUMPUR, Malaysia — Kimi Raikkonen ignited the Formula One season with a stunning win in Australia but the "Iceman" will feel heat from his rivals this weekend at the notoriously demanding Malaysian Grand Prix.
Masterful tyre-management in a surprisingly quick Lotus put the colourful Finn top of the podium in Melbourne, with Ferrari's Fernando Alonso second and Sebastian Vettel, gunning for his fourth straight world title, third.
"Finntastic" trumpeted Australian press, and "Finn puts party back into Formula 1", as media welcomed a challenge to the accepted order at the start of the new season.
Three championships in three years have already placed Red Bull's German pilot Vettel, 25, among the sport's greats, but the return of the party-loving Raikkonen, world champion with Ferrari in 2007, has proved invigorating.
And after rain storms wiped out Saturday qualifying in Australia, teams will be braced for another tough weekend at Malaysia's Sepang circuit, where tropical downpours played havoc last year and in 2009.
Two-time winner
A year ago, Raikkonen marked his return to Malaysia after a two-year stint in rallying by handing out ice-creams, a nod to an episode on his previous visit in 2009, when he coolly snacked on a Magnum during a rain delay.
The 33-year-old has twice been a winner on the long straights and tight hairpins of the Sepang circuit, built on former jungle near the Malaysian capital, but has also failed to finish four times and was fifth last year.
His ability to maintain Pirelli's new, deliberately fast-wearing tyres was critical in Melbourne, but he will face an entirely different test in Malaysia's heat, humidity and possible rain come race day Sunday.
"I had a good feeling that we would be OK with the tyres after practice," Raikkonen told the team website after the Australian race.
"The team got the strategy perfect. Apart from maybe Force India I don't think the others looked like they could do the same thing."
Lotus boss Eric Boullier admitted it was team policy to give leeway to the famously brusque Raikkonen, who memorably snapped "Just leave me alone, I know what I'm doing", over the team radio last year en route to victory in Abu Dhabi.
"I don't think there is anybody on earth who can tell Kimi what he should do, so I am not going to start," Boullier said, according to the Autosport website.
Vettel hopes to do better
Vettel will hope to do better with his tyres in the warmer conditions and put his stamp on the season much earlier than in 2012, when he did not win until the fourth race and trailed in the standings as late as October.
"We had a good day with a pole and a podium — but in the race we were a little too aggressive with the tyres and lost the front and the rears, while others did a little better," Vettel said.
Lewis Hamilton could not hide his satisfaction at finishing fifth with new team Mercedes, while his former employer McLaren started the year dismally with Jenson Button ninth and Sergio Perez 11th.
Alonso, just three points behind Vettel in last year's final standings, was delighted to take an early psychological edge over the young German and his Red Bull team, with Ferrari the leading constructor after race one.
But much attention in Malaysia will also focus on Raikkonen, both on his driving and for any possible repeat of the antics which have made him a cult figure among motorsport fans.
In 2006, Raikkonen went out of the Monaco Grand Prix but instead of heading back to the team garage, he jumped straight on board his personal yacht, shirt off and surrounded by his partying entourage.
Asked later that season in Brazil why he had missed a presentation by Pele to Michael Schumacher, his answer to a TV reporter was concise and unapologetic: he had been in the toilet. A year later, he was world champion. – Rappler.com