Manny Pacquiao announces his retirement from the sport that made him a global superstar as he seeks the presidency in the 2022 elections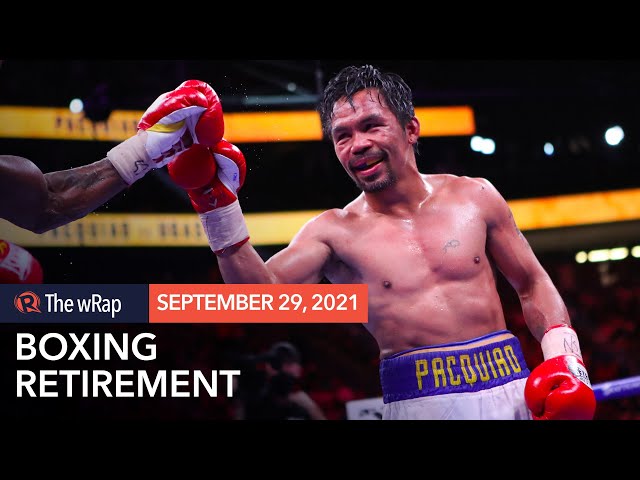 Filipino boxing icon Manny Pacquiao has officially drawn the curtains on his legendary career.
The "Pambansang Kamao" on Wednesday, September 29, announced that he is retiring from the sport that made him a global superstar as he seeks the presidency in the 2022 elections.
"It is difficult for me to accept that my time as a boxer is over. Today, I am announcing my retirement," Pacquiao said in a taped video posted on his social media accounts.
Now 42, Pacquiao is focusing on his political aspirations after losing to Cuban Yordenis Ugas via unanimous decision in a bout for the WBA super welterweight title in August.
Pacquiao hung up his gloves as the only boxer to win world titles in eight divisions, racking up 62 wins with 39 knockouts, 8 losses, and 2 draws over a 26-year professional career.
One of the most inspiring rags-to-riches stories, Pacquiao expressed his gratitude to the sport that changed his life.
"When my family was desperate, you gave us hope. You gave me the chance to fight our way out of poverty," Pacquiao said.
"Because of you, I was able to inspire people all over the world. Because of you, I have been given the courage to change more lives."
Starting his professional career in 1995, Pacquiao won 26 of his first 27 bouts, including a title fight against Thai Chatchai Sasakul for the WBC flyweight belt in 1998.
Pacquiao then rose to popularity after his sixth-round technical knockout victory over South African Lehlo Ledwaba in 2001 to claim the IBF super bantamweight title.
Known already as a knockout artist, Pacquiao went on to earn the moniker "Mexecutioner" following wins over Mexicans Marco Antonio Barerra, Erik Morales, and Juan Manuel Marquez.
At his prime, Pacquiao also beat the likes of Americans Oscar de la Hoya, Shane Mosley, and Timothy Bradley, British Ricky Hatton, and Puerto Rican Miguel Cotto to further cement his status as a boxing superstar.
Pacquiao then tangled with undefeated American Floyd Mayweather Jr. in 2015, losing via unanimous decision in a megabuck bout that did not meet expectations due to lack of action.
Following back-to-back decision wins over Bradley and Jessie Vargas, concerns of age catching up to him sprung up as a 38-year-old Pacquiao lost to Australian Jeff Horn via unanimous decision in 2017.
Pacquiao, though, bounced back with a TKO victory over Argentinian Lucas Matthysse in 2018 and a split decision triumph over American Keith Thurman in 2019 for the WBA super welterweight title.
After a two-year hiatus, Pacquiao returned to the ring to face Ugas, who came in as a replacement opponent for American Errol Spence Jr.
Despite being the favorite, Pacquiao – unable to flaunt the power and speed that propelled him to stardom – lost to Ugas convincingly, prompting fans and people from his inner circle to ask him to retire.
Pacquiao finally obliged.
"I never thought that this day would come," said Pacquiao, the only boxer to hold world titles in four different decades. "I just heard the final bell."
Pacquiao thanked the people who helped him along the way, including trainers Freddie Roach and Buboy Fernandez, Top Rank Promotions chief Bob Arum, his wife Jinkee, and his legion of supporters.
"As I hang up my boxing gloves, I would like to thank the whole world, especially the Filipino people, for supporting Manny Pacquiao."
He said now is the time for promising young boxers to take the spotlight.
"We have a lot of potential boxers who are younger, who are full of hope, and who can bring honor to our country. Let us help them." – Rappler.com