Filipino gymnast Carlos Yulo claims his second world championships gold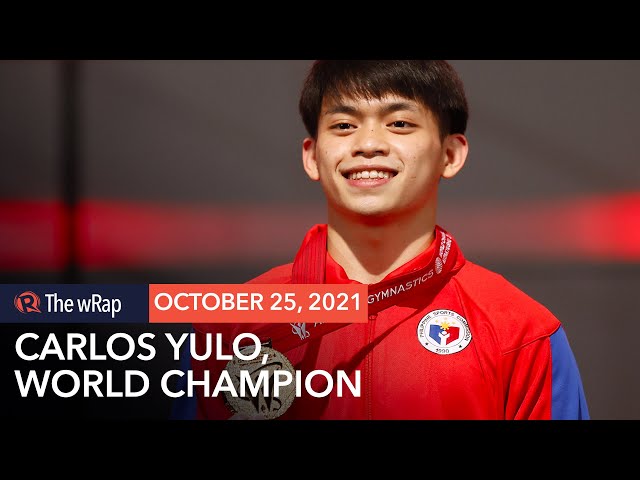 It is total redemption for Carlos Yulo.
Just a day after losing his title defense in the floor exercise, Yulo claimed the gold in the men's vault this time in the 2021 Artistic Gymnastics World Championships on Sunday, October 24 in Kitakyushu, Japan.
Yulo, who was the first to perform, set the bar from the get-go as he recorded the winning score of 14.916.
It was a clean execution of the Dragulescu vault, or a front handspring double front with a half twist out, in his second attempt which secured him the gold as he scored 15.033.
In his first attempt, Yulo recorded 14.800 after an execution featuring three twists before landing.
The Filipino two-time world champion recorded the highest execution score of 9.433 in his winning attempt.
But it was not safe until the end for Yulo as Ukraine's Nazar Chepurnyi, who topped the qualifying event, performed last in the final. After recording 14.866 in the first attempt, the 19-year-old failed to land on his second attempt and dropped to seventh.
Japan's Yonekura Hidenobu, who tallied the highest difficulty score of 6.000 in the event in his first attempt, settled for silver (14.866), while Israel's Andrey Medvedev grabbed bronze (14.649).
In the qualifying event, Yulo placed third with a score of 14.808 last Wednesday, October 20.
The victory came after the 21-year-old Filipino gymnast failed to defend his title and went home without a medal in his pet event – the floor exercise – last Saturday.
In the Tokyo Games, Yulo only qualified for the men's vault final where he narrowly missed an Olympic podium finish.
Prior to the world championships, Yulo bagged a bronze in the All-Japan Senior & Masters Gymnastics Championship vault event last September when he tallied 15.000 points behind Asato Keisuke (15.233) and Tanigawa Wataru (15.200).
Yulo will cap off his world championships stint in the parallel bars final at 5 pm later. – Rappler.com