Jordan Clarkson finds his niche as the backbone and fail-safe option of Jazz's second unit
The life of an NBA journeyman is adventurous, but the uncertainty it brings can be exhausting. So when Jordan Clarkson – whose status as a role player has seen him travel from his beginnings with the Los Angeles Lakers to a trip to the NBA Finals with the LeBron James-led Cleveland Cavaliers – discovered his calling as the Utah Jazz's scoring sixth-man, he did not hesitate to prolong his stay.
Clarkson pointed to his natural fit with his fellow players, the coaching staff, and the Jazz fanbase as an important deciding factor in signing a four-year, $52 million contract to stay with the Jazz.
"Just the relationship with everybody… the relationship with coach, and overall just the fit and the city, they've been great to me as well," Clarkson said during a recent media call. "It's crazy how fast I connected with these guys. It's been great for me and I just didn't want to lose that either."
A contract that pays an average annual value of $13 million per year is a significant investment for someone like Clarkson, who had struggled to fit in during his previous stints in Los Angeles and Cleveland. But Clarkson found his groove in Utah not long after a trade in December of 2019 sent him there.
It was discovering that groove, as well as the natural fit and the chance to compete for a championship, which made Clarkson's decision to stay with the Jazz for an additional 4 years an easy one.
"You look at the key guys, key players here, we're all kind of still young in years so it's definitely given us some time to accomplish what we want to accomplish, and that's to win and to try to win a championship," Clarkson said. "That really went in to [the decision to sign for 4 years]."
In 42 regular season games with the Jazz, Clarkson averaged 15.6 points on a shooting split of 46.2% on overall field goals, 54.7% on two-point shots, 36.6% on three-point shots (an improvement on his career 34.2% clip), and 78.5% on free throws. The Jazz were 5.8 points per 100 possessions better with Clarkson on the court, per Basketball Reference.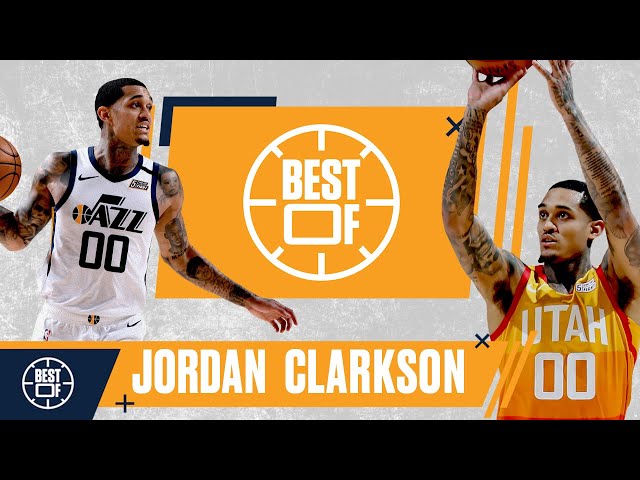 With the Jazz opting to use him as an infusion of scoring off the bench, Clarkson found his niche as the second unit's backbone and fail-safe option.
With Bojan Bogdanovic unable to suit up for the Jazz during the Orlando bubble, Clarkson was counted on even more to step up and fill in the scoring void created by Bogdanovic's absence.
During the bubble playoffs, Clarkson averaged 16.7 points on a split of 46.4% FGs, 58.3% two-point FG, 34.7% three-point FG, a perfect 100% free-throw percentage (albeit on only 10 total attempts), and a respectable true-shooting percentage of 57.7%.
Such numbers made Clarkson the Jazz's top priority as soon as free agency opened, and it was a gesture that Clarkson appreciated.
"[Being the top priority] meant that they wanted me here, and I wanted to be here," Clarkson said. "That's why it happened so fast when free agency jumped off."
Clarkson's performance during the 2019-2020 season made it easy for the Jazz to offer him a sizeable chunk of their cap space. It was a certain decision in an otherwise uncertain environment for the Jazz, who are on the verge of having to make decisions that could potentially alter the fabric of their franchise.
First, the certainties: Clarkson's decision to re-sign, in addition to star shooting guard Donovan Mitchell signing a five-year contract extension that guarantees him $163 million, which could rise up to $195 million should certain conditions be met (i.e., making an All-NBA team for the 2020-2021 season, per ESPN's Adrian Wojnarowski).
Mitchell's continued commitment to the franchise that drafted him runs parallel to Clarkson's four-year commitment, ensuring that the Jazz will not be bereft of perimeter scoring options for years to come. The on-court fit extends off of it as well, with Clarkson developing an instant personal connection with Mitchell.
"I didn't really know [Mitchell] much before this, but we've grown so close together, talking and texting, sharing stories, all kinds of stuff," Clarkson said. "The bubble kind of brought us really close together by being just around each other every day."
And for the uncertainties: Mike Conley opting in to the final year of his two-year contract and becoming an unrestricted free agent after the 2020-2021 season; and Rudy Gobert, the two-time Defensive Player of the Year who is entering the final year of his contract and is eligible for a five-year, $247.3 million supermax extension, per ESPN's Bobby Marks.
There is reason to believe the Jazz are hesitant to give Gobert the supermax. A five-year extension is a significant commitment for a center who will be 33 years old at its conclusion, not to mention the devastating effects a potential injury could wreak upon the Jazz and their ability to compete for a title.
Additionally, Gobert is notoriously known for his limitations as a reliable offensive option unto his own. His inability to create shots for himself might be the main factor in the Jazz being hesitant in sending an otherwise no-brainer offer to one of the NBA's premier defenders, if not its absolute best.
With the looming possibility of both Conley and Gobert leaving for other teams after the season (or being traded mid-season), the Jazz are in win-now mode, perhaps more so than in previous seasons.
"We feel like we've all got one goal, and that's to get to the playoffs and make noise, and hopefully win a championship one day," Clarkson said. "To be honest, we just got to hold each other accountable. Keep moving the ball, keep making plays, playing for each other… and keep playing through adversity.
"I think we have a great system. Everything is great here, and I just think with these last few things [such as] a little bit of leadership, us talking to each other, us growing, it's going to help us a lot more. I think the biggest thing for us is just holding each other accountable, and I feel like that's going to help us win so many more games."
With a long-term contract signed, sealed, and delivered, Clarkson's focus can now shift from being a wandering role player to being an important piece of the Jazz's championship-contending puzzle. His journeyman status – on hold for the foreseeable future – has now become a journey toward an elusive NBA title. – Rappler.com