This is AI generated summarization, which may have errors. For context, always refer to the full article.
16-year-old Breanna Labadan finishes as the best Southeast Asian rhythmic gymnast in the all-around final of the Asian Championships
MANILA, Philippines – Filipina bet Breanna Labadan emerged as the best Southeast Asian performer in the all-around final of the Rhythmic Gymnastics Asian Championships on Friday, June 2, a day after securing her place in the worlds.
Buoyed by the small but loud crowd at the Ninoy Aquino Stadium, the 16-year-old Labadan earned a total of 110.4 points for ninth place overall, finishing behind Asian powerhouses Uzbekistan, Kazakhstan, China, and Japan.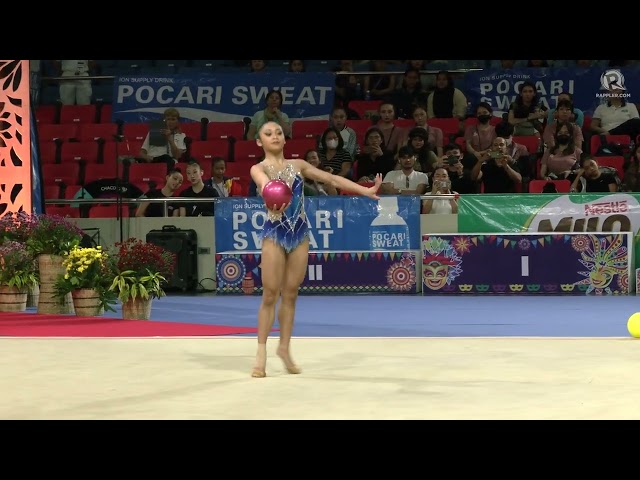 Labadan – who hails from Butuan City but currently trains in Budapest, Hungary – posted her best score in the ball event, where she placed fifth with 29.55 points.
She garnered 28.3 points (6th) in the clubs, 26.45 (8th) in the ribbon, and 26.1 (12th) in the hoop to stake her claim as the finest female rhythmic all-around gymnast in the region.
"I'm happy with my results. Of course, I could have done a bit better. But regardless, very happy and I'm very satisfied of the outcome," said Labadan.
Labadan already clinched her ticket to the Rhythmic Gymnastics World Championships set to be staged in Valencia, Spain in August as she finished sixth in the all-around qualification, with the top 12 advancing to the global tiff.
Although she placed three rungs lower in the final, Labadan still showed vast improvement ever since she bagged the all-around bronze in the Southeast Asian Games last year, where Malaysia's Koi Sie Yan and Joe Ee Ng went 1-2.
Now, Labadan surpassed both Malaysians, with Ng winding up at 12th in the final and Yan failing to make it past the qualification.
"We're in the top 10, we're in ninth place, I think it is a very big step forward," said Hungarian coach Dora Vass, who mentors Labadan in Budapest. "Right now, we cannot wish for more."
Uzbekistan's Takhmina Ikromova defended her all-around crown in convincing fashion with 132.2 points as she topped three of the four apparatuses.
Ikromova netted the best scores in hoop (34.0), ball (33.75), and ribbon (31.5), and placed second in clubs (32.95).
Kazakhstan's Elzhana Taniyeva bagged silver with 128.35 points, while China's Wang Zilu nailed bronze with 121.8 points.
Labadan will still compete in the ball final as the four-day continental championships wraps up on Saturday, June 3, at the same venue. – Rappler.com