LA John Andres shifted from football to basketball only in 2019, but his height and athleticism made the transition seamless
LA John Andres, a 17-year-old Filipino basketball standout based in Dubai, will join Derrick Pumaren's loaded talent pool at De La Salle University, as confirmed by both player and coach to Rappler.
Andres, the latest addition to "Manong" Pumaren's well-executed plan of rebuilding the Green Archers basketball program, has lived in Dubai for most of his life, save for a brief stint when he studied Grades 7, 8, and 9 at De La Salle-Dasmariñas.
Listed at 6-foot-5 when wearing shoes, Andres is a pure-blooded Filipino, and has been the owner of a Philippine passport since he was a kid. That would make him eligible for a national team invite, if his talents warrant one in the future.
"My strength, of course, is my height," he said via Zoom, when asked where he can bring the most impact.
But he added that wasn't all. "Yung basketball IQ ko – mostly passing at timing sa depensa, timing sa talon (My basketball IQ is there – mostly passing and timing on defense and jumping)," he said.
But he also understands that there are weaknesses he needs to work on. Playing the big-man position for all of his brief basketball journey, Andres will need to develop into a wing player in the UAAP. He is expected to make his debut in UAAP Season 86 in 2023.
"Gusto ko mag aim for training as a wing," Andres said. "So pinapagtrabahuhan ko is yung dribbling skills ko, yung pagdala ng bola from court-to-court, ganon."
(I'm aiming to train as a wing player. I'm working on my dribbling skills, how to bring down the ball from court-to-court.)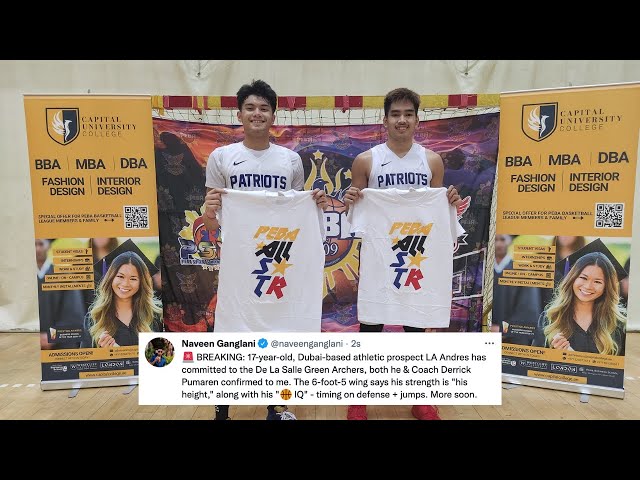 Interestingly, this will be Andres' third try to play for a La Salle varsity squad.
At La Salle-Dasmariñas, he was part of the football team but was unable to crack rotation minutes as a goalkeeper.
"Hindi ako gaano nagamit, pero doon ako natuto mag training (I wasn't used much, but that's where I learned how to train)," he recalls.
He started playing basketball only in 2019, but his height and athleticism made the transition seamless.
"Pag uwi ko dito (Dubai), 14 years old sa 2019, 6-foot-3 na ako, nakilala kaagad ako, nakita ako. So doon, pinalaro ako sa liga, tapos tuloy-tuloy yung basketball ko."
(When I got back here in Dubai in 2019, I was 14 years old and already at 6-foot-3, so I immediately got noticed. They asked me to play in leagues, and since then I continued playing basketball.)
Last year, he committed to play for the De La Salle-Zobel Junior Archers, but complications due to the pandemic prevented it.
Two teams attempted to recruit Andres for college: La Salle and Ateneo. Although action on the court has been halted, that hasn't stopped UAAP teams from recruiting talents to add to their respective basketball programs.
The long pause has many student-athletes questioning their future, especially because of offers from international basketball leagues that can provide more monetary benefit and the chance to play already. Some, like former Green Archer Aljun Melecio, have moved on to the PBA.
The incoming crop of rookies in college basketball will be the deepest as far as recent history can remember, with two, perhaps even three, batches of graduating high school standouts competing for roster spots.
Starstruck
Andres is aware he will spend one year developing before getting a crack at Pumaren's final roster for Season 86, but embraces that challenge.
"If makalaro ako in two years, I think what I bring to the table is a solid wing player, a 3 or 4 (a small forward or power forward), na tatakbo at mag hustle play at gumawa ng tamang decisions sa court," he promised.
(If I get to play in two years, I think what I bring to the table is a solid wing player, a 3 or 4, who can run and hustle and make the right decisions on court.)
Andres caught Pumaren's attention when one of his coaches in Dubai found a way to get his video highlights to De La Salle's head coach. He admits to being "starstruck" when he got to speak with Pumaren, that's why he can't remember the details of what was discussed.
Andres also developed a relationship with former NU Bullpup Kevin Quiambao, one of Pumaren's top recruits in 2020. The multiple-time UAAP high school champion has been in Dubai playing in local Filipino leagues since being invited by a childhood friend.
Andres and Quiambao were slotted in the same team and became friends not long after.
"Sinasabihan niya din ako na maganda yung La Salle," Andres shared. "Lagi niya ako na momotivate at mabigyan ng tips. Sana mag kampi na [ulit] kami."
(He told me that La Salle is good. He also motivates me and gives me tips. I hope we'll be teammates again.)
Big fish
Andres plans to take up Information Technology, Computer Engineering, or Accounting for his bachelor's degree. In his current senior high learnings boosted by FEU, there is emphasis in Business and Accounting studies.
His favorite player is LeBron James, and that's why his favorite team is the Los Angeles Lakers.
"Pag naman si LeBron, parang si Michael Jordan sa era niyo (LeBron is like the Michael Jordan in your era)," he chuckled.
His favorite Green Archer to watch is Melecio, but not Aljun, rather his younger brother who is currently playing for Zobel, Jun Melecio.
"Nung napanood ko yung highlights niya, ang ganda ng mga laro niya (When I watched his highlights, he really has a good game)," Andres said.
"Paborito ko is makinig sa mga music," he said of his other interests. "Nung nasa Pinas ako, into video games ako. Ngayon nag Va-Valorant ako, kasi lahat naglalaro ngayon. Kailangan mo ng Valorant para magkasama sa mga kaibigan."
(I like listenig to music. When I was in the Philippines, I was into video games. Now I'm playing Valorant because everyone's playing it. You need to play it so you can hang out with your friends.)
He also likes the originals, such as Counter Strike.
When he started taking basketball seriously in Dubai, his coaches told him: "Be a big fish in a small pond," because the country isn't as passionate about basketball.
In the Philippines, this will not be the case.
"May kaba. Lahat naman meron (I'm nervous. I guess it happens to everyone)," he said, admitting to feeling the jitters of playing for a big program in a basketball-crazy country.
"Pero medyo excited ako na kabado. Hindi naman tayo nagtratrabaho kung yung pupuntahan natin ay matalo."
(But I'm a bit excited and nervous. We're not working this hard if we know where we're headed isn't a winner.) – Rappler.com