The Twitter labels on Trump's baseless claims of electoral fraud feel like tiny drops in a lake while an alligator is thrashing about
Facebook's Mark Zuckerberg and Twitter's Jack Dorsey were on the virtual stand again on Tuesday, November 17, to be grilled on the alleged censorship of a New York Post article critical of Joe Biden, and on their thoughts on possible changes to a law that protects online platform owners against liabilities from content posted by users.
Of course, there were other questions. An interesting one: have they seen The Social Dilemma, a widely watched documentary on Netflix that helps visualize social media's sinister effects? "I'm familiar with it," said Mark Zuckerberg. "No, I haven't watched it," said Jack Dorsey.
The inquiring senator quipped, "You should watch it." The program has been seen by 38 million households or 50 million people worldwide. Perhaps the show could give them extra perspective, especially Mark Zuckerberg who, when asked if Facebook could be addictive, said, "We take steps to make sure this isn't the case."
Mark's statement runs counter to emerging studies and expert takes on social media – of it being an online attention casino meant to keep users within its walls with the promise of one's own content going viral and the promise to see content that hooks one in.
Continuing lies
Facebook and Twitter, during the US elections, slapped labels on posts that contained disputed information regarding the elections such as claims of fraud, and early announcements of electoral victory by candidates.
Outgoing US President Donald Trump is one of the biggest offenders, and Twitter has not been able to keep him under control. During and after the elections, Trump has continued to post baseless claims on electoral fraud, claims of winning the election, and questioned the legitimacy of mail-in ballots.
His posts – and his retweets from other accounts that support his claims – get reshared and liked by the hundreds of thousands, and seen by millions possibly.
To combat this, Twitter slaps little warning labels on the tweets, and as Dorsey states multiple times in the hearing, links to credible information. "Our goal is to connect people to more information…to provide more context," Dorsey said. 
"Do you think it is enough? Do you think [the labels] go far enough" asked Senator Dianne Feinstein.
Dorsey said yes, but the senator, who repeated her question multiple times, didn't appear too convinced. 
She argued that those tweets are meant to "rouse people" in a "highly emotional" situation. The Twitter labels, in Trump's instance, feel like tiny drops in a lake while an alligator is thrashing about.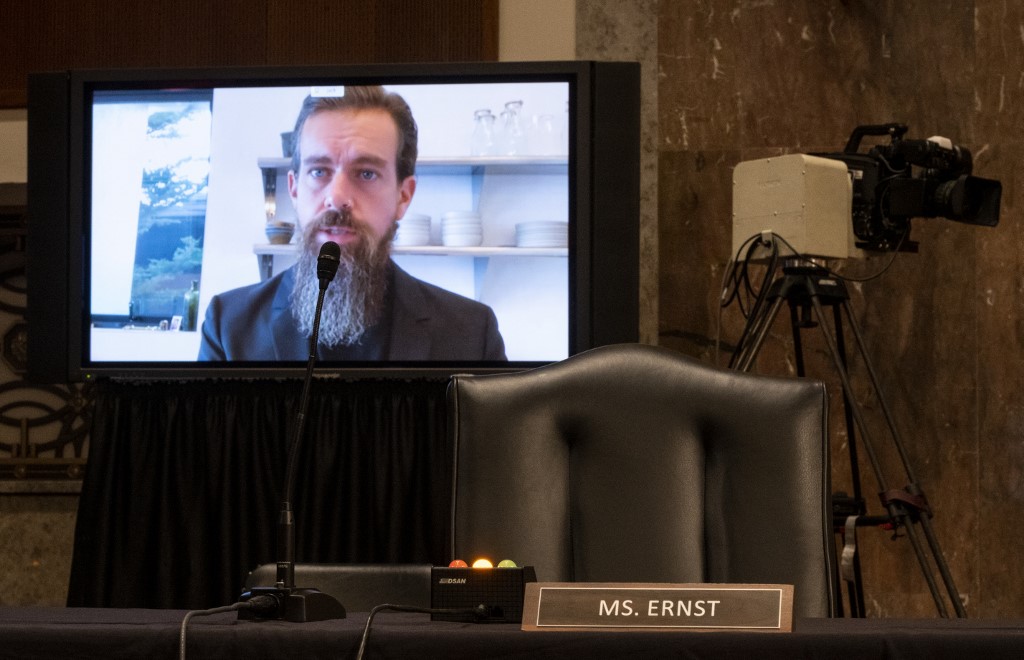 The megaphone continued to be in Trump's hands. Earlier, Twitter had actually stopped a few Trump tweets from being reshared or seen without an extra click, but mysteriously, Trump's post-election falsehoods have not been subject to the same treatment. Twitter has historically faced pressure from Trump over the censorship of conservative voices.
Twitter, in the same hearing, defined itself as a distributor of information but not as a publisher. A publisher also distributes information, but a reputable one will not spread or dangerously false information – at least not without the necessary counterweight of truth and context. The labels just feel notoriously light for what Trump has been able to continue to say.
'Stop The Steal' group grows to 300,000 before being taken down
Trump's posts on Facebook continue to be distributed as well. Senator Feinstein brought up a Facebook group called "Stop The Steal."
Reacting to Trump's incitement, the group "Stop The Steal" quickly garnered 300,000 followers before being taken down. It translated to real-world rallies, with some people caught bearing arms, marching to vote counting centers.
Zuckerberg also defended their decision to not immediately take down the Facebook page of Steve Bannon, the founder of far-right website Breitbart News. Bannon, in a video posted on November 5, called for the beheading of the US' top infectious disease expert Anthony Fauci and FBI Director Christopher Wray.
Both YouTube and Twitter banned Bannon's accounts on their platforms but Zuckerberg argued that they'll only suspend Bannon permanently after "multiple violations" against their content policy.
One exasperated senator sarcastically remarked "Oh my goodness, what a deterrent."
This is the US election, so Twitter and Facebook are supposedly in the harshest of spotlights. Yet the disinformation continues to spread and divide a nation, with the platforms powering Trump through his personal era of non-concession. How would other countries fare when their own elections come?
Facebook and Twitter control the flow of information now as distributors. Zuckerberg and Dorsey reiterated that they're not publishers. Publishers make editorial decisions, said Dorsey when asked what a publisher is, and they're just a distribution platform for users.
But there's the rub: when you've become the world's biggest distributor of information, there has to be a moral obligation to prevent the spread of anything harmful. But as the hearing has shown, their hands appear to be still tied.
A publisher – again, a reputable one – would stand up to pressure from the government or to any entity questioning them. Based on Trump's falsehoods continuing to spread, all they've given the world after the US elections are limp compromises. – Rappler.com