The announcement follows earlier statements from Nas Academy and Catriona Gray's management putting courses on pause
Veteran journalist Jessica Soho backed out of hosting a course on Nas Academy on Monday, August 10, according to an announcement on the Facebook page of her show Kapuso Mo, Jessica Soho.
The course would have been about Soho sharing her knowledge on broadcast journalism, GMA News reported back in June.
"In light of recent events, and after our team's series of communications with Nas Academy, we decided and mutually agreed not to pursue the Jessica Soho course. Nas Academy has informed us that they are working with the NCIP (National Commission on Indigenous Peoples). We hope for the resolution of all issues raised," the statement read.
The statement follows earlier announcements from Nas Academy itself, and Catriona Gray's management, Cornerstone Entertainment, stating their courses would be put on hold.
Gray, a former Miss Universe, also had plans for her own course with the academy. The course, titled, "How to be a Queen," would have been an "in-depth course teaching you the skills and tips I used to conquer the Universe and every other stage I've been on since," Gray explained.
On August 8, Nas Academy made the announcement on its website, and on a Facebook post on Nas Daily Tagalog, saying that it is working with the NCIP.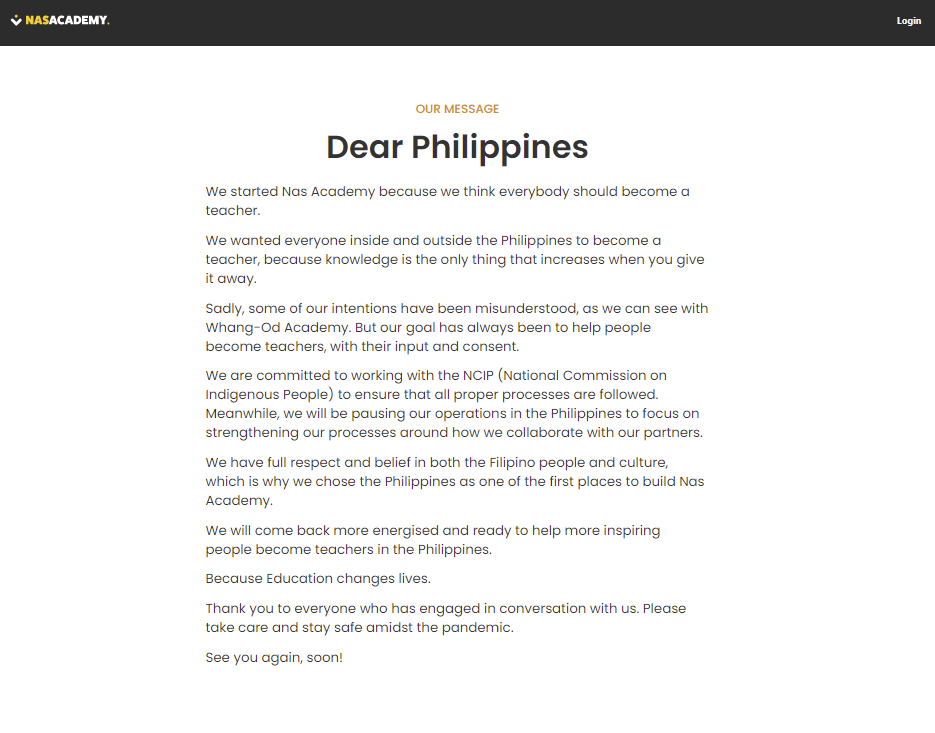 "We are committed to working with the National Commission on Indigenous People (NCIP) to ensure that all proper processes are followed. Meanwhile, we will be pausing our operations in the Philippines to focus on strengthening our processes around how we collaborate with our partners," the announcement said.
Cornerstone, on the other hand, is putting the Catriona Gray course on pause as opposed to fully backing out as the Soho team has decided to do.
"Cornerstone Entertainment, Catriona Gray, and NAS Academy have agreed to stop accepting new applicants for the Catriona Gray Academy until the issue of Whang-Od has been fully resolved," it said on Instagram on Sunday, August 8.
Prior to the statements from the Soho and Gray teams, there was online clamor for them to back out or take a stand on the Whang-Od-Nas Daily issue.
The controversy began when Whang-Od's grandniece called what was supposed to be the renowned tattoo artist's class on Nas Academy a "scam" last August 4 in a now-deleted Facebook post.
Food blogger Vanjo Merano, who is behind the pages of Panlasang Pinoy, was the first personality who had a Nas Academy course in the works to speak out and back out in support of Whang-Od.
"PP (Panlasang Pinoy) Academy was in the works under the Nas Academy platform, but I decided not to pursue in support to Apo and the exploited Pinoy hospitality 🇵🇭!!! #icandoitonmyownanyway," Merano said on a Facebook post on August 7.
Other personalities who were shown to have upcoming courses on Nas Academy before the pause included fashion designer Michael Cinco; content creators and online personalities Erwan Heusaff, James Deakin, Mavrick Bautista, and Carlo Ople; singer Moira dela Torre; photographer Jason Magbanua; and finance motivational speaker Chinkee Tan. – Rappler.com