This is AI generated summarization, which may have errors. For context, always refer to the full article.
Manila's local government says the objective of the attack was to make it difficult for people to register into the vaccination program
Automated bots are said to have attacked Manila's COVID-19 vaccination website on Wednesday night, August 4, the Manila city government revealed on Friday.
A report by the local government unit (LGU) noted the online portal – www.manilacovid19vaccine.ph/registration.php – received 1.02 million registration requests that night, just hours before huge crowds swarmed malls serving as COVID-19 vaccination sites on Thursday, August 5, resulting in a chaotic inoculation procedure and some site downtime.
Julius Leonen, Manila Public Information Officer, said on Friday evening the system went down from 10 pm to 10:30 pm on Wednesday, and that the problem had been resolved by midnight on Thursday.
"The individual/s created an automation on their end to loop/spam or to keep refreshing the registration site," the city government's error report for Manila Covax said. "We detected that on a per minute basis, there were 133 to 200+ requests."
"The objective is obvious: to have the website reach its threshold in order to create downtime error 502. This will result in difficulty for registrants to register into our system/program," it added.
The Manila Public Information Office said on Thursday many of those who rushed to inoculation hubs that day did not have a QR code, which is generated through the online vaccination portal.
The city government added it believes troll farms had a hand in the denial of service attack on its vaccination website.
"Based on our experience, we highly suspect that whoever is doing this has a troll farm generating machinery," the LGU's report noted.
The site now has a reCAPTCHA system to protect from spamming, in addition to further precautionary measures, the report added.
The Manila Covax website was developed by TAP IT Solutions in partnership with Star Prestige Impex.
More headaches for Manila
The website attack added to Manila Mayor Isko Moreno's headaches in the first week of August.
For one, the disorderly lines at his vaccination sites on Thursday already fueled fears they could be a super spreader event, amid the presence of the highly infectious COVID-19 Delta variant in Metro Manila.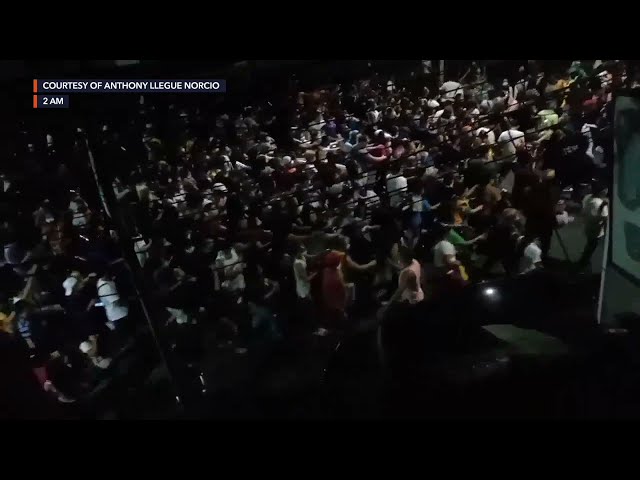 Moreno had earlier suspected an agitator from another political camp was behind the crowd chaos on Thursday. – Rappler.com