'Our communication systems today are insidiously manipulating us,' Ressa warns attendees of the conference that tackles disinformation and hate speech online
MANILA, Philippines – Rappler CEO Maria Ressa was among the keynote speakers at the global UNESCO "Internet for Trust" conference in Paris, France on Wednesday, February 22, where she advocated for better safeguards against disinformation and hate speech on the internet. 
You can watch her full keynote session on YouTube below: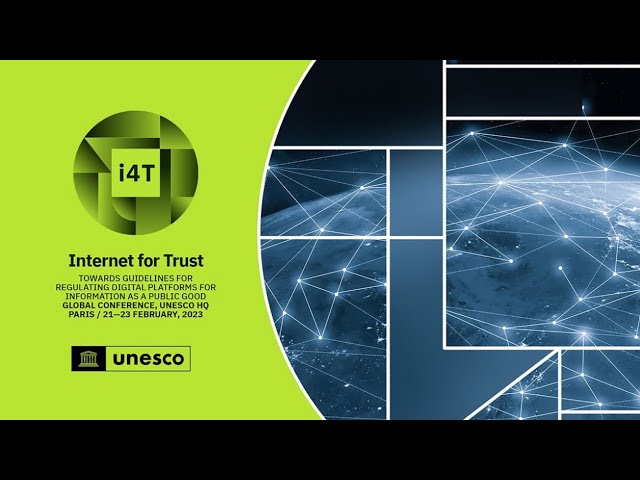 The Nobel Peace Prize winner explained to attendees of the two-day event, which included government officials, tech representatives, academics and members of civil society, how the incentive structure of social media has seemingly turned the world upside down, rewarding the spread of lies over facts. 
"For some reason, facts are really boring," she said. "The lies, especially when laced with fear, with anger, with hate, with tribalism – us against them – they spread."
"Our communication systems today are insidiously manipulating us," Ressa warned.
She argues that content moderation isn't enough to address the problems we're seeing today. Instead, we must look at how these systems operate, and ensure they don't undermine our right to facts and compromise our basic human rights.
To explain her argument better, Ressa gave this metaphor: "When we focus only on content moderation – it's like there's a polluted river. We take a glass. We scoop out the water. We clean up the water, and dump it back in the river."
However, what we have to do is to "go all the way to the factory polluting the river, shut it down, and then resuscitate the river," Ressa said.
She said she was also targeted online for her work as a journalist, receiving up to 90 hate messages per hour – some of which sought to tear down her credibility, while others were personal attacks on her gender and the appearance of her skin. Such attacks, she added, not only on her but also on women journalists and researchers can break one's spirit and might push one to stop doing one's job.
That, of course, shouldn't be the outcome because addressing disinformation and hate speech online, according to her, is an "individual battle for facts, integrity, and values". 
"It is up to you – each of us on social media. Stand up. Draw the line, where on this side you're, and on this side, you're evil. It's that clear. The Universal Declaration of Human Rights is very clear."
Currently, Ressa believes we're defenseless against the harms of social media. There's not enough, if any, legislation that protects us and our human rights. That's why until that time, there has to be a data pipeline in place, which can combat disinformation and hate. 
There are four layers to the FactsFirstPH pipeline, a multi-pronged initiative to helping solve the disinformation problem involving multiple groups including Rappler, as Ressa explains. It starts with the fact-checkers – the newsrooms and fact-checkers who go through and verify claims on the internet.
Then, it moves to the mesh – the support system that consists of civil society groups, business organizations, religious groups, and coalitions – whose task is to share the fact checked information. After that, it moves to researchers to produce analyses of the information. Finally, it moves to the lawyers and the legal groups, who are responsible for defending the rule of law with facts. 
"Without facts, you can't have truth. Without truth, you can't have trust. Without these three, we have no shared reality. We cannot solve any problem. We have no democracy." – Rappler.com