This is AI generated summarization, which may have errors. For context, always refer to the full article.
'What we're seeing is a massive dereliction of a responsibility for businesses to care about human rights,' says Human Rights Watch Asia deputy director Phil Robertson in a Rappler Talk episode
MANILA, Philippines – Technology companies are not doing enough to address the rampant illegal recruitment on their platforms for cryptocurrency scam operations being conducted throughout Southeast Asia, according to Human Rights Watch (HRW).
In a Rappler Talk episode on Thursday, May 18, HRW Asia Division deputy director Phil Robertson said technology companies like Facebook or Telegram must do more to curb recruitment.
"As for the tech platforms and the companies like Facebook or Telegram – they're simply not doing their jobs. They're not policing their platforms the way they should. Facebook is particularly responsible. They claim that they're doing things, but you know, it's not really working," said Robertson.
"And in it's encrypted messaging apps like Telegram, to be honest, they've never really indicated they were very, they care very much about what people are saying, using their app for," he added.
Workers who have escaped the cryptocurrency scam operations in Cambodia and Myanmar have reported finding job postings on Facebook and Telegram promising work as call center agents and tech support. But after engaging with the job posters, they end up in work that requires them to con targets into investing in cryptocurrency.
In many cases, failure to scam people meant salary deductions or physical abuse. (EXPLAINER: How OFWs are trafficked into crypto scam operations)
"What we're seeing is a massive dereliction of a responsibility for businesses to care about human rights. And the, you know, the tech platforms really need to raise their game, but they haven't done so," said Robertson.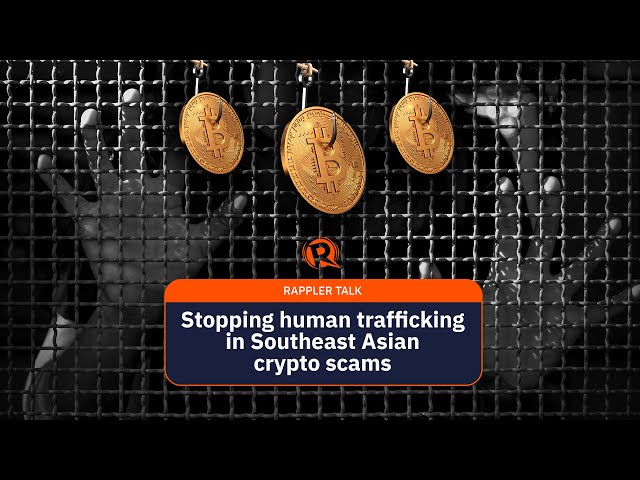 Robertson clarified that HRW was in favor of end-to-end encryption. However, he said that governments must work with these platforms in investigations.
Representatives of Meta (previously Facebook) have appeared before the Senate in its investigations of the human trafficking involved in the cryptocurrency scam operations.
At a Senate committee hearing on April 19, Rob Abrams, head of Meta's Law Enforcement Outreach for Southeast Asia, acknowledged that human trafficking is a problem of "massive, whole-of-society issue." He said that the reason the scams or dubious job postings exist is because they're "inherently deceptive."
"The reason we're not catching all of them right away and before they can hit the platform is because they're designed to evade our systems," said Abrams.
Abrams said that the initial contact is often made on Facebook for many crimes not limited to fraud and trafficking, while "more objectionable interactions" occur on other platforms.
When Meta receives links of such dubious job postings, Abrams said that in the process of removing content, the company's tools become better trained to recognize fraudulent activities.
"We're working with your law enforcement agencies on how to better…. get information lawfully and appropriately but as quickly as possible in an extrajudicial manner, so not having to get a search warrant for basic subscriber information for every one of these," said Abrams.
Need for 'government-to-government pressure'
Robertson said that there must be "government-to-government" pressure in rescuing workers trafficked into the crypto scam operations.
He cited the example of when the Indonesian foreign minister Retno Marsudi visited Cambodia in August 2022 and raised concerns about Indonesians being trafficked to the country to work for the scam operations.
"If that kind of pressure comes government to government, then a lot of times these governments that are serving as essentially the hosts of these trafficking syndicates will do the right thing. But it is labor intensive, it is difficult, and it involves a tremendous amount of research and risk," said Robertson.
Robertson noted the other complications that arise when there is political instability in the places where the trafficked workers are stationed. The Philippines' Presidential Anti-Organized Crime Commission earlier noted the diplomatic implications of engaging with the military junta that controls Myanmar.
"It means… you have to engage with an odious military junta that is committing crimes against humanity every day against its own people. And you know, that's a balancing act. How do you, how do you get your people out of this very difficult situation while at the same time giving the least amount of legitimacy that you can?" he said.
In the recent Association of Southeast Asian Nations (ASEAN) summit in Indonesia, leaders on May 10 vowed to crack down on online scams operated by human traffickers who prey on vulnerable job seekers.
"You have to keep it at a minimal profile… [But] in addition to pressuring to have a regional solution to this, to have ASEAN pressure on this, you also need to recognize that you have to sometimes do deals with the devil in order to get your people safe," said Robertson. – Rappler.com