How were Filipinos duped into working for a crypto scam, and how did it work? Where were the authorities meant to protect them?
MANILA, Philippines – Possibly dozens of Filipinos who looked to provide for their families with jobs abroad have been duped into working for a scam.
In a November 2022 privilege speech, Senator Risa Hontiveros exposed a case of overseas Filipino workers (OFWs) who were trafficked into Myanmar after being recruited as call center agents or workers for Philippine offshore gaming operators through various social media platforms.
Once they got there, they were forced allegedly by a Chinese mafia to engage in a cryptocurrency scam. Failure to scam people meant salary cuts or physical abuse.
On January 18, Hontiveros exposed another case of OFWs brought to Cambodia to perform the same exact crypto scam.
The reports have prompted the Senate to investigate, starting with a committee hearing on Wednesday, January 25. Here's what we know so far.
How are Filipinos recruited?
According to Hontiveros, the OFWs were offered positions of customer service representatives, chat support agents, or data encoders at call centers.
An OFW only known as "Ron," who spoke at the January 25 hearing, said he talked with his reportedly Malaysian recruiter online after being introduced by a childhood friend in April 2022.
Hontiveros has posted warnings on her social media account about what social media job postings for the crypto scam looked like.
Ron, once in Phnom Penh, was made to sign a contract that had a job description of befriending people on a dating app and convincing them to invest in cryptocurrencies.
"I did not want to sign the contract, but if I were to return to the Philippines, I would have needed to pay for all of the expenses my recruiter shouldered for me. It amounted to $1,700, and I would have to pay for my flight back, too. Because I could not pay, I felt I had no choice but to sign it," Ron said in Filipino.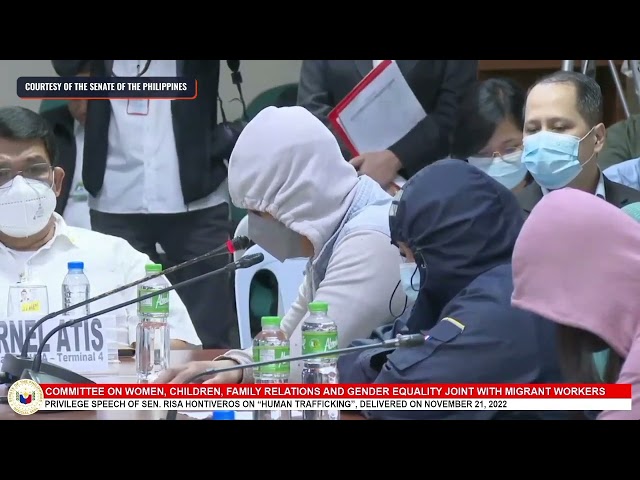 Ron said that he was trained by other Filipinos who had learned to scam, but the team leaders who gave instructions were Chinese. He observed around 50 employees in the office, of whom around "90%" were Filipinos.
How does the scam work?
The Filipinos used various social media and messaging apps to connect with potential scam victims. These included Facebook, LinkedIn, Tinder, Wink, TextNow, and MeetMe.
One of the OFWs who communicated with Hontiveros' office, "Rita," said her group in the Myanmar office centered on LinkedIn, since professionals can be found there. Their targets were mostly well-off, lonely individuals from the United States or Canada.
They created fake profiles, with characters packaged as female elites working as managers or higher positions. One character was "Claudine Wong," a marketing manager at Accenture who graduated from Nanyang Technological University in Singapore and the University of Southern California Marshall School of Business. "Claudine's" profile also said she had "over 10 years of career in business management, team leadership, and customer service with Fortune 500 companies."
Rita said her group posed as someone they worked with at the office. What made the scam more believable was how that person was available whenever the victim wanted to engage in a video call. The Filipinos' job was to chat with them, when a face was not required.
"Kami po 'yung nakikipag-communicate, kukunin namin 'yung loob nila, kailangan magtiwala sila sa 'min. Pagkatapos po noon, pag feeling namin nagtitiwala na sila sa 'min, yayayain na po namin silang mag-invest sa cryptocurrency," said Rita.
(We are the ones who communicate, we befriend them, and they need to trust us. After that, once we feel that they trust us, we invite them to invest in cryptocurrency.)
The scammers befriend their victims by talking about topics designated by their employers – from travel, to music, to sports, and eventually to crypto research as something they do in their free time. They also had to sustain sexual and romantic "relationships" with their victims.
According to Rita, the invitation to invest only commences once the Filipinos and the scam victims are able to transfer to WhatsApp or Telegram, which are encrypted messaging apps. Rita said they needed to transfer their chats to these apps, as their fake accounts could get banned on social media.
The crypto platforms the Filipinos used include Crypto.com, Coinbase, and Kraken, which are legitimate cryptocurrency exchange platforms. The scammers then convince the victims to bet their crypto from the three legitimate platforms on a "trading platform" called "Link."
Once the crypto is stored in Link, Rita said the Chinese have control over it. Withdrawals can only happen with prior approval. The scammers usually allow first attempts to withdraw to convince their victims that withdrawing is possible. But succeeding attempts, especially those with investments that have grown significantly, are no longer allowed.
What happens if they fail to scam?
For the trafficked workers, failure to scam meant abuse, or even death.
According to "Miles," one of the OFWs who was trafficked to Cambodia, she and her group were made to work up to 16 hours, seven days a week, especially if they could not get people to scam.
Ron said that his $800-salary was cut when he was unsuccessful in finding people to scam. Ron and Miles witnessed their co-workers get electrocuted by their employers.
Hontiveros said in her privilege speech that forms of abuse included being forced to do 1,000 squats, carrying heavy pails of water, being hit by an electric baton, and even being stabbed to death.
In the November report, 12 Filipinos were rescued from Myanmar by a network of nongovernmental organizations, while the group of Filipinos in Cambodia was rescued after an intervention from the Philippine embassy in Phnom Penh.
How were they allowed to work there in the first place? Where were the authorities?
The January 25 Senate hearing revealed that at least one Filipino was given genuine travel documents by Philippine authorities to go and work for a bogus opportunity in Cambodia.
Ron was allowed to take a pre-departure orientation seminar required by the Overseas Workers Welfare Administration, and was issued a certificate of attendance. He was also given an overseas employment certificate (OEC), clearing him to be an "interior designer" in Cambodia, despite his understanding that he was going to work as a call center agent.
The Cambodian embassy in the Philippines also approved his request for a work visa, Ron said.
Department of Migrant Workers (DMW) Undersecretary Bernard Olalia admitted to Ron's pre-departure orientation certificate and OEC being authentic. He added that the two "lines of defense" – the Philippine embassy in Phnom Penh and the DMW – that were meant to verify employment failed to detect that Ron was going to work for a scam operation.
Other Filipinos used fake travel documents, according to Rita.
Ron told the Senate that he had personal knowledge of Bureau of Immigration (BI) officials being involved in allowing Filipinos to get cleared through the Clark International Airport (CIA).
Rita, who worked in Myanmar, said that outbound Filipinos were instructed to give P10,000 to P20,000 ($183 to $366) to immigration officials. Miles, meanwhile, spoke of an "escort" from Philippine immigration that allowed them easy travel.
On January 17, BI Commissioner Norman Tansingco relieved two of the BI's personnel following reports of their alleged involvement in trafficking activities at the ClA, and the Ninoy Aquino International Airport (NAIA).
Tansingco said in the January 25 hearing that they relieved a certain Alma Grace David as the immigration officer who allegedly escorted at least three trafficked OFWs. The victims claimed that their recruiter was in cahoots with the officer.
Victims in the hearing also recounted the use of fake airport passes and immigration stamps. With the guidance of their recruiter, some OFWs avoided formal ports and used backdoor exits, particularly via boat, in porous borders in the south.
One OFW recounted transiting through Sabah, Malaysia, Brunei, Indonesia, and Thailand, and then reaching Cambodia as his final destination.
"We will not tolerate any such misdemeanor amongst our ranks…. The fight against trafficking is a huge undertaking, and we have long been raising that this should be tackled using a whole-of-government approach. We have to take it from its roots, and pull out this weed that destroys the lives of our kababayan," said Tansingco in a statement the same day at the Senate hearing.
Philippine immigration has been under fire for alleged inward and outbound bribery. Previously, the BI was called to the Senate for the "pastillas scam," where immigration officers would accept bribes to allow Chinese tourists to overstay in the Philippines and work in Philippine offshore gaming operators.
What do we know about the trafficking hubs in Southeast Asia?
In Myanmar, the Filipinos worked in an area called the Shwe Kokko Special Economic Zone, also known as Yatai New City. It is a $15-billion development owned by Yatai International Holdings Group in Myawaddy town, which sits on the Myanmar border with Thailand.
The experience of the OFWs was only one of many human trafficking incidents reported in the economic hub.
Various news reports and analyses of think tanks say that a Chinese mafia is evading Beijing's regulations on online gambling and cryptocurrency scams by operating in places in Southeast Asia, particularly in Myanmar, Cambodia, and the Philippines.
The operations initially employed Chinese workers, but when the pandemic struck, the mafia trafficked people from Southeast Asia and Africa to replace the Chinese.
Consul general Emma Sarne of the Philippine embassy in Phnom Penh in the January 25 hearing attested to an increase of Filipinos being trafficked to the kingdom to work in online scams.
The scammers used to recruit Filipinos who were already in Cambodia, but when the kingdom began loosening travel restrictions during the pandemic, OFWs began coming in as tourists. They availed of visa-free entry for Association of Southeast Asian Nations member-states.
Sarne also said that the scammers would use the names of legitimate companies without their knowledge, and forge documents and signatures of officials like herself.
According to the Department of Foreign Affairs (DFA), reports of Filipinos being trafficked into cryptocurrency scams and online gambling operations are found in other parts of Southeast Asia – not just Cambodia and Myanmar.
The DFA and DMW have acknowledged the urgency of putting up Migrant Workers Offices in more areas across Southeast Asia. – with reports from Ralf Rivas/Rappler.com
USD $1 = P54.63