'I have known a lot of teacher applicants who have asked for favors from politicians to bypass the ranking system'
One day, my neighbor ran to me, screaming, "Sir, may lisensya na ako!" (Sir, I have a license now!)
It was delightful to see this person finally get her license after taking the Licensure Examination for Teachers (LET). Four years of studying to become a teacher, then taking the examination to be a licensed professional teacher (LPT), is a feat for every aspiring educator.
Indeed, it is not easy to hatch a teacher. My neighbor told me that upon seeing her name on the list of passers, she immediately jumped for joy because she would be the first teacher in their family. Heck, the first teacher in their barrio!
I asked her why. She said girls at the age of 14 were conditioned to marry. The role of women in their barrio was to bear a child and stay at home. They were supposed to take care of the children and serve their husbands.
Upon knowing that she had passed, she told me that she planned to build a house for her parents. She wanted to make her parents' lives comfortable since she was the first professional in her family. Knowing that her parents had sold their pigs and goats to pay for her review, board and lodging, and allowance, she focused hard on her goal to pass the exam.
Completing an education degree is a victory for people, especially in low-income families. You can often hear the question: "What course do you want your children to take?" answered with, "Education man lang masarangan namon." (We can only afford education).
However, being a teacher is not an easy task. The teaching world is oppressive. Why, then, do teachers endure this and choose not to quit?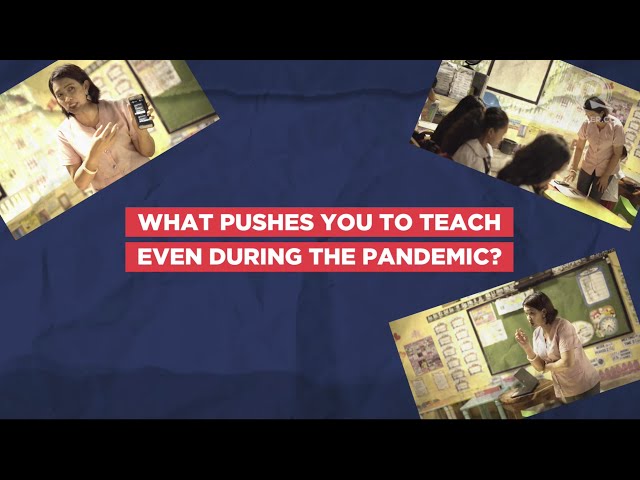 The roots of exploitation
I spent most of my career in the academe, and I've noticed that most of the students taking up education in college were not the best in their class. Some were average, and some were below average. Still, the department needs to accept these students to increase the number of enrollees. In private universities, the slot for education degrees is given chiefly to scholars or varsity players – most scholars are working students or have no choice but to take education since it is their chance to get a degree for free.
After they get their degree and pass the licensure examination, they enter the teaching profession. However, due to competition and the "palakasan system," their desperation becomes fertile ground for corruption. I have known a lot of teacher applicants who have asked for favors from politicians to bypass the ranking system. They even allot their first month's salary to repay the person who let them in.
The ideal of being a teacher whose only job is to teach will also be confronted by the number of other tasks they have to do. They will also have to juggle being head of the gulayan sa barangay project, the coordinator of the NDRMMC, the officer in charge of students' deworming, and even head of solicitations. There are also times that teachers, especially in far-flung areas, end up fixing their classrooms and repainting them using their own money.
I ask these teachers why they stay in their job, and they say, "Okay na lang ko diri kaysa magsaylo ako, kontento naman ko di kay naanad naman ta sa pangabudlay." (I am okay here, I don't need to change careers. I am content in this job and I am used to hardship.)
I once read the following remark from a top official in the DepEd: "If you don't like the system and you complain, you can leave DepEd. There are lots of people willing to join us."
Because most of these teachers come from low-income families, the system takes advantage of them. And if you ask them why, they will answer, "This is how we do things," and do not complain further.
Para sa bayan or para sabayan?
Teaching in public schools is not that lucrative. The best graduates of high schools don't want to take education courses because of the working conditions, aside from the not-so-attractive salary. Some teachers report to school on their rest days or stay up late because their work is "para sa bayan." The term "para sa bayan" is often capitalized on to abuse their volunteerism spirit. "Panunumpa bilang kawani ng gobyerno." "Magtatrabaho ng lampas sa takdang oras kung kinakailangan."
The majority in the teaching force who are oppressed are the new hires. They are always subject to abuse. The senior teachers often say, "Bata pa kamo ah, naagyan man namon na. Kamo naman." (You're still young, and we also went through that).
This systematic practice of giving a lot of work to newly-hired or young teachers kills the spirit of teaching. Instead of focusing on their craft, they channel their energies to other tasks outside of the teaching job. The effect of these conditions is that education quality is sacrificed.
I interviewed lots of teachers, especially during this pandemic. They said, "We are overworked, but we don't have a choice. Our principal will get mad at us, and if we can't please him, he will give us a hard time or mark us as indifferent. We need this job because this puts food on the table."
These working conditions are often the cause of brain drain, and why we cannot improve the quality of education. I have a good friend who died due to the stress of DepEd TV; he was doing a lot of tasks to be promoted. Sadly, his promotion was approved days after he died.
Teachers work beyond what's expected, not because they love their job, but to please the people inside. It is not para sa bayan but "para sabayan ang kinauukulan." (Not for the nation, but to keep up with the higher ups).
October is considered Teachers' Month. We celebrate and greet our teachers during this time. We thank them for the learnings that they shared with us. But being a teacher is always beyond the license, educational attainment, or position — it is always about their compassion and love for students, even if the system is unfavorable to them. More than greeting them, we should know their struggles. In this upcoming 2022 elections, let's elect leaders who will lift teacher's voices and give them justice. – Rappler.com
Sensei M. Adorador is part of the faculty of the College of Education at Carlos Hilado Memorial State College, Negros Occidental. He is a member of the Congress of Teachers and Educators for Nationalism and Democracy (CONTEND). For comments and suggestions you can reach him at sensei.adorador@chmsc.edu.ph.